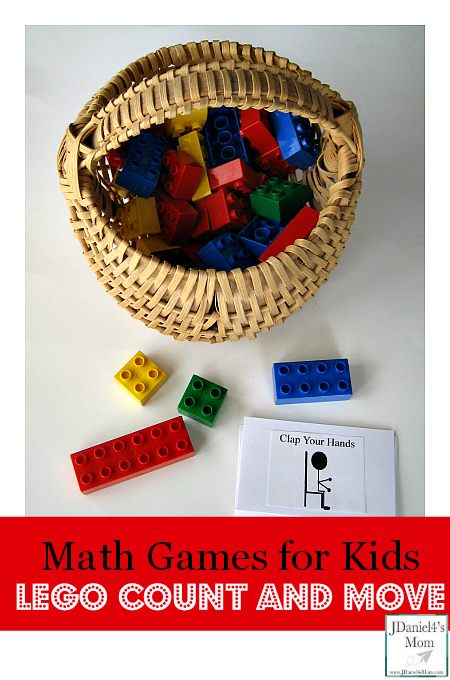 LEGO Duplos are easy for children young and old to pick up. Picking up a LEGO Duplo brick and an action card along with moving are all you really have to do during this game.( Well, for the basic version of this series of math games for kids.) The basic version can be changed and added on to for older children or for children that like games with more than one way to play them.
Supplies Needed for These Math Games for Kids
12 to 20 LEGO Duplo bricks
Basket or bag
Action cards (available to download)
Chopsticks (used in one of the versions for older children)
Basic Version of LEGO Count and Move
Before you start the game you will need to place the LEGO Duplo bricks into a basket or a bag.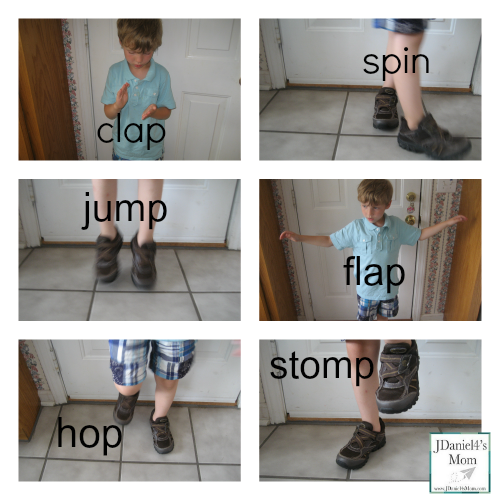 Go over each of the movements displayed on the action cards so your children will know what to do.
Place the action cards in a stack beside the basket. They will probably become unstacked as the the game goes on, but it is nice to have them start of neatly stacked.
Have one child at a time reach into the basket or bag holding the LEGO Duplo bricks and select one.
Have them count the number of bumps on the top of the Duplo bricks. (Bumps is not the technical name.)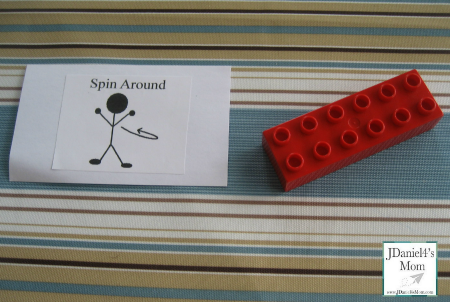 Take the action card from the top of the pile.
Have that child perform the action on their card the number bumps that is on their Duplo brick.
Then it is the next person's turn to repeat the same game steps.
More Math Games for Kids
Two Duplo Bricks Count and Move
When it is their turn children, select two bricks out of basket or bag. They will need to add the number of bumps on the two bricks to know how many times to do the action on the card the select.
Two Actions, One Brick
Select two action cards when it is your turn. Children can do each action the number of times that there are bumps on their chosen Duplo brick one at a time or every other action. Example: Jump, flap, jump,flap.
Mirroring the Action
One person can select the action card and one can select the brick. After counting the number for bumps on the selected brick, two people can stand facing each other. Then they can do the selected action together.
I bet you can come up with other math game for kids using Duplo bricks and my action cards. If you do, please tell me about it by leaving a comment below.
More LEGO Math Games for Kids and More
The link below is an affiliate link.
A number of bloggers are sharing LEGO themed learning posts featuring LEGO Bricks and LEGO Duplo. LEGO Week is being hosted  by Toddler Approved.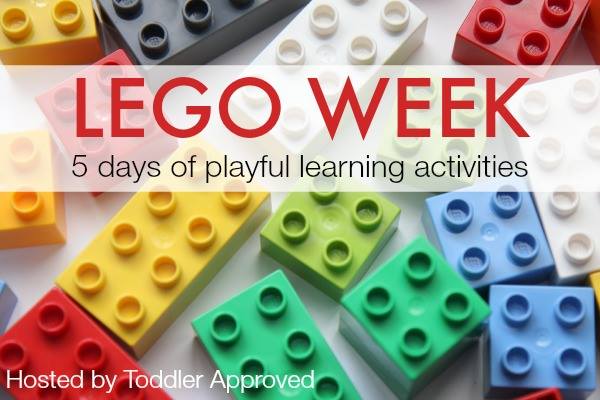 I started LEGO week early last week by sharing the following posts: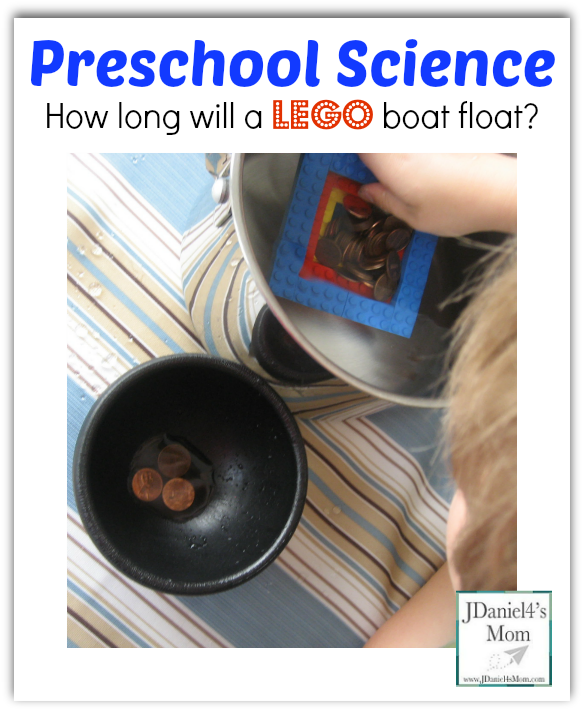 Preschool Science- How Long will a LEGO Boat Float?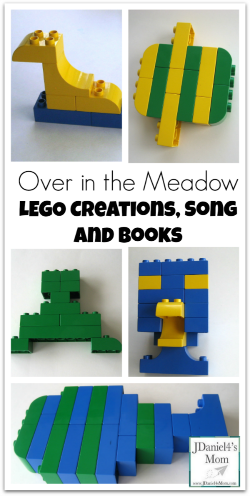 Preschool Activities- LEGO Duplo Creations and Books
If you are looking for other LEGO math games for kids or LEGO learning activities, you may want to check out my LEGO board on Pinterest.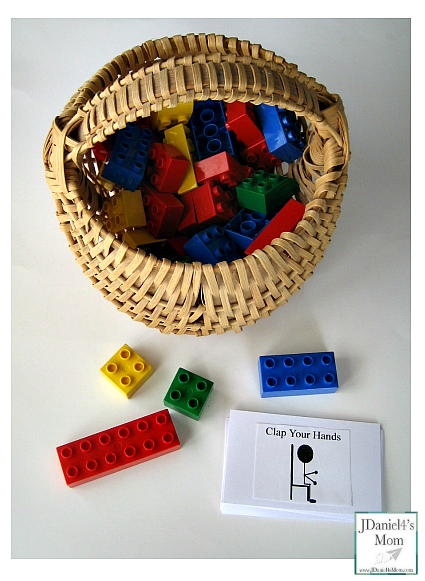 Do you have LEGO math games for kids that you like to play?

(Visited 5,959 times, 1 visits today)