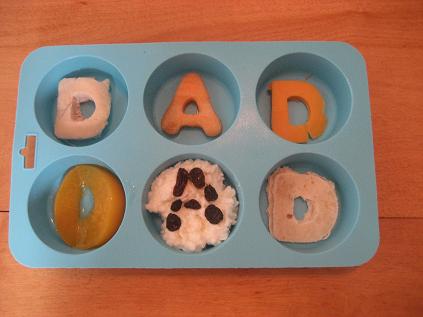 Muffin Tin Monday doesn't have a theme this week. I decided to creat a lunch based on the blog's theme which is Father's Day. JDaniel loved the fact he was having a "Dad" lunch.
What is  a "Dad" lunch? You have chicken breast cut into a D, a cantaloupe A, and a cheddar cheese D in the first row. The second row has peaches set out in a D, an A made of raisins on cottage cheese, and a tortilla D.
JDaniel loves cottage cheese right now and peaches. The other foods are old favorites. I think Dad would have like this lunch too. He would have wanted the peaches to be fresh though.

(Visited 19 times, 1 visits today)