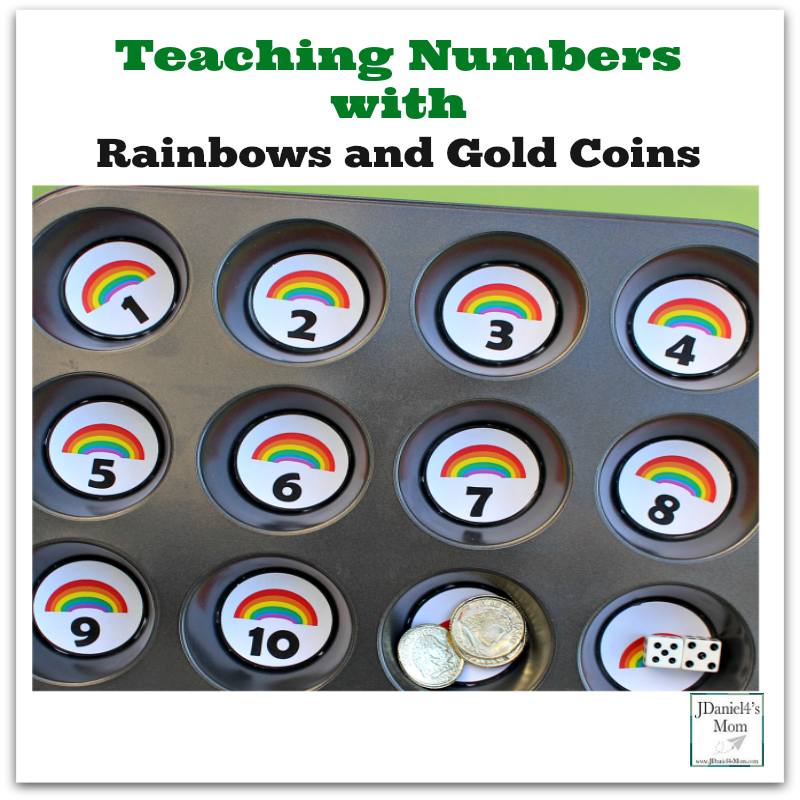 Earlier this week I shared a printable roll and cover rainbow themed activity that focused on color recognition and fine motor skills. I thought it would be fun to end the week with another rainbow themed activity. This one focuses on teaching numbers to your child.
We used this teaching numbers set in a muffin tin.  Muffin tins hold the counters and keep them from spreading from one number onto another.mYou could just place the number circles on a workspace or table if you like.
Link below is an affiliate link.
Plastic Gold Coins
 are fun counters for this activity. If you have something else you would like to use, like beans or pom poms that would be fun too.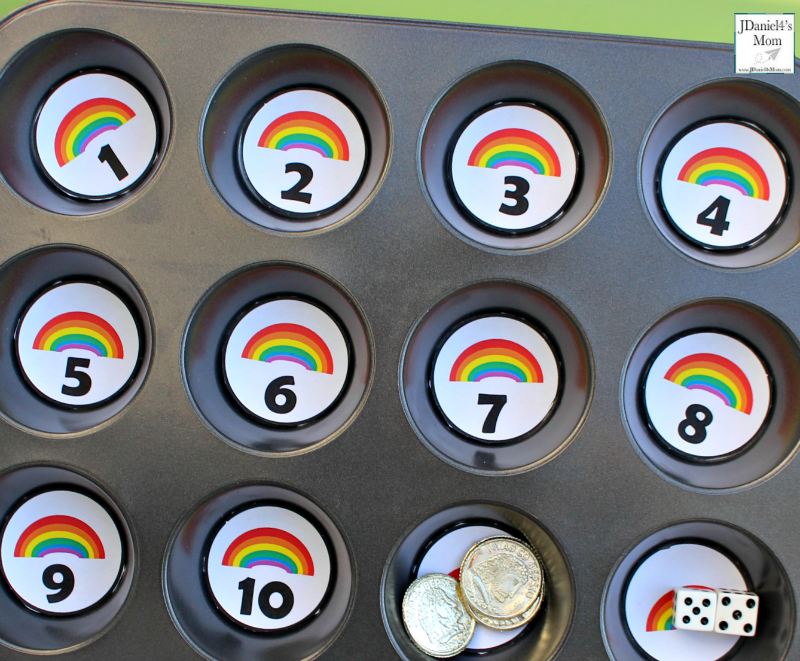 Teaching Numbers Activity
Roll and Show
You can have your children roll a die of a set of dice. Then they can place that number of counters into the cup that displays that number.
Count and Place
Your children can start by placing one gold coin in the muffin cup that has the number one in it. They can continue by adding the correct number of coins into each of the muffin cups.
Call and Find
You can call out a random number between 1 and 10. Then your child could place a gold coin on top of that number. You can continue to call out numbers until all of the numbers are covered.
More Muffin Tin Number Sets
I have created a number of muffin tin numbers sets. Each of the sets has a fun theme and recommended counter.
Moon and Star Muffin Tin Number Set
Skip Counting Muffin Tin Set with a Leaf Theme
Apple Basket Muffin Tin Numbers
You will find a number of other math activities for early learners on my Early Learning- Math board on Pinterest. I hope you will take a moment to check it out.