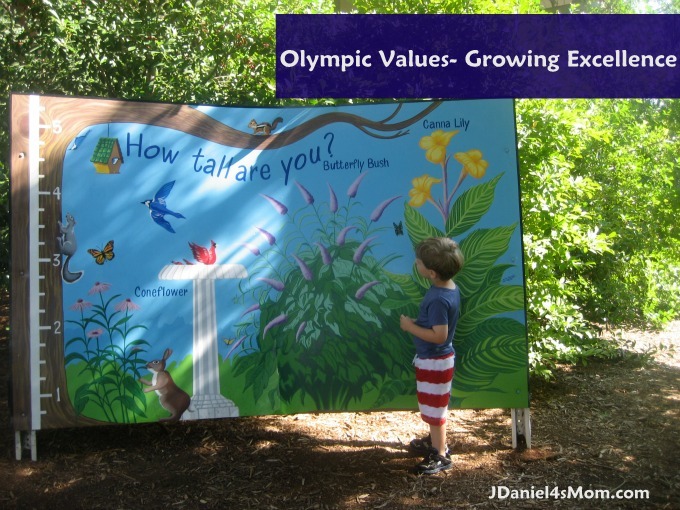 "In the dust of defeat as well as the laurels of victory there is a glory to be found if one has done his best."  ― Eric Liddell
As I mentioned last week in my post Olympic Value: Week One- Respect, there three Olympic values. Last week's post describe how I tried to apply the value of respect to my four year old's life. This week we are going to look at the value of excellence.
Here is how it is defined on the Olympic site:
excellence – how to give the best of oneself, on the field of play or in life; taking part; and progressing according to one's own objectives
The first thing I noticed when I read the definition above it what it doesn't mention winning. Winning seems to be something that my guy was born wanting to do. He has to win when he races the next door neighbor on his bike and when he is trying to get to the kitchen first for dinner. I don't know how many times I have heard him saying, " I win!"
What is he winning? Well, there isn't a gold medal awarded by getting to the dinner table first. The hope is that everyone will be awarded a healthy and appetizing meal when we have dinner. There is only a brief moment of contentment that he has beat someone out of getting there before him.
What is worse it that he tries to elbow past his dad, who is trying to only walk quickly and not run to the kitchen. Actually the worst part is that after announcing that he has won, he turns to his dad and declares him a rotten egg.
Before I continue, I need to confess something to you. I started all this racing around. In trying to get JDaniel to come upstairs faster for his bath and to get dressed instead of dawdling I started to declare the climb up the steps a race. I might have even done a little victory dance at the end.
Now that I have started this racing to and from different places in the house it is my job to stop it. Racing around hasn't promoted giving the best of oneself and the joy of taking part or progressing according to one's own objectives.
What do we do now?
Giving the Best of Oneself
Giving the best doesn't mean diminishing what others are trying to do or forcing others into letting you win. The little boy next door rides this bike without training wheels and he can fly around the neighborhood. When he is racing JDaniel he barely pedals so, my guy with training wheels can win.
He has learned that giving the best of oneself means that JDaniel will fuss about how it isn't fair and try to make him feel bad. There will also be four year old trash talk being hurled at him from behind as well as whining. While I am grateful that he is willing to try to help a friend avoid a meltdown, the victory is hollow. The boy next door isn't giving his best and Jdaniel isn't encouraging him too.
Recently we have been encouraging just enjoying the ride and noticing how you can go faster without training wheels. We have also been working on using words that encourage and don't try to make others feel bad.
Giving the best that you can is what is important not declaring someone else isn't as good as you think you are. You might find out as JDaniel will that the other people not giving their best isn't the kind of win you really want.
Taking Part
Over and over again I have heard athletes who are attending their second or third Olympics tell reporters that this Olympics is going to the be one that they finally enjoy. That means that they were so focused on other things that they weren't able to enjoy the performances they gave and the events they attended.
It is kind of sad to think that after years of work and effort you can't enjoy taking part of your achievement. I am not saying they shouldn't be focused preparing and attempting to do their very best. There is a lot to be said for getting to the point in your life when you are the best in the world at something.
It does sound like some of them attended the Olympics with horse blinders on and they weren't able to see or enjoy the things around them, because they honestly didn't notice them. They were focused on their goal. Maybe that is what you have to do to win at that level. I hope that each athlete can find one things to smile about at the Olympics though.
My husband and I need to work with JDaniel on finding joy and happiness in getting to complete a task whether it be getting to the dinner table or around the block.
How do we do that?
I think it means slowing down and talking about how your body celebrates when a task is completed well. Do feel a smile your face, do you feel a leap in your heart, do you want to do a little dance, or share a high five? While you may feel tired, do you feel you want to give a sigh of achievement.
Looking back at how well you accomplished the task in regards to how you treated other people during it is also important. Did you elbow past someone? Did you say something to make them feel bad? Did you handle your victory if you had one with grace or did you rub it in?
 
Progressing According to Your Own Goals
An announcer at the Opening Ceremonies mentioned that many of the athletes marching into the games would never medal and some wouldn't even make it past their event preliminary event. Many he commented had reached their goal by just coming to the games.
As JDaniel's mom I think it is part of my job to help JDaniel set short term and long term goals. The short term goals can be to build a tower that won't fall over when a robot struts past it or learning to tie his shoes. A long term goal is to respond to your parents in a way that will help you gain what you want if they think it is okay.
The short term goals are actually JDaniel's and the long term goal. The long term goal is mine, but it is one we need to work on. As we talk about goals, I try let JDaniel set most of his goals, but some goals are strongly suggested by my husband or me.
At four I think JDaniel is able to help set goals and he seems to love knowing he has achieved them.
Next week is the final post in this series on Olympic values. It will focus on friendship.
How have you helped your children work on this value?

(Visited 467 times, 1 visits today)