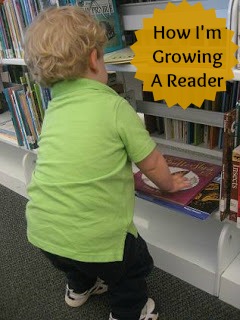 I need to start by saying that I know that not everyone that was read to as a child grew up to be a reader. Reading to your kids or kids reading is so important and and there are many reasons that they may not have grown into be a reader. They could have had reading or learning challenges. They could have had vision challenges. The list could go on and on, but I do think it is possible to grow a reader. I think I am doing it at my house right now.
Kids Reading Step One -Started Reading to Him as a Baby

From JDaniel's babyhood I read to him. He never wanted to sleep and seemed to be always awake. I sang to him, I bounced him in a bouncy seat, and I read to him.  He mostly got to hear the text from picture books and board books. There were times when he got to hear me read the newspaper, cookbooks, magazine articles, and well just about everything I was reading.
He really like to hear the tone of my voice and the inflections I made as I read various texts. He seemed to focus on what I was saying.
Not only was he hearing what I was reading, but he was seeing both my husband and I holding reading material. From a very early age he saw that reading was important to us.
Kids Reading Step Two- Books Were Everywhere
The link below is an affiliate link.

When I packed the car for road trips, I always packed books. During road trips when JDaniel was little I sat in the backseat and read to him. He had favorites like Goodnight Moon
 ,but he loved it when I packed new books. He really loved books that had texture on the pages like Good Night Moon.
Books went with us to restaurants, doctor's appointments, and on picnics. They were just a part of what went into his diaper bag.
Kids Reading Step Three- Visits the Library
Library trips were really important when he was little and still are today. We would go on treasure hunts to find books I thought he would like and then sit among the shelves on the floor and read them.
It was no surprise to me when at just under two JDaniel would crawl over to one of the book baskets spread around the house to pull out a book and look at it.  Literally I had baskets in the bathroom, kitchen, living room, and each bedroom. If I got busy with making a bed or a meal, he just pulled out a book. He loved to look at books.
This past fall on one of our many trips to library I walked JDaniel over to the juvenile non fiction section to show him some animal books. He had never even seen this section before. I was like opening up a treasure chest. There were all kinds of books filled with knowledge on animals, planets, rocks and so much more. He sat himself on the floor and just pulled book after book down to look at it. 
Kids Reading Step Four – Picture Walking
Another mom was at the library with her children when we explored the non-fiction section not long ago. She looked at her youngest and told her to not bother looking at books in this area."They are too hard for you," she announced. I cringed. A child doesn't have to be able to read every book they select from a shelf and neither does the parent.
Sometimes I picture walk JDaniel through a book. We look at the pictures and I read him the captions under them along with the some of the text. JDanel and I talk about what we see in the pictures. Picture walking is vital to reading. Being able to use picture clues to help with text is so important.
Kids Reading Step Five – Rotating Books
I try to rotate the types of books I am reading to him. Our library bag is usually filled with a little of both I think it is important for him to have new books that are fiction and non-fiction. I also have tons of books from when I was a teacher. I try to rotate in new fiction and non-fiction books regularly that are on his bookshelves and around the house.
Child reading or reading to your child is so important. It was on of the basic keys to learning in my book.
How have  I worked on growing a reader?
access to books of all kinds that JDaniel can reach for
display that reading is important by reading yourself
read regularly at bedtime or other times during the day
bring books with you when you leave the house
exposed him  to all types of reading material (fiction, non-fiction, atlases, dictionaries, etc..)
picture walk through books and talk about what he  saw in  the pictures.
seek out books on topics my child is interested in.
What are you doing or did you do to grow a reader?


(Visited 174 times, 1 visits today)