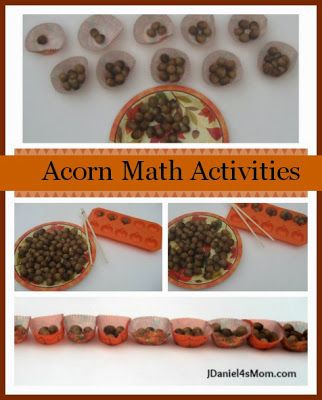 Last fall we were down on the main street in the town we live in. The local bank had a sea of acorns all over the parking lot. I remember slipping my feet across the ground so I could push the acorns out my way. A couple of weeks ago I remembered the plethora of acorns and headed back to the bank parking lot to gather some to use for math acorn math activities.
I set out several math activities for JDaniel to do and then let him explore and work with the acorns to complete them. The first activity was to move one acorn at a time using chopsticks with a rubber band around them.  (The rubber band makes the chopsticks really easy to use.) I asked him to count by ones as he moved them. He later tried counting by 5's and 10's  as he moved them. The numbers he was counting when we counted by 5's and 10's weren't represented by the appropriate number of acorns. It was a great way though to work on skip counting.

The second activity I shared was to count on by ones and put one more acorn into the next cup then the cup before it had. We discovered that the cups would only hold five acorns. Rather than continue to do this activity using the ice cube tray we moved on to another type of container.
The containers we moved to were cupcake liners. The cupcake liners had a lot more room and were able to hold a lot more. We were able to count to 10. Each and every acorn was moved with chopsticks.
Why did we use chopsticks for the math activities?   Holding and manipulating the chopsticks uses the same muscles as holding a pencil does. Using chopsticks is a great way to work on fine motor skills.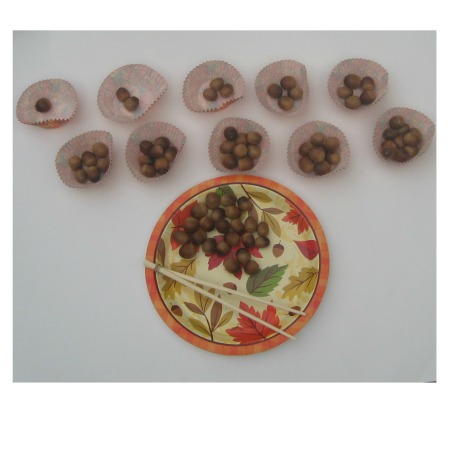 For the last of the math activities, we used two different patterned cupcake liners and acorns. I asked JDaniel to arrange the cupcake liners in an ab pattern.
Then I asked him to put one acorn in the first liner, two in the second liner, and so on. When he had ten acorns in the last cup, I explained to him that all the cups with spider webs on them were odd numbers. That means that 1,3, 5, 7, and 9 are odd numbers.  The even numbers were in the liners with the leaf design. That means that 2,4,6, and 8 are even numbers.
I wanted him to get the idea that the even and odd numbers follow an ab pattern.  After looking at the cups carefully, he was able to explain to me which cups were even and which were odd and why. In the even nut cups, each nut has a buddy. In the odd nut cups, one nut is leftover.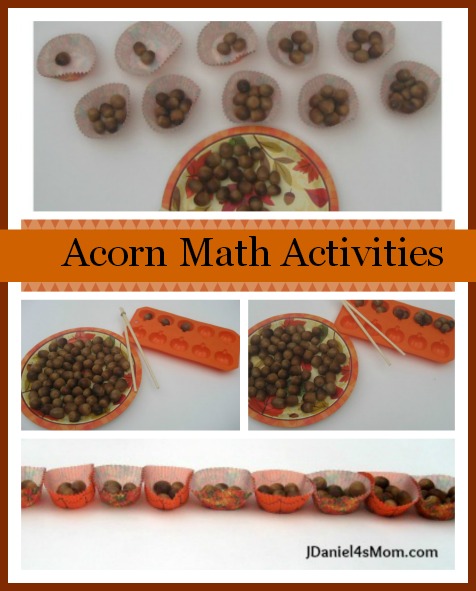 A Book with a Nut Theme
It is fun to share a book that features the same theme or concepts as the activity you have just completed. We used nuts for these math activities so, I picked a book that featured nuts. What did we read? We read the book, Earl, the Squirrel. Earl is a squirrel without the desire to find nuts on his own. He has befriended a young girl who supplies him with nuts. (She even provides him with a red scarf. ) Earl's mom thinks he is spoiled and needs to learn to take care of himself.
Earl decides he needs to prove to his mom wrong and that he can do it on his own. By the end of the book, he does learn to find nuts on his own. It isn't easy. There is a large bull in a field that contains a tree with nuts. Earl has to figure out a way to get the nuts pour down and get past the bull.
Earl the Squirrel is a book filled with adventure, challenges and tender moments. We loved this fun tale by the author Corduroy and I bet you will too.
This post contains an affiliate link.
I have decided to ask you to link your posts to the Read.Explore.Learn. Facebook page instead of running a link up. I hope you will stop by and share your children's book related activities there
(Visited 799 times, 1 visits today)