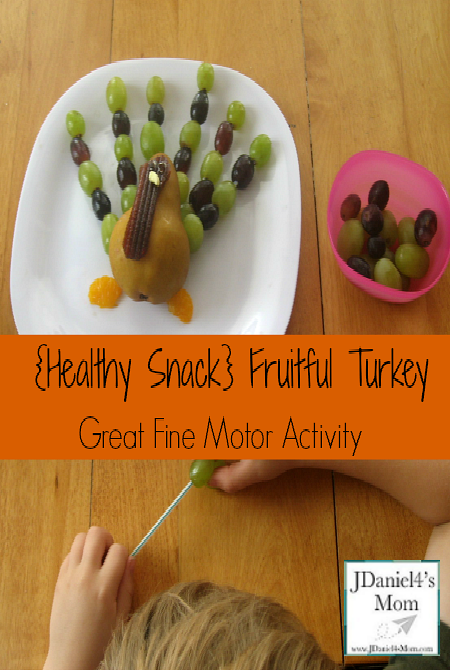 JDaniel has enjoyed food creations I have made for him for several years. Recently he helped me create a healthy fruitful turkey snack filled with fall fruits. Creating turkey feathers by putting the grapes on to the straws also turned out to great fine motor activity along  giving us the opportunity to review several math concepts.
How to Make a Healthy Snack Shaped Turkey
Supplies:
1 fruit strip
2 raisins
2 dabs of frosting
2 mandarin oranges
1 Bosc pear
1 yellow fruit flavored marshmallow
1 bunch of red grapes
1 bunch of green grapes
1 bag of coffee stirring straws
Directions
Preparing the Healthy Snack Fruit
I made the turkey's head ahead of time. The first step was to cut a red fruit strip into a peanut shape for the turkey. Two dabs of leftover frosting were placed on the fruitful turkey's head to represent the whites of the turkey's eyes. A small brown raisin was placed on each dab to represent the turkey's pupils. A small section of the yellow marshmallow was cut to resemble the turkey's beak.
With the head ready I set out the grapes, mandarin oranges, pear and coffee stirring straws for JDaniel to work on. He decided where to place the fruit strip head and mandarin orange feet on and beside the pear. With those in place JDaniel started on the turkey feathers.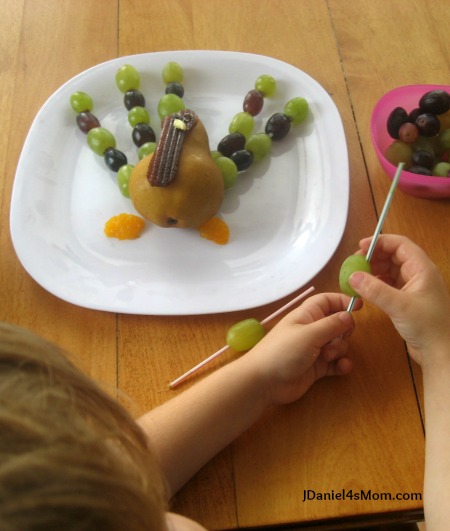 Constructing the Healthy Snack
The coffee stirrers were easy to thread the grapes onto. JDaniel tried to push the stirrer through the hole at the base of each grape and then to pull the straw through. I asked him to try to put the grapes on in a AB pattern.  He has worked a lot with patterns and had no trouble completing that request.
Threading the grapes onto the stirrers was a great fine motor activity.  JDaniel had to work on focusing, counting the number of grapes on each straw along with patterning.
When he had finished loading the stirrers with grapes, he arranged them around the pear. Some of the sat on the plate and others JDaniel pushed into the pear. The straws filled with grapes were hard to push into the pear so, laying them beside it worked best.
We both sat back and took in the wonderful creation we had created together for a moment or two. Then the turkey's head and feathers quickly disappeared.  The pear went into the fridge for later along with some of the grapes. I am so glad I was able to take a picture of it before the healthy fruitful turkey snack was deconstructed.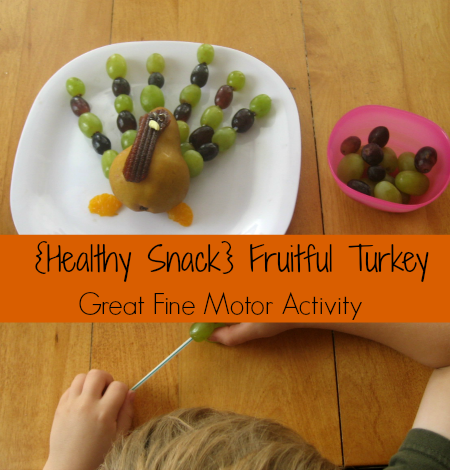 You will find more healthy snack and creative ways to serve food on my Food Creations board on Pinterest.
Do you have favorite fall snack?

(Visited 532 times, 1 visits today)