Disclaimer: This is a sponsored post.
When we were invited stay at the Hilton Garden Inn in  Downtown Atlanta for a night and to spend the next day exploring the Georgia Aquarium,  we jumped at  the chance. I have been dying to take JDaniel to the Georgia Aquarium since it first opened. We  had decided to wait until he was old enough to appreciate it.  After seeing how much children of all ages loved the aquarium, I think we could have taken him when he was much younger.
We headed down on a Friday from Greenville, South Carolina. It wasn't  that long of a trip and the traffic wasn't bad all. We live not to far off Interstate 85 and Hilton Garden Inn Atlanta Downtown is right off of Interstate 85 which made is super easy to find.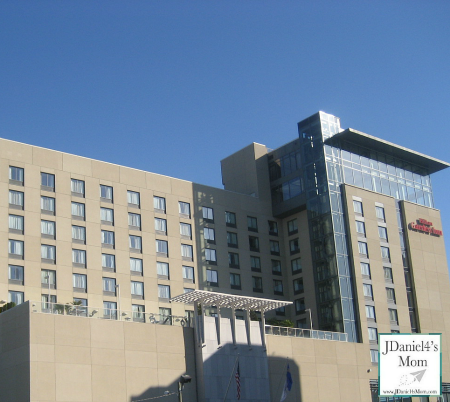 After a quick dinner, JDaniel was dying to jump into one of the two pools at the Hilton Garden Inn. (He had all kinds of energy stored up from the car ride.) We took a few moments to look at the outdoor pool and its wonderful view of the Downtown Atlanta skyline. Then we headed into indoor pool located right next to the outdoor pool. JDaniel was thrilled to find that it  had water dumping buckets. Can you guess who wanted one of those buckets to spill on me?  Can you guess who was tall enough to lift the buckets to aid in dumping  the water?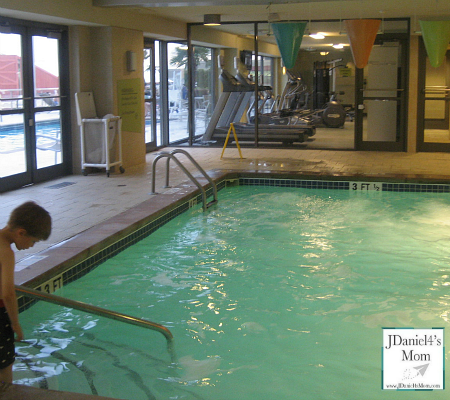 When we went back to our room after our swim, we noticed that we could look just across the street and see the Georgia Aquarium. It was so cool to know that it was just seconds away from us. All that we all needed to do was get a good night's sleep.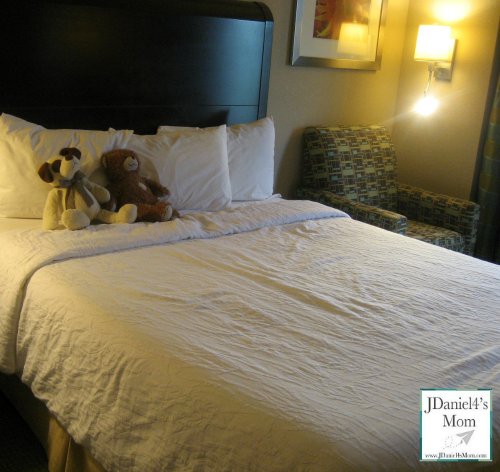 After a wonderful night at the Hilton Garden Inn, we headed over to the Georgia Aquarium. The wonderful Bailey Rogers met us near the whale shark area to give us a behind the scene tour.  What a treat is was to see the whale sharks circling rubber boats to be scoop fed! We were also able to see other marine animals come the edge of the pool to be fed when their assigned color was displayed. I didn't realize that they could do that. What a lesson in patience they displayed! Each had to keep their eyes open and come when it was their turn.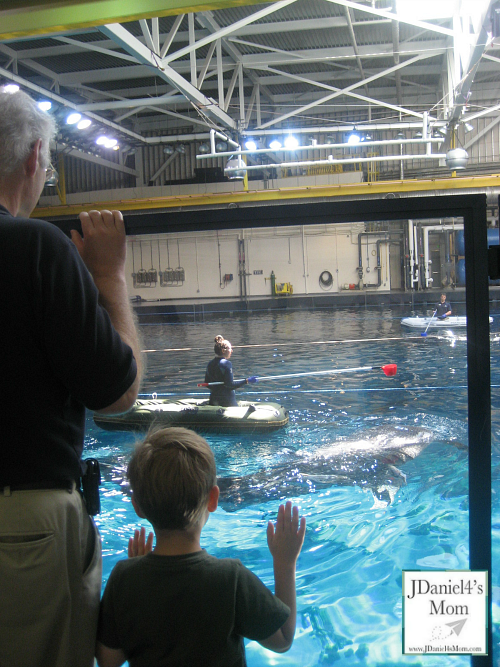 We could have watched this all morning. It really was fascinating to see!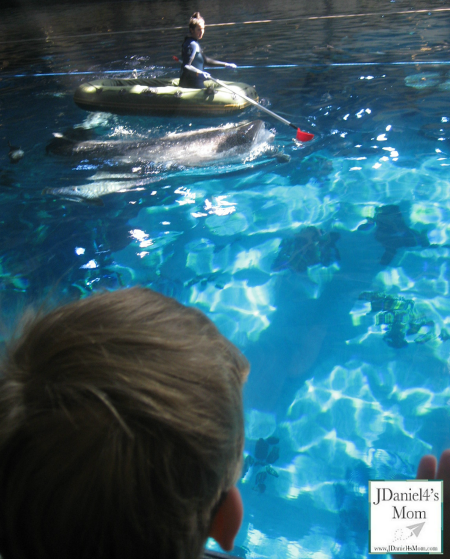 It was also fascinating to see the white beluga whales swimming at the top of their tank. They glided effortlessly through the water. JDaniel loved  getting to touch some of the sea creatures in a tank area and watch the penguins while we were on the tour.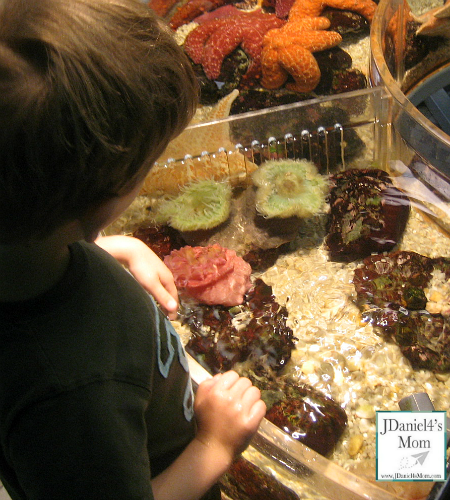 It was hard to leave Bailey behind after such a wonderful tour, but we needed to head down the main exhibit floor and explore. We all found it just as fascinating.  The huge windows displaying the tanks gave us amazing views of all kinds of marine creatures.  The layout of the Georgia Aquarium made it easy to flow from one exhibit to next just as the water flowed around the huge tanks.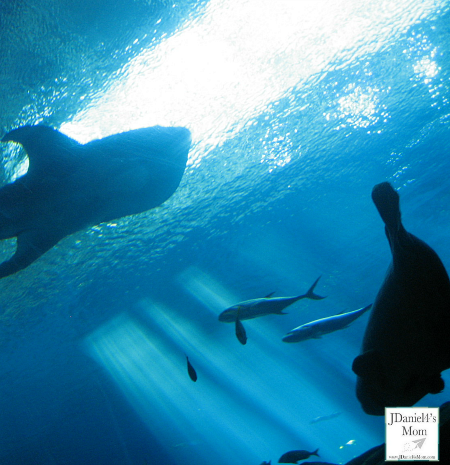 After completing a few exhibits, JDaniel found an indoor climbing area and boat where we could pretend to be boat captains. I just love that the designers of the aquarium thought about including areas like this for children.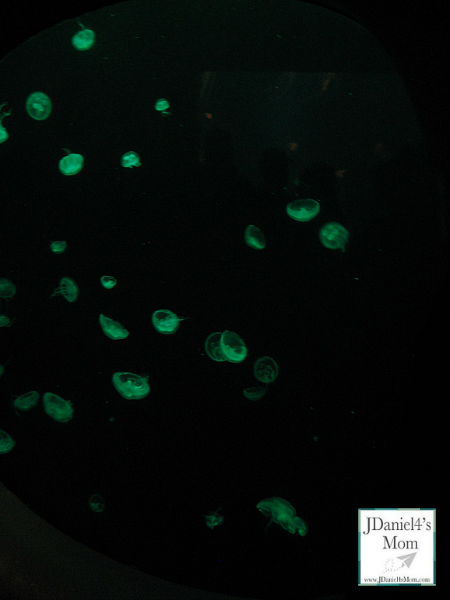 I think JDaniel's favorite things about the Georgia Aquarium were the jellyfish and the free Dolphin Tales show.  (The dolphin show is really amazing. It combines music, water acrobatics, and amazing lighting.)  My husband's favorite area was Sea Monsters Revealed Aquatic Bodies. The interiors of various plastinated sea creatures are on display in this exhibit . It was truly amazing to see how intricate each creature's body was. I love getting to see the beluga whales and the penguins. Watching both behind the scene and in front of their huge tank areas was really wonderful.
Have you been thinking about going to the Georgia Aquarium? I want to let you know about a special Southern Hospitality Discount that just started at the Georgia Aquarium. Residents of Georgia, North Carolina, South Carolina, Tennessee, Alabama and Florida can receive discounted admission of $29.95 +tax when they show a valid ID verifying residency at the ticket window only.  This special deal will run June 13th.
A Couple of Georgia Aquarium Visit Hints:
The cafeteria serves delicious food, but it is expensive. My husband and JDaniel didn't eat a big breakfast at the hotel and were starving by lunch time. I ate a huge breakfast at the Hilton Garden Inn and wasn't hungry at lunch time. Eating a large breakfast or having a snack in Centennial Park right across the street from the Georgia Aquarium may curb the need for a large meal.
Head to the Aquarium early. We were able to move easily see the animals before a lot of families had arrived by arriving early.
Pick up your Dolphin Tales tickets early and plan your visits to the exhibits around your show time.
If you do decide to make the trip to the Georgia Aquarium, my family and I would definitely recommend that you stay at the Hilton Garden Inn.  We loved its proximity to the aquarium and to Centennial Park! There were also a number of restaurants in walking distance at a variety of price points for dinner.
Disclaimer: Our hotel stay along with our tickets to the Georgia Aquarium were all given to us in exchange for my writing this post.

(Visited 98 times, 1 visits today)