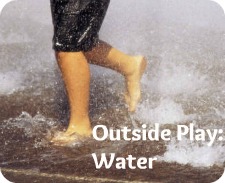 It has been so hot this summer here in South Carolina. We have spent a lot of time exploring and playing with water. It has been a lot of fun, but we keeping doing the same things over and over again.  Today I want to share with you a way your children can take the animals of Old MacDonald on a field trip to the beach.
I thought that it would be fun to have people share what they have been doing outside with water play to help us come up with new and exciting ways to play. There are several other blogs that share child related activities that have joined me in co-hosting this event, but it is open to everyone.
My amazing co-hosts are Rainy Day Mum, Inspiration Laboratories, Train Up a Child, and Mama Pea Pod.
I hope you will enjoy the trip Old MacDonald and his animals had to the beach in my post below and that you will visit the posts of my co-hosts.
Oh! I do hope that if you have a post related to outdoor play you will link it up below and add this badge you see below to your post.
Old MacDonald's Animals Beach Trip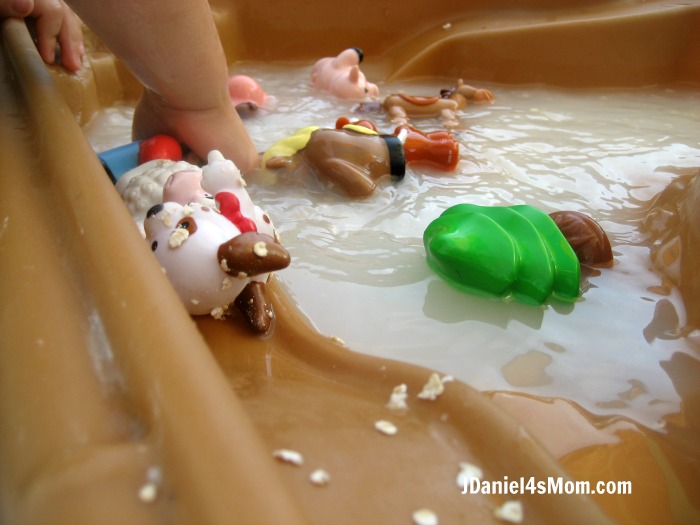 It has been so hot on the farm that Old MacDonald decided to take some of his animals on a road trip to the beach!
Several animals that like to live on the wild side decided to travel on the front of the tractor while others arrived in a white plastic basket.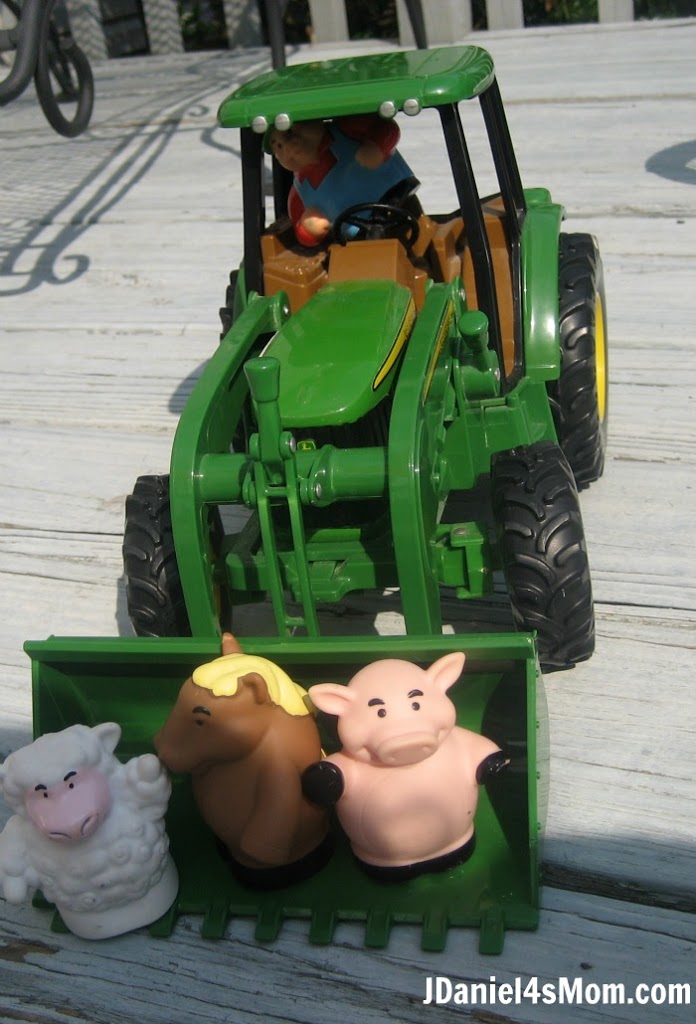 Oatmeal sand was spread in both the wet and dry area of the water table. JDaniel explained that they are in the sand in the ocean and on the beach.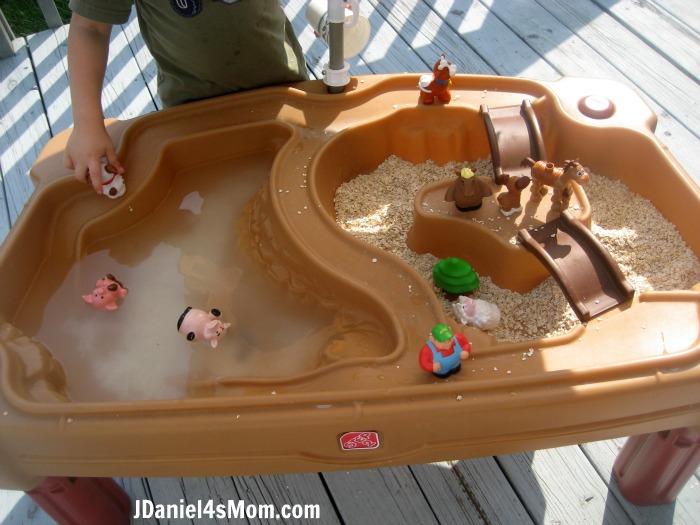 The sand in the ocean caused the water to be rather cloudy, but the animals seem to enjoy floating around in it.
Old MacDonald must be confident that all his animals can swim. He seems to be looking away from the water instead of toward it.
Several animals seem unsure as to whether they want to get in the water or the sand. They spent time looking down at the sand but
hesitated
to get in it.
Eventually, everyone jumped in and took a swim. Even a tree seems to have made a trip from the farm and has started to float.
The water slide into the ocean had gotten very crowded.
It looks like a wonderful time at the beach was had by all.
How to Prevent Internal Drowning
JDaniel's farm animals have holes in the bottom. We had to make sure they were carefully drained of water when we were done.
You may decide to place a drop of hot glue from a glue gun over the holes on your farm creatures to prevent water from getting into them.

(Visited 587 times, 1 visits today)