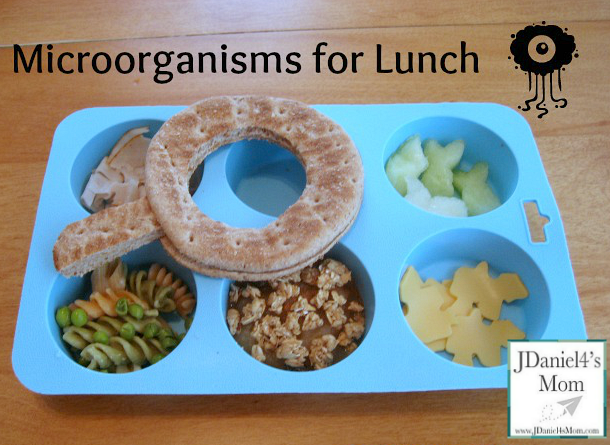 On the first day of school I stopped by and picked up lunch at McDonald's to have with JDaniel and my husband. Yes, my husband came home for lunch on the first day. He might have otherwise, but he wanted to check out the work of the men power washing our house.
When we got home JDaniel was so upset, he didn't want McDonald's for lunch! "I was supposed to get a muffin tin lunch!" he declared. We hadn't talked about having a muffin tin lunch this year on the first day, but we did have one last year and I guess he thought it had become a tradition. ( Love to make come up with lunch for kids ideas so I didn't mind.
"What kind of muffin tin lunch were you expecting ?" I asked him.
"It should have been a microorganism lunch! You know I love them!" he stated.
Well, I do know that he loves microorganisms. He discovered a book about them in the juvenile non-fiction section of the library and he had to have me read it to him.  I kind of wish I had kept him in the children's fiction departments instead of bringing him over to section that would introduce him to lice, bed bugs,  and all their relatives.
We have been picture walking through books on this subject all summer. I read mostly the captions that are under the pictures of these interesting creatures. The text about them is very detailed ( JDaniel says that it is boring if there are too many words in a book.) and nightmare causing. (JDaniel thought his bed was covered with them in the middle of one night this summer. He was  probably right, but I didn't tell him that.)
He talks endlessly about microorganisms with anyone who will listen. Most his friends just shake their heads when he starts spouting the details about these tiny creatures. Adults are so impressed he knows about such a unique topic.
Last week we went to a baseball game with my husband's division at work. My husband's boss asked him what he wants to be when he grows up. JDaniel told him he wanted to be a microbiologist.  Later my husband's boss commented that it sounds like the times have changed since kids wanted to be firemen and policemen.  I think there are still a lot of kids that want to be those things just not my guy.
On JDaniel's second day of school he came home to a microorganism lunch. This lunch really could have used a microscope instead magnifying glass, but I couldn't figure out how to make one. Thankfully he was very pleased.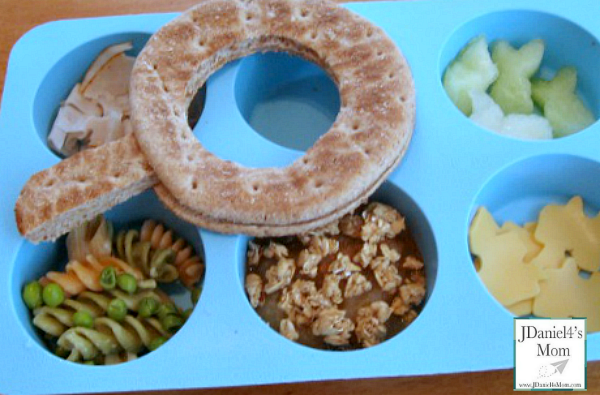 Making This Lunch for Kids
The most microorganisms are really Halloween shapes cut out with cookie cutters from cheese and honeydew. I think they create wonderful creatures for this lunch for kids along with microscopic peas in mac and cheese and granola bits in cinnamon  flavored applesauce. Oh! There is shredded turkey too.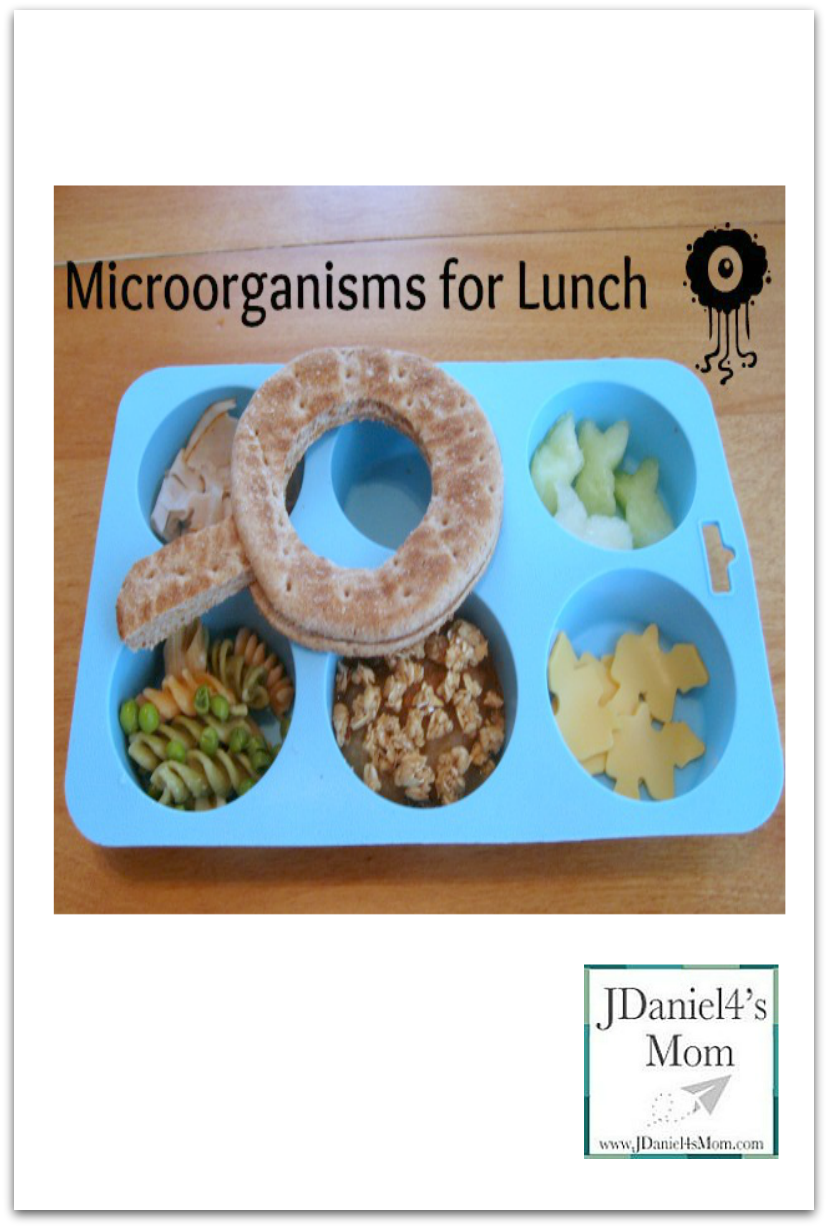 This post is linked to Alphabe Thursday on Mrs. Matlock.
What is one of your favorite lunch for kids ideas?
(Visited 91 times, 1 visits today)