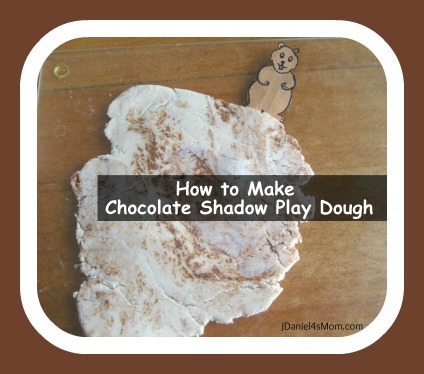 Groundhog's  Day is right around the corner and I thought it would be fun to make Chocolate Shadow cookies with JDaniel .  It has always been fun  to do an activity that ties to holiday. Chocolate Shadow cookies tie to the whole groundhog sees his shadow tradition. 
I took out my ancient Pillsbury cookie cookbook and searched for the recipe. I didn't remember until I started reading over the recipe for them that they contained peanut butter. My son doesn't like anything with peanut butter in it. Rather then make cookies only my husband and I would eat I thought that maybe we could make chocolate shadow play dough instead. It doesn't  need peanut butter and it is fun to knead it into dough. Just how do I make play dough?
How do I Make Play Dough for Groundhog's Day
Well, we start by hunting and gathering around the kitchen. JDaniel loves to help gather together all the ingredients.
Chocolate Shadow Play Dough
1 cup of water
3 cups of flour ( We add a little at a time and sometimes don't need 3 cups.)
1 1/2 cups of salt
1/4 cup of vegetable oil
1/2 cup of cocoa
We mix all of the ingredients except the cocoa together adding the flour a little at a time. We tend to use a big bowl when mixing. It helps to keep the ingredients in a bowl.  We also tend to mix and knead the ingredients together with our hands. It is very relaxing and feels great on our hands.
Once the mixture is the right texture and isn't sticky, we add the cocoa. I like the marbleized effect that we get by not adding it in with the other ingredients. It looks like the dough has a shadow.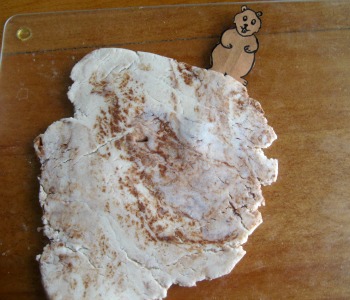 Later in the day we had one of the little boys next door come over to play. I took out our animal cookie cutters. We ended up with all kinds of chocolate shadow creatures. I believe there were even a couple of groundhogs.
Did you already know how to make play dough?
This post is linked to Alphabe Thursday.

(Visited 452 times, 1 visits today)