This week we looked at a book called Truck Party!
since it was JDaniel's birthday this week. Truck Party is a book about truck planning a surprise party for one of their friends. Each truck has a special job to do to get the party ready including the car carrier who bring some of the guests to the party. It is great to see the trucks all working towards a common goal.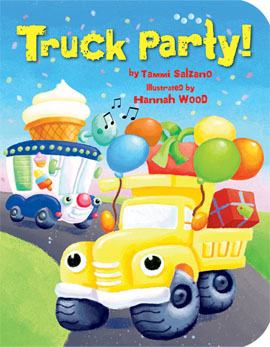 This is a short board book, but JDaniel still loved to look at it. I think he  really liked the pictures of the trucks in this book. They are very whimsical.  I love reading board books at the end of a long day just before bedtime. They don't take long to read and in the case of the book had enough content to talk about what was happening in the book.
What did We Do to Explore the book Truck Party?
Color Matching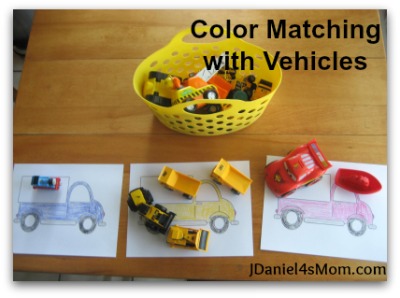 JDaniel helped me gather together a wide variety of vehicles from his room for this activity. We then matched them sorted them by color onto work mats I had colored.
Despite much searching, we didn't find very many blue vehicles as you can see in the picture. We found only a few more red vehicles and one of them came out on his bucket of tub toys.  There were tons of yellow vehicles. JDaniel had a contruction site birthday party a few years ago and I think that is where most of these came from.
After matching the vehicles to the right color on the mat, we counted them. It took four times as long to count the yellow vehicles.
Vehicle Number Matching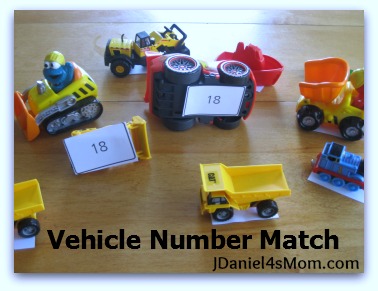 After sorting the vehicles, we put numbers on the bottom of them. There were two of each of the numbers so we could play a number matching game with the vehicles. Once the numbers were on the bottoms of the vehicles, JDaniel had to try to match them.
I should have printed out smaller numbers. These were way too big for the vehicles.
If you like these Truck Party Activities, here are some more activities you will like.

Making Learning Fun with Rainbows
Learning Activities with Dr. Seuss Characters
Disclaimer: I was sent this book to review by Tiger Tales books. This post does contain affiliate links.
(Visited 1,005 times, 1 visits today)