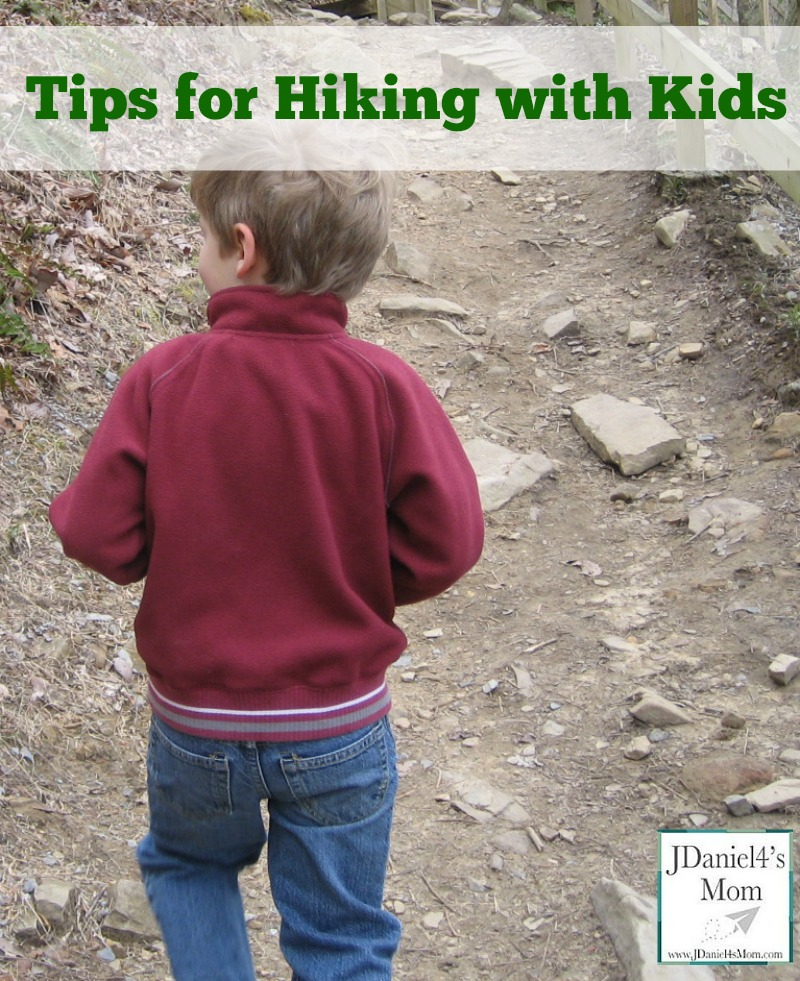 We spent part of our Spring Break staying in a cabin in Cloudland Canyon State Park with my family. There were several hiking trails right below our cabin. On Easter Sunday we explored two trails that lead to waterfalls. Both were beautiful. On our way back my sisters both commented that we hadn't headed out for the hike well prepared. Each of them went over a  list all the things that we needed to do right before we went hiking with kids again. I thought I would share their tips with you.
Here are the 15 tips for hiking with kids that they shared with me:
Wear Correct Footwear
earing sneakers or hiking boots is really important. Depending on the type of terrain you are hiking on traction to climb over and on rocks may be needed.Shoes that will clean up easily or become messy shoes permanently should be worn. There was a portion of each of the waterfall paths that was always really muddy and wet. I didn't bring old shoes for JDaniel and had to carry him through those areas. My shoes ended up with mud caked in them. Not all of the mud has come out yet. I am still working on it.
Wear Layers
We hiked several different days that we were at the park. When we were in the sun, we peeled off our fleece jackets. When we hiked under a canopy of trees the temperature dropped a lot, we pulled the fleeces back on. It was so nice to have layers we could take off and on.
Bring Your Cell Phone
If anything should happen and you need to call 911 or the ranger station, you will want to have a cell phone. A cell phone can be a great way to stay in touch with other members of your hiking party. Some hikers may move faster than others. If you become separated, you can call them to see where they are.
If you don't wear a watch, you can check a cell phone for the time too. I always seem to loose track of time while hiking.
Bring a Camera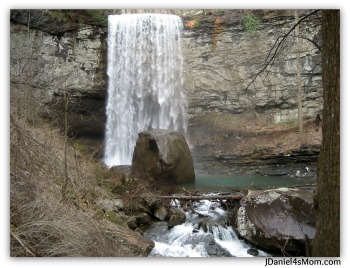 There are wonderful bonding moments and beautiful views of nature that you are going to want to capture.
Bring Snacks and Water
You use a lot of energy when hiking bringing a water bottle and some power snacks like nuts, dried fruit or granola bars. Snack can also be a motivator to get children to go a little further on the path. JDaniel was encouraged to hike until we reached a flat area where we could sit together.
Bring a First Aid Kit
Hopefully you will only need a couple of bandages and some ointment, but if you need more you will have it. My niece got a scrape on her hand that really bothered her. All my sister needed to do was cover the scrape and my niece was able to continue hiking without having to look at it.
Bring a Hat and Sun Screen
I totally forgot to bring these. Thankfully my sisters remembered to. Some of us have children are very fair skinned and burn easily. Hats also helped the kids stay warm in the cold areas of the path.
Bring Bug Spray
We were fortunate to avoid bug season. When we have been to visit the woods before, the bugs loved JDaniel. Applying bug spray before hiking and during the hike if necessary really helps keep children bug bite free.
Bring a Map of the Trail
We really tried to follow the yellow diamonds that marked our trail, but we ended up walking past the uphill turn the path took once. My sister was able to pull out the map and see that the creek we ended up in front of wasn't on the path. We turned around and found the correct path a few feet away.
Look Where You Are Walking
On the steep or really rocky sections of hiking paths it is helpful to remind children to look at where their feet are going. It really helped our kids avoid having too many slips, trips, and falls.
Bring a Flashlight
You don't need to bring a big flashlight when you are hiking during the day. It is nice to have small light weight flashlight to shine into the knot holes of trees or under rock crevices. Sometimes you will find small creatures to observe or areas you want to point out.
Look for Fun Things to View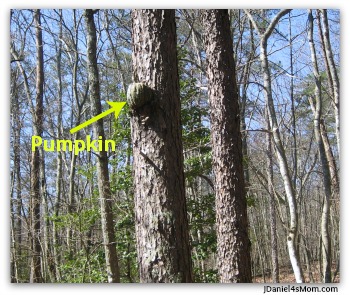 One of my sisters found this wonderful pumpkin knot on a tree. We were all fascinated by it. The fact that it had a stem along with the body of the pumpkin is so cool.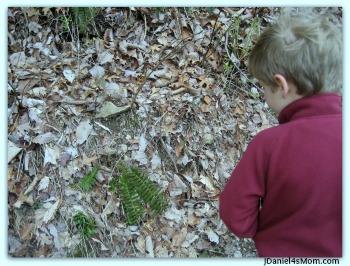 JDaniel loved coming across ferns, moss and other plants on the path. We had read a couple of books on them before we went on our trip. It was wonderful to have him get to see them first hand and to discuss them.
We also talked about the waterfall and the water seeping through the rocks on the path. Again it was wonderful to talk and learn more about water with live models to observe.
Remember Little People Walk More Slowly
Not all young children walk slowly, but some do. JDaniel was the youngest of the cousins that were on the hike. The others ranged from 12 to 7. His legs were way shorter than the older kids and while he tried to keep up sometimes he just couldn't. We were fortunate to have three adults on the hike. I stayed back with the slower one or ones. One of my sisters kept up with the leaders.
Assign or Pick Hiking Buddies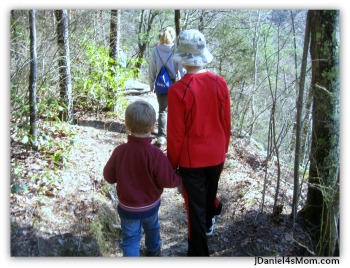 My sister and I each tried to stay with the kids. We did assign or had them pick hiking buddies. JDaniel got tired of holding my hand or staying super close to me. Having a cousin or aunt that was a buddy made him very happy. The other kids seemed to enjoy it too. Hiking with kids means giving the kids a chance to hike with a buddy.
Reaching the End of the Trail Isn't The Goal
By the end of each hike JDaniel and I were the only members of our family left on the trail. The others had long since returned to the cabin. I asked him if he minded being the caboose. He gave me the most awesome answer. He said that hiking was supposed to be about enjoying nature and not rushing past it.
That is really what it is all about for me too. Stopping to see a slug or centipede on the path. Enjoying just walking together. Setting our own pace so we can enjoy the hike. Those things are really what hiking with kids is all about.
Here are some more outdoor activities and ideas for kids:
Do You See Animals When You Hike?
Measuring Chalk Drawings
These are just 15 tips for hiking with kids. I bet you have a lot more. Please feel free to leave your hiking with kids tips in the comment section. I would for other readers to get to see them.

(Visited 1,381 times, 1 visits today)