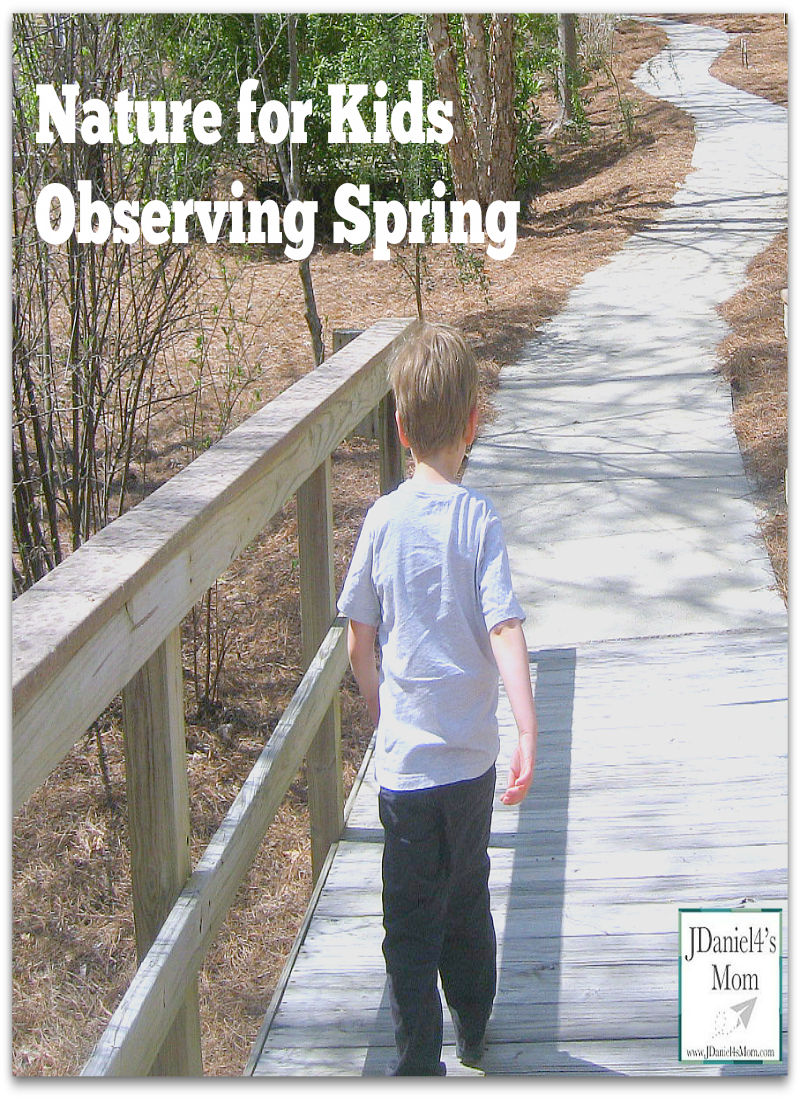 Just before the pollen took hold of our region of the United States JDaniel and I explored the nature trail in his Nana's retirement community. It was such fun to take in all the spring had on display on that pretty trail for us to view and take in. We decided to make this a nature for kids learning activity by looks for signs of spring we could smell, see and touch.
One of JDaniel's favorite parts of the trail is the swings that are scattered up and down it. As he sat of the swing and I pushed him from behind, I thought about how we could use four out of our five senses to observe spring.
Hearing Sounds of Spring
He could sit for hours and listen to the sounds of the spring. There are the calls  that come from birds in the lush trees. There is the rippling of the water feature that was right across from this swing. There was the movement of the tree branches as a slight breeze went by. There was also the squeak that came from the swing as I pushed it. It almost said spring as it moved back and forth.
Smells of Spring
The tree blossoms weren't in full  bloom ,  but we could smell the initial perfume that they put out. The new green leaves also gave off a fresh scent. There was also a slightly damp smell coming of the swing. Spring is filled with some many different smells.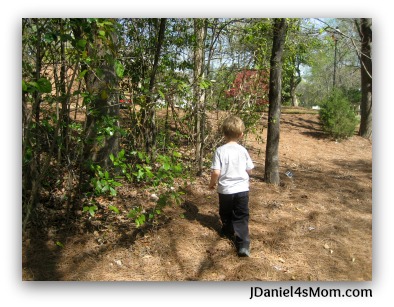 Seeing Spring
JDaniel couldn't slow down once he got off  the swing. He was all over the trail looking at all the plants and trees. There were so many different shades of green and brown to observe. There were early spring plants that were festive and dressed up for Easter. Some plants were still dormant and hadn't realized winter had passed and spring had arrived. Others were just starting to show their spring displays.
Thankfully each plant had a sign in front of it. JDaniel kept asking me what each plant was.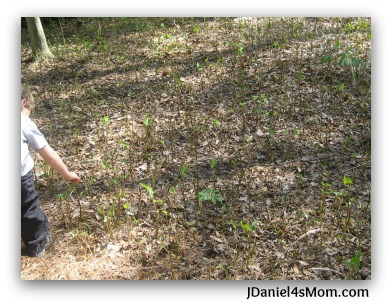 Touching Spring
JDaniel had the best time showing me each of the treasures and describing what it felt like. Some were soft and smooth while others were hard and bumpy.  There were seed pods, pine cones, leaves, small twigs and so much more.
There were some many treasures that plants had deposited on the ground for JDaniel to find.  By the end of the trail I wished that I had brought a paper bag with me to hold all of them. Since I didn't, I asked JDaniel to find special places to hide them on the trail for others to find.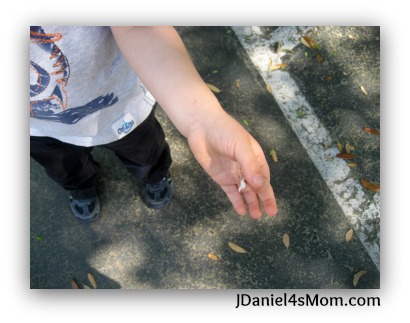 I hope you will each be able to head and out observe spring. It has so many things for us to see, hear, touch, and smell. This nature for kids activity is one your kids will ask to do again and again.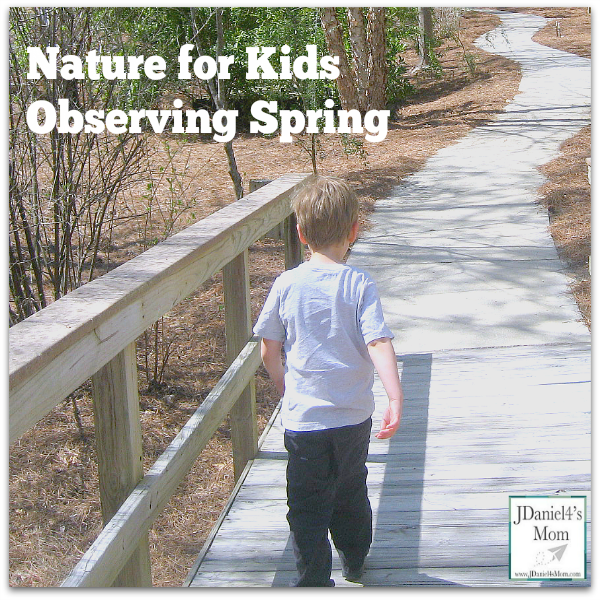 Here are some more nature for kids activities:
Do You See Animals When You Hike?

(Visited 230 times, 1 visits today)