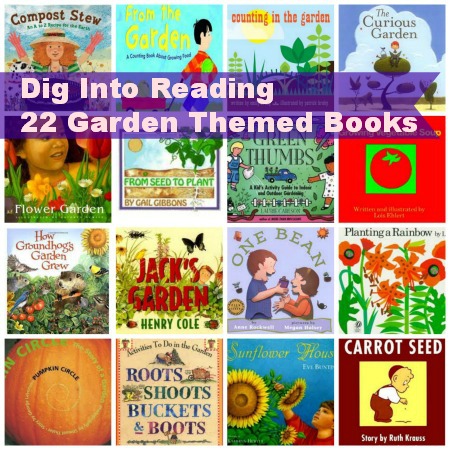 The summer reading theme for 2013 is Dig into Reading. There are so many wonderful garden themed books that feature a dig into it theme. I thought I would share some wonderful garden themed books for children that you can dig into that feature a gardening theme.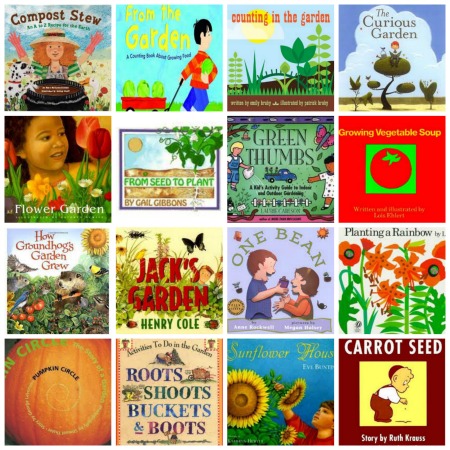 Garden Themed Books
Compost Stew
This is a wonderful book that shares just what can go into a compost bin.
From the Garden: A Counting Book About Growing Food (Know Your Numbers)
Counting from 1 to 12 while gathering items from the garden is such fun.
The Curious Garden

A little boy seeks to make his community garden more beautiful and over time his garden spreads through out his city.
Flower Garden

A little girl and her dad create a wonderful window box garden for the little girl's mom. What a wondeful surpise.
Counting in the Garden

This is a  counting book with wonderful pictures. As you go through the book a new items is added to the garden.
Growing Vegetable Soup [GROWING VEGETABLE SOUP

All the steps need to grow, harvest and prepare vegetable soup are described in this book.
Green Thumbs: A Kid's Activity Guide to Indoor and Outdoor Gardening (A Kid's Guide series)

This book contains wonderful ways to get children into gardening.
How Groundhog's Garden Grew

Instead of borrowing vegetables from other animal's gardens Groundhog learns how to grow his own.
Jack's Garden

This book follows the rhythm of "This Is the House That Jack Built" only this time Jack plants a garden.

One Bean

This book walks you through how a bean grows.
Planting a Rainbow

This wonderfully illustrated book walks you through how many different plants grow. It shares not only planting seeds ,but seedlings and bulbs too.
Pumpkin Circle: The Story of a Garden

The photos and text in this book walk children through the life cycle of  a pumpkin.
Roots, Shoots, Buckets & Boots: Gardening Together with Children

How to create 12 themed gardens is shared in this book.
Sunflower House

The life cycle of a sunflower are shared in this wonderful story. Oh! A wonderful sunflower house is shared too.
The Carrot Seed Board Book

Everyone in this book tell a little boy his carrot seed won't grow. He tends to it and it does grow.
The Gardener

This terrific story features a roof garden created by a little girl visiting family in the big city.
And the Good Brown Earth

A grandmother and her grandson both choose to garden their own way and end up with a wonderful garden.
Zinnia's Flower Garden
Zinnia and her animals create a wonderful place for flowers to bloom.
The Ultimate Step-by-Step Kids' First Gardening Book: Fantastic Gardening Ideas for 5–12 Year Olds, from Growing Fruit and Vegetables and Having Fun with Flowers to Indoor and Outdoor Nature Projects
150 garden projects for children 5-12 are shared in this book. What a wide variety of ideas displayed for you to try!
Whose Garden Is It?
Every person, animal, and insect that lives and works on the garden in this book things it is theirs. The impact each has on the garden is shared in such a wonderful way in this book.
Rosie Sprout's Time to Shine
Rosie has a gift of helping others and tending to not only her bean plant at school, but another student's. I love this book.
Now that I have shared some wonderful garden themed books I want to let you know that I will be share some wonderful activities that feature a gardening theme on Tuesday, May 7th. Several members of the Kid Blogger Network will be hosting a link up called Dig Into Gardening. I hope you will stop by to link up your own activities then. I am also hoping you will visit my other co-hosts to see how they are exploring the theme.
During the summer I will be co-hosting a Dig Into link up on the first Tuesday of the month. 
Here are themes and the date the link ups will go up:
May 7th-  Dig into Gardening
June 4th- Dig into Exploring Underground Animals
July 2nd-   Dig into Construction Sites
August 6th-   Dig into Treasure Hunting
Disclaimer: This post contains affiliate links.

(Visited 953 times, 1 visits today)