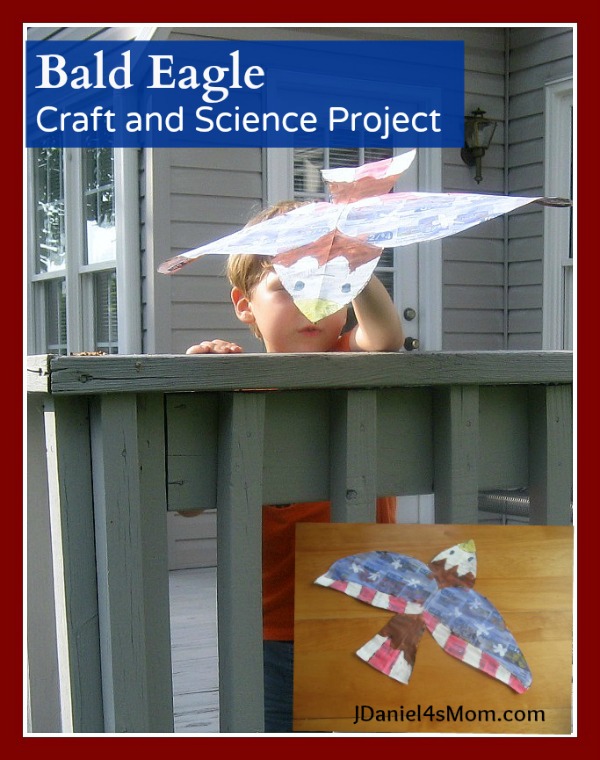 We have started to talk about the symbols of our country leading up to Independence Day on the 4th of July.  I thought a wonderful symbol to start with is the bald eagle. The idea I came up with was that  we would create a bald eagle craft and see if we could get him to fly as a science project.
Before I tell you what we did to create our eagle and how experiment went, I want to give thanks to those that disagreed with Benjamin Franklin about what our national bird should be. Benjamin wanted the national bird to be a turkey. He felt an eagle was far more respectable and less of a scoundrel than the bald eagle. For my part I am thankful that I didn't have to try to help JDaniel create a flying turkey for this experiment. (JDaniel was a little surprised to hear that the turkey had even been considered.)
The book we are going to Read, Explore, and Learn on Friday is called  Red, White and Boom. While trying to decide on activities we could do to explore this book I came across a really cool picture of an eagle in the book. The eagle shown in the parade and being flown at the beach looked really fun. I tried to copy the it freehand onto newspaper. It looks close to the illustration by Huy Voun Lee, but not exactly like it. Hers is much better.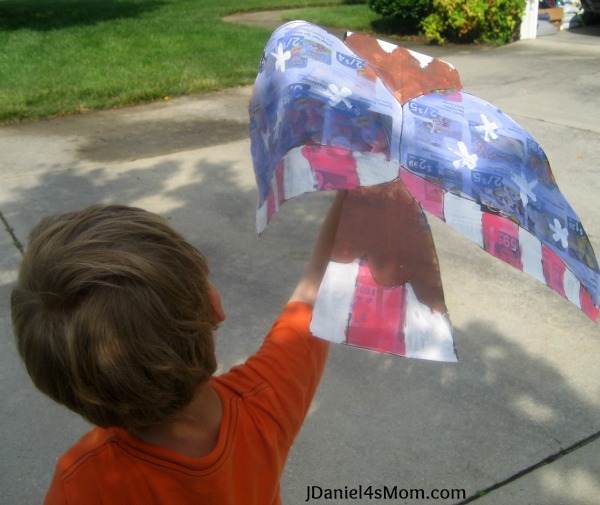 Making the Bald Eagle Craft

I decided on newspaper as my painting surface because it is light weight and I hoped it would allow the bald eagle to fly better. If you look closely at the picture, you will see that the newspaper I used is from a grocery store circular.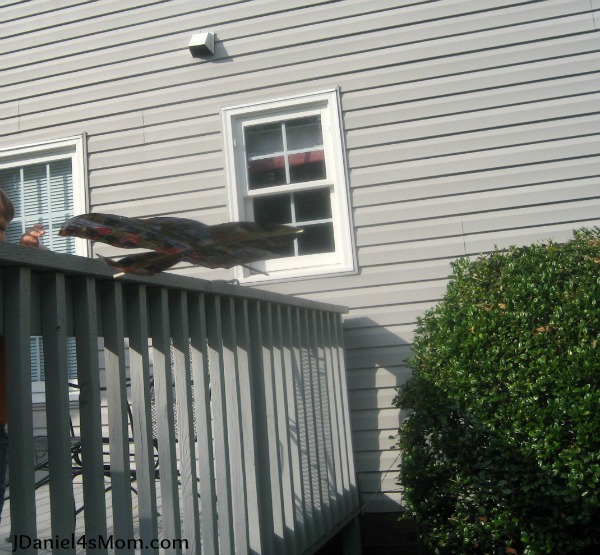 JDaniel helped me attach bamboo chopsticks in the shape of an X to the back of the bald eagle craft.  When we took him outside and JDaniel through him in the air. Our bald eagle creation crashed quickly to the ground into slumping pile.

As you can see in the picture the bald eagle's head and wings need some support. We took him back in and taped an additional chopstick to each side of the bald eagle to give him a little more stability.

Then we took the bald eagle to our deck. The eagle took off well when he was thrown off the deck on the back of our house. He drifted a few feet and then plummeted to the ground. We were able to work on lift on our model of the the bald eagle it seems , but not draft. It looks like we will need to do some research on keeping flying crafts in the air. Maybe we will need to adjust his wings or add a tail.

We will have to keep working on it. I would like the bald eagle to really fly before Independence Day.

Do you have any ideas of how we can make our bald eagle craft fly like an eagle?

(Visited 1,327 times, 1 visits today)