The first day of school is often filled with lots of Back to School pictures. While some of us have already started school, many of you haven't.  It seemed like a great time to share with you picture no-nos for bloggers and anyone else who is going to post pictures on the internet. (Facebook, Instagram, Pinterest, etc..)
Don't Share These Back to School Pictures
School Sign in the Picture
If you are posting a picture that features your child standing in front of their school's sign, you are sharing with someone where you child goes to school. If you are sharing the picture with only family members or friends that know your child goes there, you may feel comfortable with posting it. If you are sharing the picture with the world, then everyone who sees the picture will know where to find your children.
School Shirt Shown
The shirt shares the same information the school sign does. It might be a challenge taking a Back to School Picture of your child in their uniform if they are required to wear one without sharing the school name. You may feel comfortable sharing that information. If you don't want to share it you may want to take a picture of the first day of school featuring what they were wearing after they got home from school.
Picture Right Outside the Classroom Door with Teacher's Name Displayed
This maybe is a little extreme, but  I did think I should mention it to you. If you feel okay about sharing your child's teacher name, that is great. I think I mentioned my son's teacher's name last year in a post or two. If you would just like to keep in private or if you plan to mention your child's school, you may decide this picture will be left of your shot list. It may just be more than you want someone to know about your child.
A bus with Bus Number Displayed
I remember reading a post by a blogger explaining how much they regretted displaying a picture of their child getting on their school bus. The bus number was right beside the child's head as they entered the bus. The county that they lived in was also right there in the picture. My guy doesn't ride a bus, but if he did I am not sure I would want a friend of friends or the world to know what bus it was.
Backpacks with Your Children's Names on Them
This has been a concern mentioned to me by a number of readers. Names on backpacks let everyone know your children's names or preferred nicknames. Their concern wasn't just for pictures, but for everyday use.
Location Settings Left On When Taking Pictures
Each device you use to take pictures may give you the option to share the location where your picture was taken. If you don't think you will ever use this setting you can go settings area of your camera, and turn it off. You may find this setting labeled location services or privacy on most devices.
Most social media sites will ask if you want to share the location or block it. I tend to click on block when that pop up comes up!
Home with House Number Displayed
I have no trouble taking pictures of the front of my house. The house number is not displayed. I am very open about the city we live in along with our state. Knowing the exact house number isn't something I think I need to share. You may not see it as a problem. After all, you are not sharing your street address. It is just something I have decided to be careful with.
Before School Picture
If you don't have a camera that takes wonderful early morning pictures, you may want to take First Day pictures right after school when you have better lighting. I tried taking before and after school pictures on my son. The after school pictures came out much clearer and prettier than my morning shots. Another bonus was that we weren't rushing to get in the car and get to school when I took those pictures.
Conclusion
You may read this list of Back to School pictures no-nos and think they are just a little paranoid and over cautious. I admit that they maybe. In this day and age, we just don't know who is looking at the pictures are a posting. There ways to share pictures with only those you want to see them and many of you may use them. If you do want to share your Back to School pictures online, I hope you will read these Back to School picture no-nos and decide which Back to School pictures that will be best for you and your family share.
Here are some more Back to School ideas you will love: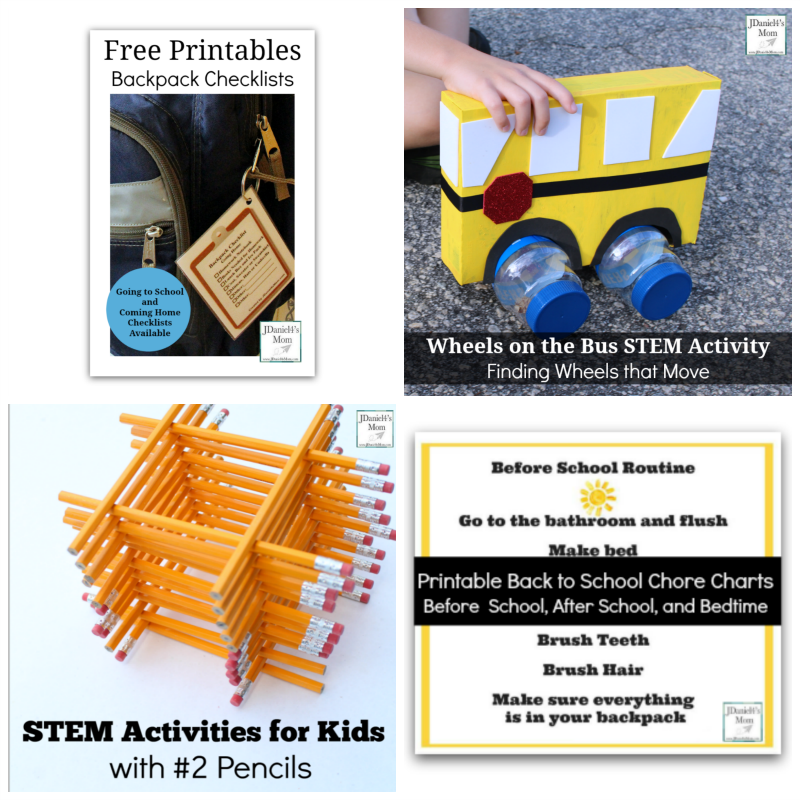 Back to School Crafts and Books
Back to School Supplies I Love
Wheels on the Bus STEM Activity
Make School Fun with Back to School Printables
Going to School and Coming Home Backpack Checklists
Before School and After School Chore Checklists

(Visited 296,436 times, 1 visits today)