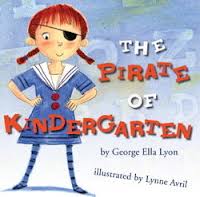 The Pirate of Kindergarten  is about a little girl just starting kindergarten named Ginny. Ginny loves books and she loves the reading circle. When she tries to get to the reading circle, she runs into real chairs while trying to avoid the unreal ones. When she tries to read, she sees double words and pictures.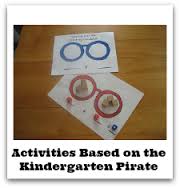 It is at the beginning of they year eye exam at school that her double vision is finally uncovered. Ginny didn't realize everyone didn't see things double.  Her parents didn't  know she saw them this way either. They do take her to the eye doctor. He prescribes glasses, some exercises , and  an eye patch.
Jinny loved the patch it made it so she didn't have to squint. Back at school Ginny became the Kindergarten Pirate who could do work, cut bunnies out without three ears, and read.
I bet there are a lot of children that have vision issues that aren't picked up until they start school. Ginny seemed to enjoy some of the benefits of hers. She loved seeing letters, numbers and  pictures double.
What did we do to explore this book?
Sight Word Eye Charts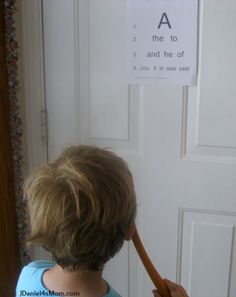 I made JDaniel some sight word eye charts.  I set them up to look like the eye charts that doctors have. They have words spread across several lines and the lines are numbered. The words get smaller as you go down the chart. JDaniel had to cover one eye like the Pirate of Kindergarten.
One eye chart at a time was hung on our kitchen door for JDaniel to work on. I would call out a line and he would read me the words.
Here is a PDF for the eye charts.
What Do You See? Folder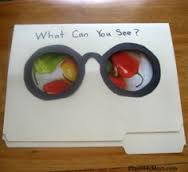 This What Do You See? The  folder has extra large holes cut into it. It was designed for young children working on visual discrimination. For older children would benefit from a folder with smaller cut outs  like the ones in the cat folder I made to explore the book Midnight: The Halloween Cat.
If you can't find large pictures in magazines, you can mount smaller pictures on a piece of construction paper.
Double Vision Math Activity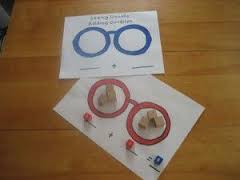 Jinny had double vision so, I made JDaniel a game that worked on addition facts with doubles. He has a work mat with areas to put manipulatives in. The is a space to place the dice he rolls on the lines under that glasses. A third die can be used to display the answer to the math fact.
I put out wooden blocks to count with. They ended up being a little large. Next time we play the game I will put out a smaller manipulative. We also put these sheets into a plastic sleeve so we could use them over and over again.
I have decided to ask you to link  your posts to the Read.Explore.Learn. Facebook page instead of running a link up. I hope you will stop by and share your children's book related activities there.
Disclaimer: This post does contain affiliate links.

(Visited 23,703 times, 1 visits today)