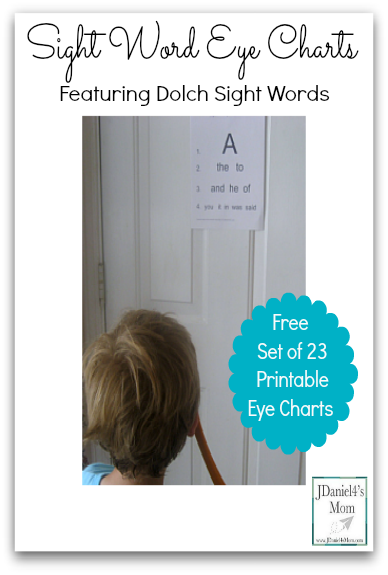 Just before my son started kindergarten we read the book The Kindergarten Pirate. After reading the book, I created some Dolch sight word word eye charts. I thought it would be fun to try to read words with one eye like the pirate in the book. The Dolch sight word charts were shared as just one activity that we did to extend the themes from the book. Recently I reworked the dolch sight word charts. (You will find the link for updated charts in this post and the Kindergarten Pirate post.) They are such fun! You may want to try using them with your kids.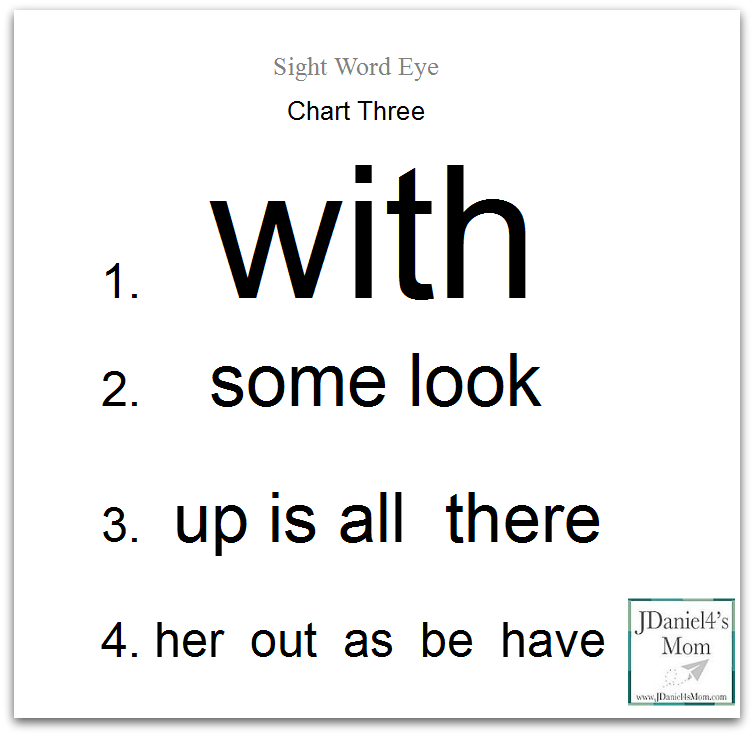 My son placed a plastic spoon over one eye and tried to read down the eye chart to the sight words in the smallest font. Then I had him switch eyes and try to read from the bottom of the chart back up to the top. Each line of dolch sight words is numbered. You could easily have your children read just the words on a particular line. Anyway you choose to have children read the words will be fine. I like the idea of mixing up the order of the words they are reading.
We kept a chart up for a few days at a time before putting up the next one. If you have strong readers or are doing this activity to review words, you may want to change the chart more often. You could also set the charts and a spoon up in a center for your children to work on.

Other Ways to Use the Dolch Sight Words on Eye Charts
You really don't have to have your children cover one eye while they are reading the words. They could just read the words line by line with both eyes.
If you are working on a table and have pointer, you can have them read the words one line at a time pointing to each word as they read it.
If you try these Dolch sight word eye charts, leave a comment below or leave me a comment on my Facebook page telling me how it went.

(Visited 1,160 times, 1 visits today)