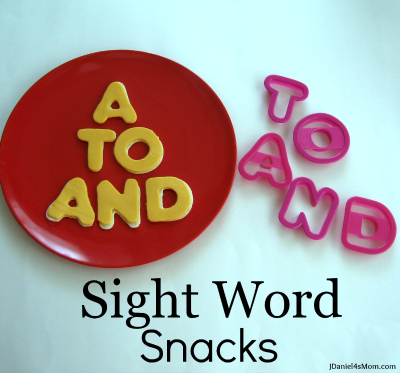 Last week I participated in Megan of Coffee Cups and Crayons Coffee Break on Google+. I was an awesome opportunity to share how we made apple chips and to hear about other snacks Mom Bloggers have shared with their children. Kelly of Smart School House shared some alphabet letter chips made with tortillas. They got me to thinking. JDaniel loves cheese on tortillas and I need to work with him on sight words.
Why not take out my tiny letter cookie cutters I thought and make him a sight word snack with cheese and tortillas? It would be easy to put together and he would inhale the words after reading them to me.
He loved finding them sitting on the kitchen table when he came home from school. The cheese has melted a tiny bit due the warmth of the day pouring into the kitchen window. He liked that unplanned added touch.The success of this sight words snack got me excited. I have been thinking of other foods I could use to create the snacks that spell out sight words.
Food Learning Activities Beyond Sight Word Snacks:
small lengths of celery with cream cheese could be used to build letters.
string cheese could be peeled into strings to form letters
small letter cookies
cinnamon toast cut with cookie cutters
cheese cracker Scrabble letters from the store
alphabet cookies from Trader Joes
potato sticks could be used to form letters
apple slices could be cut out with cookie cutters
cold spaghetti could be bent into letters
cookie cutters could be pushed into fruit leather to create words
My brain was reeling with ideas. I think I may have to create a whole series on sight word snacks. JDaniel would love to taste test them for me and I would get to help him work on sight words. Snacks give him a hands on way to interact with sight words and his taste buds get to participate too.
Brace yourself sight word snacks will be appearing on the blog every couple of weeks until I run out of them. If you have an idea for me to try, leave it in a comment below. If you like one of the ideas on the list and would like to see how it could be carried out, you can leave me a comment too.

(Visited 943 times, 1 visits today)