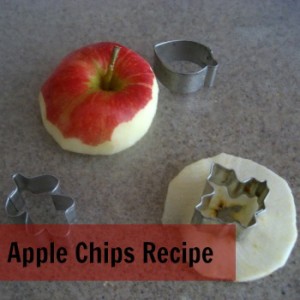 Apple season is in full spring here in South Carolina. It seemed like the perfect time to try an apple chips recipe I found online. Well, actually I found two apple chip recipes online. Believe it or not they were both different from each other. After reading through both recipes, I decided to follow a couple of directions from each one and add a twist of my own. I have mentioned to you that JDaniel shares most with me about his school day when we sit down after school and have a snack this looked like snack he would like.
Ingredients

3 large Gala apples
4 tablespoons of cinnamon
1/4 cup of melted brown sugar
1/2 cup white sugar
Directions
Preheat the oven at 200 degrees F.
Line two cookie or baking sheets with parchment paper.
Create a mixture of the cinnamon and sugar in a small bowl and set it aside.
Lay an apple on its side.
Slice apples thinly or as thinly as you can cut them. My slices are on the thicker side. When I tried to cut them thinly I didn't end up with complete slice.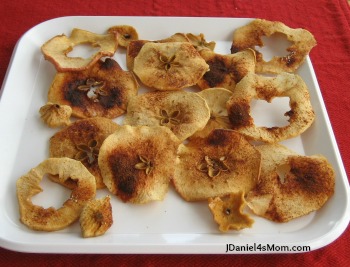 I just used small leaf shaped cookie cutters to make fall themed apple chips.
Place the apples onto the baking sheets in rows.
Melt the brown sugar in the microwave with a little water for about 35 seconds.
Brush the melted brown sugar onto the apple slices.
Sprinkle the apples with mixture of the cinnamon and sugar.
Bake for 1 hour and then flip the apples over.
Bake the apples for a second hour.
Turn of the oven and let the apples sit in the cooling over for 30-45 minutes.
Some of the apples may be a little chewy and some may be a little crunchy. It will depend on the thickness of the apple slices and how hot your oven tends to run.
My guys think that I need to try this apple chips recipe again. They really loved these. It is probably due to the two kinds of sugar and cinnamon. They both love sweet snacks. I love that we are getting fruit along with the a sweet treat!
What is your favorite fall treat?

(Visited 378 times, 1 visits today)