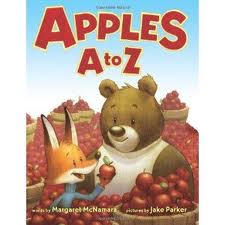 Apples A to Z
 literally shared facts about apples from a to z. A small fox and his friends fill the fun illustrations with displays of what each page is discussing. Simple concepts like when the apple falls off the tree fruit forms to grafting branches from one kind of tree to another produce healthier trees. JDaniel was fascinated with grafting and how it works.  I was impressed that Margaret McNamara found varieties of apples from a to z. I have never heard of the queen cox or the Xavier de Bavay much less the za ber gau.
This book does another amazing thing. It delivers information for each letter of the alphabet that doesn't seem forced or trite. Each word selected for each letter is interesting and adds to the trip through the alphabet. It does this with humor, fun facts and great pictures by Jake Parker.
How did we explore this book?
Math Activities for Preschoolers
Writing Number Activity
JDaniel invented his own way to write many of the numbers. Despite being shown how to write them correctly. Now that he is in school, he has to write them using the traditional style of number writing. I decided to create for him some writing number cards.
The cards were created to have two steps. The first step is to trace over the number on each of the cards. The second step is to write the number inside of the apple on each card. So we would be able to use the cards over and over again the cards were placed in plastic sleeves. (If you have access to a laminator, you can laminate the cards. I may laminate the cards later on.)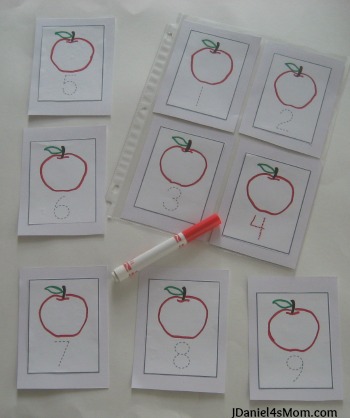 There are lots of writing number activity sheets available online. JDaniel does worksheets at school and while these look a lot mini worksheets I hoped they would be different enough for him. I simply went into Paint and drew a rectangle. Into the rectangle, I placed a clip art apple and the dotted number. I repeated this process over and over until I had the number 1-9. The pictures were then inserted into Word in rows of three and then printed out.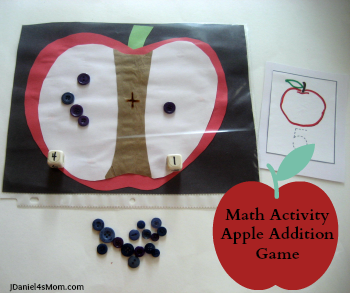 Themed work mats are a great place to work on addition facts with counters. I made these apple mats to go along with this book. JDaniel was asked to roll a pair of dice and decide which number would go into which white section of the apple.  Then he placed the correct number of buttons into each section. ( The buttons were supposed to look like seeds.)
You will notice that I put a plus sign in the core of the apple. I want to be able to use the mats for subtraction too. Leaving the brown paper area of the empty and writing it on the apple when it was in the plastic sleeve allowed me to write the function we were focusing on when we needed it.
When JDaniel had counted the button on both sides to find the sum, I had him place the number tracing card with the answer beside the work mat.
He did a great job of working with the counters and the concrete numbers. It is so important to hit more than one type of learning when working on concepts. I think these math mats do just that.
I have decided to ask you to link your posts to the Read.Explore.Learn. Facebook page instead of running a link up. I hope you will stop by and share your children's book related activities there.
Disclaimer: This post does contain affiliate links.
(Visited 552 times, 1 visits today)