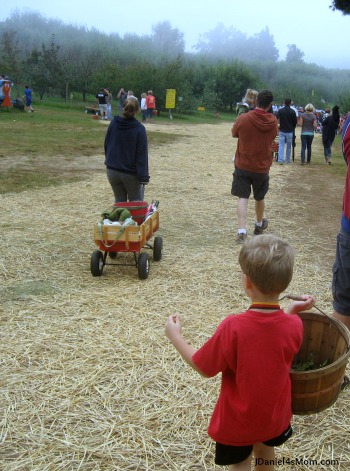 Visiting an apple orchard was one of the things on our fall bucket list  that we wanted to check out first. Actually with only a few weeks left in apple season here in the Carolinas, it really needed to be done first.  JDaniel and I decided to check it off our list. Picking apples with my kindergartner was going to be so much fun.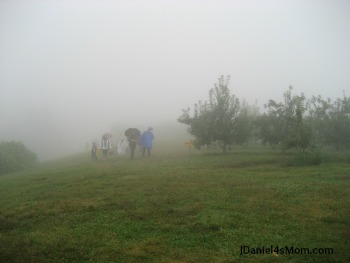 Details on Picking Apples with My Kindergartne
The only draw back with doing it the weekend we did was a forecast of rain. JDaniel and I headed out early in the morning to try to beat the rain. 
My husband would have loved to come, but he really needed to study for a class he is taking. It turns out we really could have used him to reach the beautiful red apples at the top of the tree. There were tons waiting at the top of the trees for a really tall person to come and get them.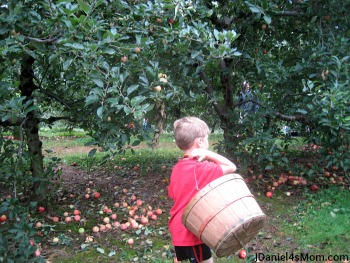 Both JDaniel and I tried climbing up the trees to get to some of the apples that were out of our reach. Climbing inside the tree also helped us keep warm and dry. It had started to drizzle a little by the time we reached the rows of Galas apples. The temperature had started to drop too. It was way warmer inside the tree than it was outside the tree.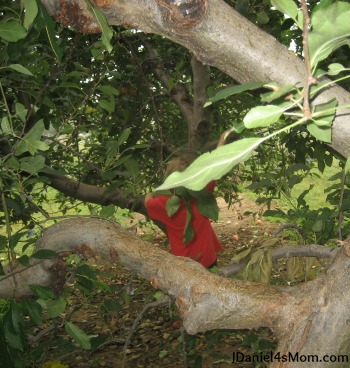 Due to the weather I would say that we spent as much time in the trees as we did out of them. After a long time moving through the archway of branches created by the trees and climbing up them, we both stopped to take a rest. I just love this picture of JDaniel. He looks so comfortable sitting  in the branches.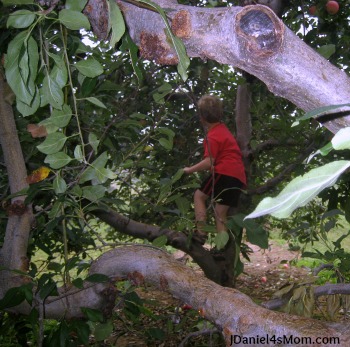 When we had finally filled out baskets, we headed out from the canopy of trees to find that fog had rolled in. It was really odd to hear people coming towards us before we would see them.  It reminded me of a scene from the movie Brigadoon. The fog faded as we headed into the the orchard's purchasing center to pay for our apples and to buy some apple doughnuts.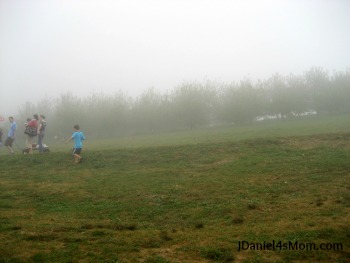 Apple doughnuts are something Sky Top Orchard is known for. Despite there being a really long line for doughnuts, JDaniel thought we totally needed to wait. After tasting one, I totally agree with him. They were really wonderful. Actually we decided to eat a second one just to make sure they were really good.
By the time we wove around the store in the doughnut line the rain had started to fall again. Picking apples with my kindergartner was fun, wet and slightly chilly adventure. This year he was old enough to climb safely up tree branches and enjoy picking apples.

(Visited 44 times, 1 visits today)