I am participating in the 21 Day of Gratitude  Challenge Hop hosted by Inspired by Famila.
Today's theme or focus is gratitude for family. I am truly fortunate to have a loving and supportive family.
When someone is in need or needs support, my family rallies around them. I saw that happen when my brother-in-law was sent to Afghanistan last year.
Charles headed to Afghanistan right after Thanksgiving last year leaving my sister Catherine and their two children behind. We send cards and care packages to my brother-in-law as well as gifts for my sister and the kids. It was so important to remember them and show them they were important.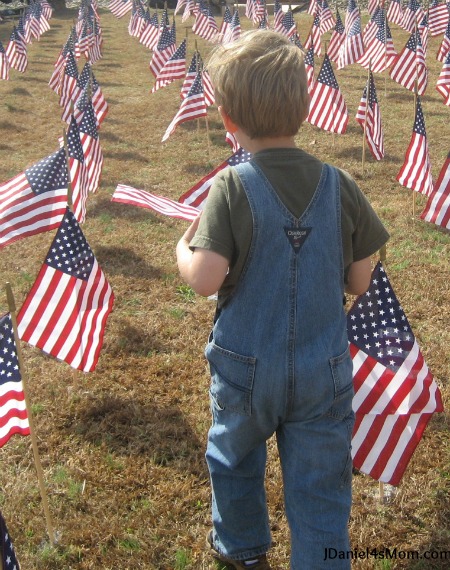 We held my sister, brother-in-law and their kids in our prayers. I didn't always know the specifics of what to pray for, but we handed over prayers knowing that God would hear them and send the answers that were needed.

A couple of weeks ago JDaniel and I went to our local veterans memorial to help plant flags in the ground. There was a number of local newspaper and television reporters present. Each went around asking the various groups present as to why they decided to come to the memorial to help to plant flags.
I told them what I had told JDaniel on our way over to the memorial. We came to remember those who served our country by getting their memorial ready for Veterans Day and that we have two veterans that recently fought for our country overseas.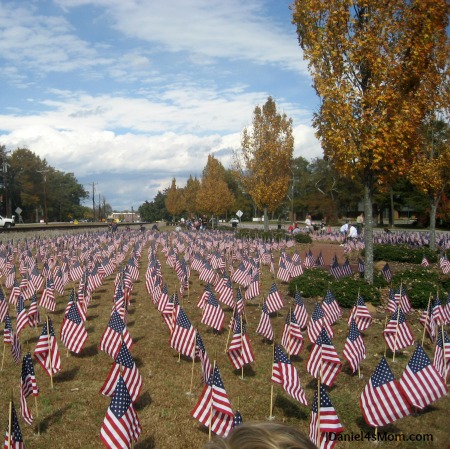 The event organizers were so impressed with all the work JDaniel did that day. He helped plant flags when we first got there. Then he moved on to distributing flags to those who were using stakes create holes to place the flags in. Finally, he helped me by holding my collection of flags to be planted so they won't touch the ground.  JDaniel worked for over two hours.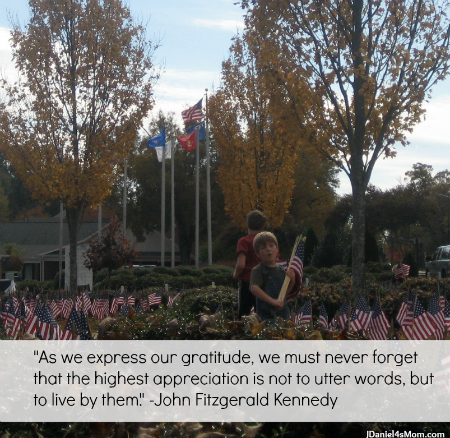 When we left that day, we both felt like we had done something special.   It was truly special to look back and see the field filled with flags knowing that we had planted some of them as a tribute to those in our family who have served.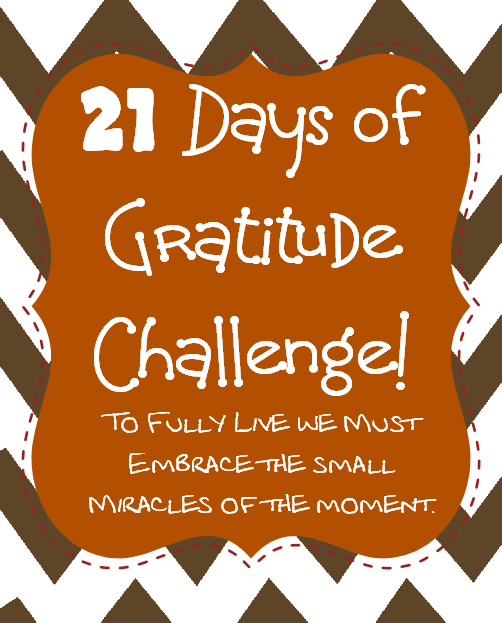 The Gratitude Challenge runs from  November 1st- 21st. Each day one or two bloggers will be sharing have an encouraging quote focused on being thankful, gratitude, kindness… They will also share an activity or share their 21 Gratitude moment. Stop by and visit their website on the date listed below to read their Contagious Gratitude story or activity.
Here are the lovely bloggers and each day they have posted:

(Visited 115 times, 1 visits today)