This week I have been sharing some of my favorite preschool activities with water on Facebook, Pinterest, and Google+. I didn't want you to miss out on getting to see some of them. Here are 15 awesome preschool activities with water that I really love.  Each would be fun for preschooler, their older siblings, and even for their parents to explore and play with.
I would totally love for you to visit each of the post listed below and then share with me which ones are your favorites!
10 Fun Activities To Support Children's Mark Making from Playful Learners shares amazing ways for kids to share their thoughts and feelings!
Paging Fun Mums shares how plants absorb water in a fun science experiment and colorful post called.
I just love The Little Nook's  The Ocean Blue- Kid's Craft! It is a great ways to display some of the small shells you have found on the beach!
Teach Preschool's Fun with frozen making ice grow will have your children in awe of ice and watching it grow.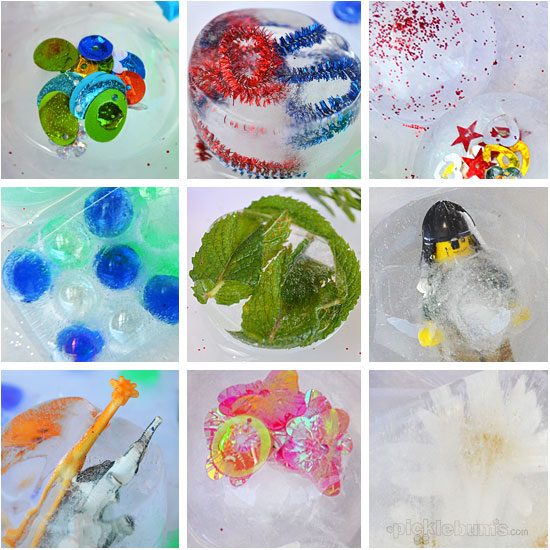 Twenty Fun Things to Freeze in Ice Blocks from Picklebums shares an amazing array of items that you can freeze and explore encased in ice.
Marble Maze and Water from Housing a Forest is so cool! We have  marble track and I plan on trying this activity out with my son.
Mama.Papa.Bubba.'s Frozen Ocean Animal Rescue looks like lots of fun! I love all the fine motor play that is happening while children are rescuing the animals.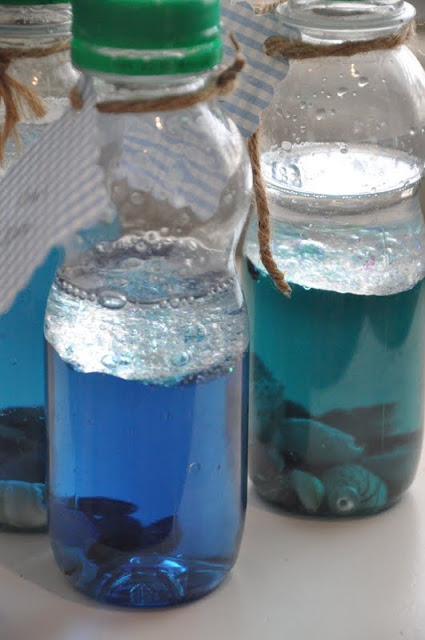 Science for Kids- Bottle Fountain is a super cool activity from Learn with Play at Home.
PlayTrains Two Color Oil and Water Discovery Bottles will have your children in awe!
Fun at Home with Kids has created an wonderful area for water sensory play called Polka Dot Soup! Chasing the dots looks like a lot of fun.
This Summer Activity for Kids- Ice Boats Water Play from Spanglish Baby. What fun it would to set sail in a water table or a big plastic tub!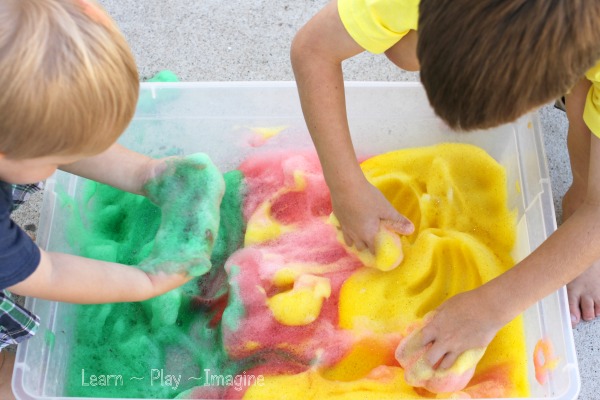 Learn~Play~Imagine's Apple Scented Foam would be great fun to play in and would smell great too.
Kids Water Fun with Tubes from Teaching 2 and 3 Year Olds will have you searching your house for fun tubes for water to travel through.
Roll and Splash from Toddler Approved involves rolling a die and splashing others! This would be great to play during a play date or a water day at preschool.
Moving  Water from Kid's Activities Blog exploring transferring water from various sized containers many of us have in our kitchen.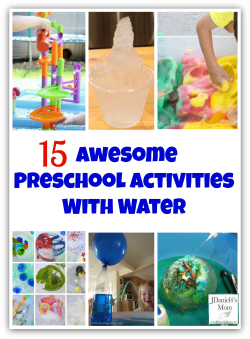 Each of the posts shared above is totally awesome! I hope you will pin your favorites to do with your children. I know you will want to try more than one and I know how hard it is to remember all the activities I want to do with my son.
Here are some preschool activities with water from my blog:

(Visited 2,732 times, 1 visits today)