We love exploring water and ice at our house, these cool experiments use both. We placed four animals from a  Safari Ltd Arctic TOOB
 into old applesauce cups with water and frozen them. The plan was to try to fish our animal icebergs out of a pan with yarn, a chopstick and one kitchen item.
I had read that this experiment would work if the kitchen ingredient was salt, but we decided to try some other ingredients too. After searching through our pantry, we decided to try sugar, flour, baking soda, and baking powder.
How We Put These Cool Science Experiments Together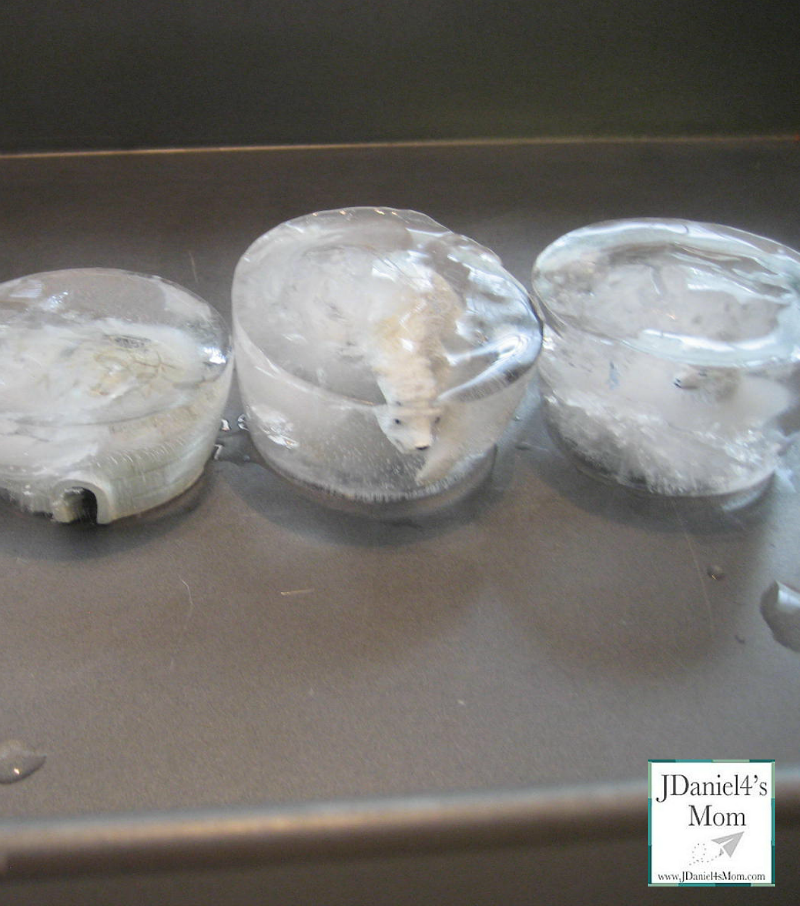 Creating Icebergs
We save old applesauce cups to use for all kinds of activities so, we just pulled four out and set them on the kitchen counter. Into each cup we placed an object from the Artic TOOB. They ended up being three animals and an igloo. Then we added water to each cup while holding the object upright with one of our thumbs.
The liquid polar icebergs were placed into the freezer to freeze over night.
Creating the Fishing Pole
A piece of yarn about 12 inches long was attached to a wooden chopstick with a knot. If you don't have wooden chopsticks, you could the handle of a wooden spoon or a paintbrush instead.
Cool Science Experiments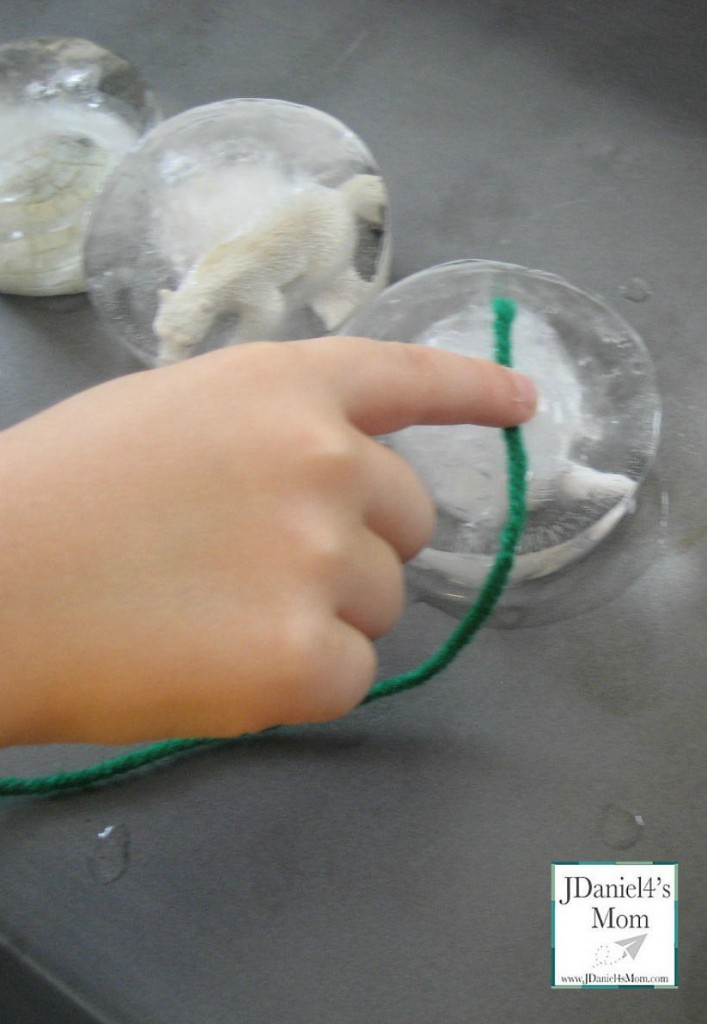 Adding Salt
We placed one of the polar iceberg ice cubes into a pan.  Then a dash of salt was added to the top of the iceberg. Finally the end of the yarn not attached to the chopstick was placed onto the ice cube.
We held the yarn in place and counted to one hundred by tens  before trying to lift the iceberg ice cube up. ( It was a great way to practice skip counting.)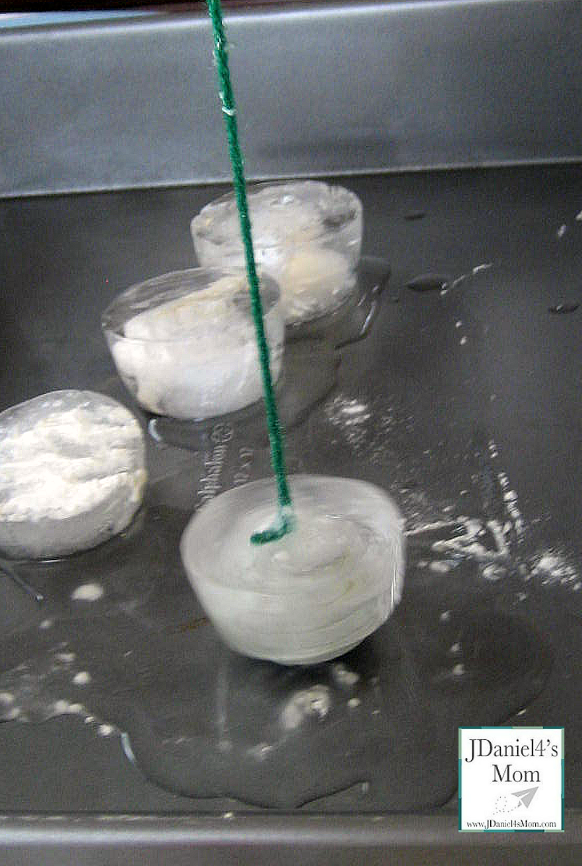 Then slowly the iceberg was lifted up. As my son was doing the heavy lifting, we talked about why adding salt had helped.
Why did it helped?
When we added salt to the iceberg ice cube in the cool science experiment, it raised the ice cube's temperature. The ice started to melt. When the ice melted a little the string was able to sink in a little. The cube then started to refreeze in that melted spot and the yarn was encased in the ice just the way the polar object was.
Adding Flour
If salt melted the ice a little, we decided to see if flour would do anything.  Before we repeated the steps listed above we talked about what flour does when it gets near water. We have done a lot of baking at our house. I knew my son could use these prior experiences to form a hypothesis.
He remembered that flour gets clumpy and that is just what it did this time.
We concluded flour was not the right kitchen ingredients for this cool experiment. Clumpy just isn't cool.
Adding Sugar
The next kitchen ingredient was tried was sugar. We talked about what happen when we added sugar to hot water when we make  hot  tea and we talked about adding  sugar to iced tea.
When adding sugar to both types of tea, the sugar dissolves and adds flavor. We weren't sure it would do anything to a frozen object.
It didn't do anything to the frozen iceberg ice cubes. It may have added a sweet taste to them, but we didn't test that out.
Adding Baking Soda or Baking Powder
We go the same results as we had when we added flour to the top of the ice cube icebergs. We got a clumpy mess on top of them. Just as before clumpy messes on top of ice  aren't considered  cool in science experiments.
Cool Science Experiments Conclusions
We concluded that salt was the only kitchen ingredient we added to the icebergs while polar ice fishing that allowed us to actually fish. The physical changed created by adding the salt to the ice cube iceberg is what allowed us to fish.
Our iceberg ice cubes were huge. We decided next time to use small ice cubes.

For some more cool science experiments check out my Early Learning- Science board on Pinterest.
Follow JDaniel4's Mom's board Early Learning- Science Activities on Pinterest.


What cool science experiments have you been conducting with your kids?
Disclaimer: I was sent the Polar Animal TOOB last year to review. I am not being compensated for mentioning them again.

(Visited 4,291 times, 1 visits today)