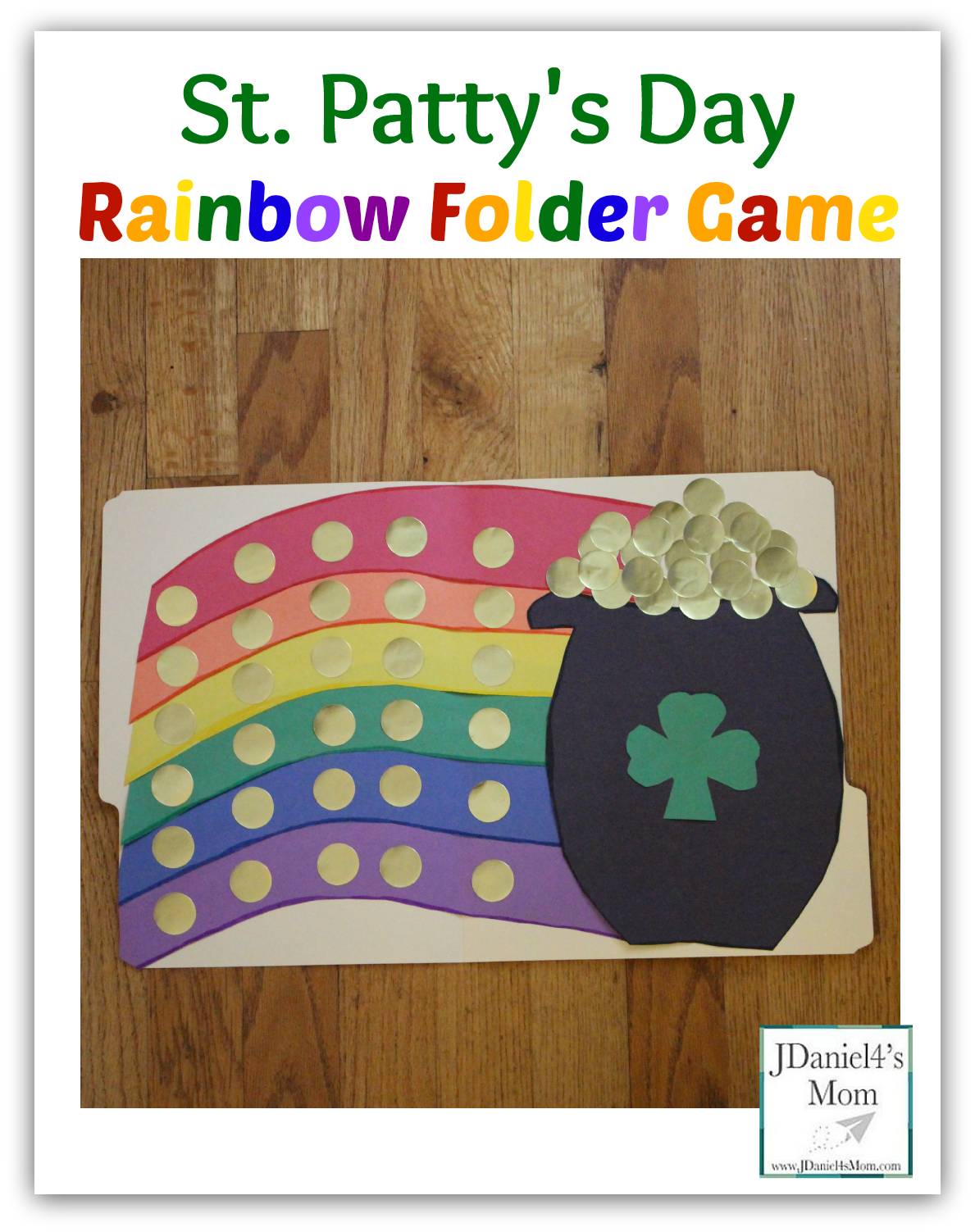 When I taught second grade, my students always wrote stories about a leprechaun crossing a rainbow from Ireland right to the playground outside our classroom window on St Pattys Day.  I even wrote a version of this story starter for my son. This rainbow crossing file folder game reminds me of those stories. Our little leprechauns (children) can cross the rainbow on gold coins that a leprechaun has left behind on his journey to his pot of gold.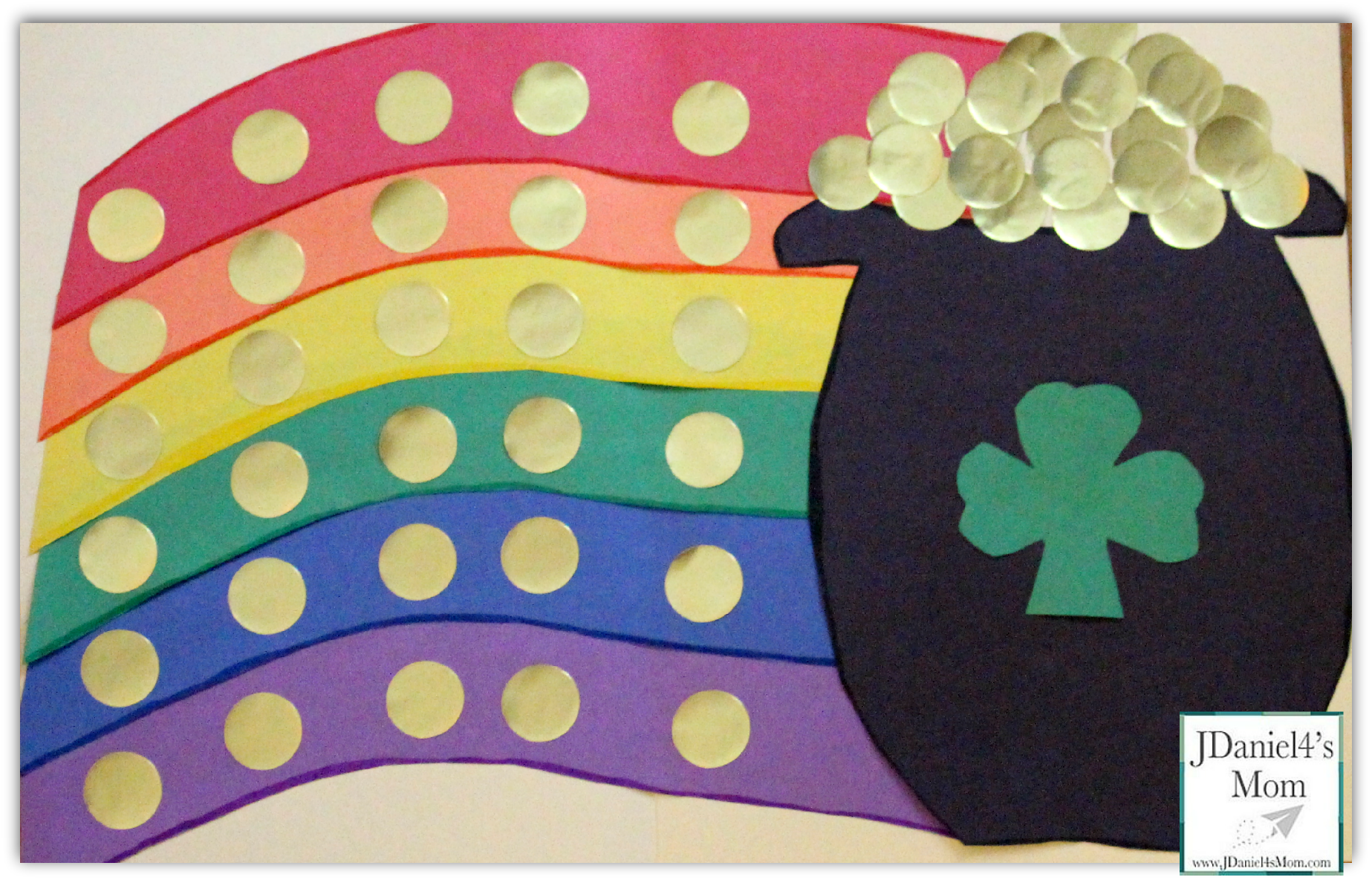 We had to answer review questions about the concepts my son was studying at school to move forward one coin. (We missed almost a whole week to cold and ice. We needed to get our brains back to thinking about school work.)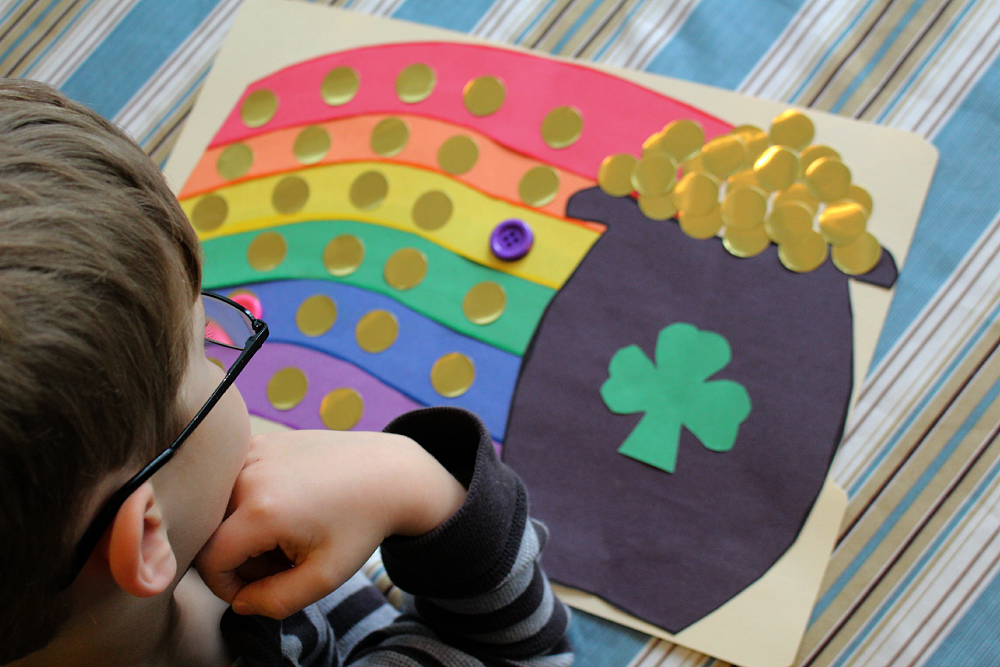 Since there were just the two of us playing, we decided to cross from one color to the next as we move forward. If it had a whole group of children, we would have stayed on the same color all the way up the rainbow.
With most games if you miss a question you lose your turn and have to wait until the other person has had a turn. We played that if a person missed a question the other person had a chance to answer it and move forward one gold coin. My son loves the idea of stealing  or getting an extra turn.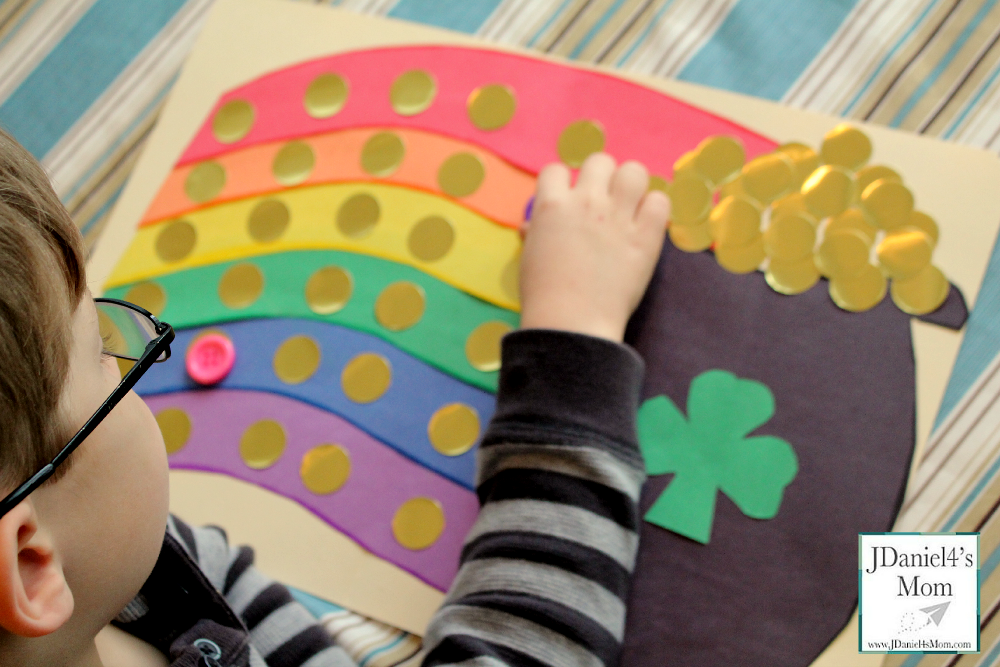 The point of the game was to review the concepts he needs to know. I guess we could have just placed the missed question at the bottom of the stack of questions and waited for it to come up again. It might be a good way to see if one of us remembered the answer that had been talked about the last time the question reached the top of the stack.
There really isn't a right or wrong way to climb across the rainbow to the pot of gold. It is important that you go over the direction or agree to the directions before you start the game.
Supplies for Putting This St Pattys Day Game Together:
The links below are affiliate links.
Construction Paper in the Colors of the Rainbow (Red, orange, yellow, green, blue, and purple)
Black Construction Paper
Glue Stick
Scissors
File Folder
Magic Markers
Tips for Putting This File Folder Game Together:
The construction paper used to create the rainbow were stacked and then cut into arcs so, they would fit together easily.
The rainbow's arc and the pot for the gold were highlighted on their edges to give them a pop.
Gold labels were used instead of cutting out yellow or gold paper add a contrast to the rainbow. Plus they look fun!
A ruler was used when sticking the gold labels down in columns. It was placed vertically on the rainbow and the stickers were placed beside the ruler in each color band.
Here are some other St. Pattys Day activities for kids:
{Printable} Roll and Color St. Patrick's Day Pages
Creating a Snack with Leprechaun Magic Dust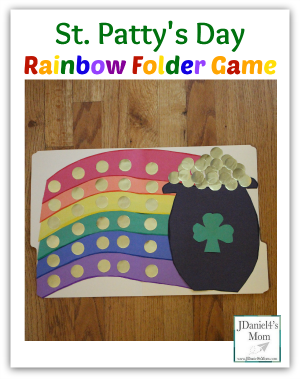 If you do try any of the above holiday crafts, please leave me a comment below telling me about it  or share a picture of it on my Facebook page
Want more fun rainbow activities? Follow the links:
Classic Cereal Rainbow Craft / Frogs Snails & Puppy Dog Tails
Sparkly Rainbow Slime / Craftulate
Rainbow Candy Smash Cookies / Rainy Day Mum
Rainbow Stacking Cups / SugarAunts
Sticky Rainbow Collage/ Inspired by Family Magazine

(Visited 626 times, 1 visits today)