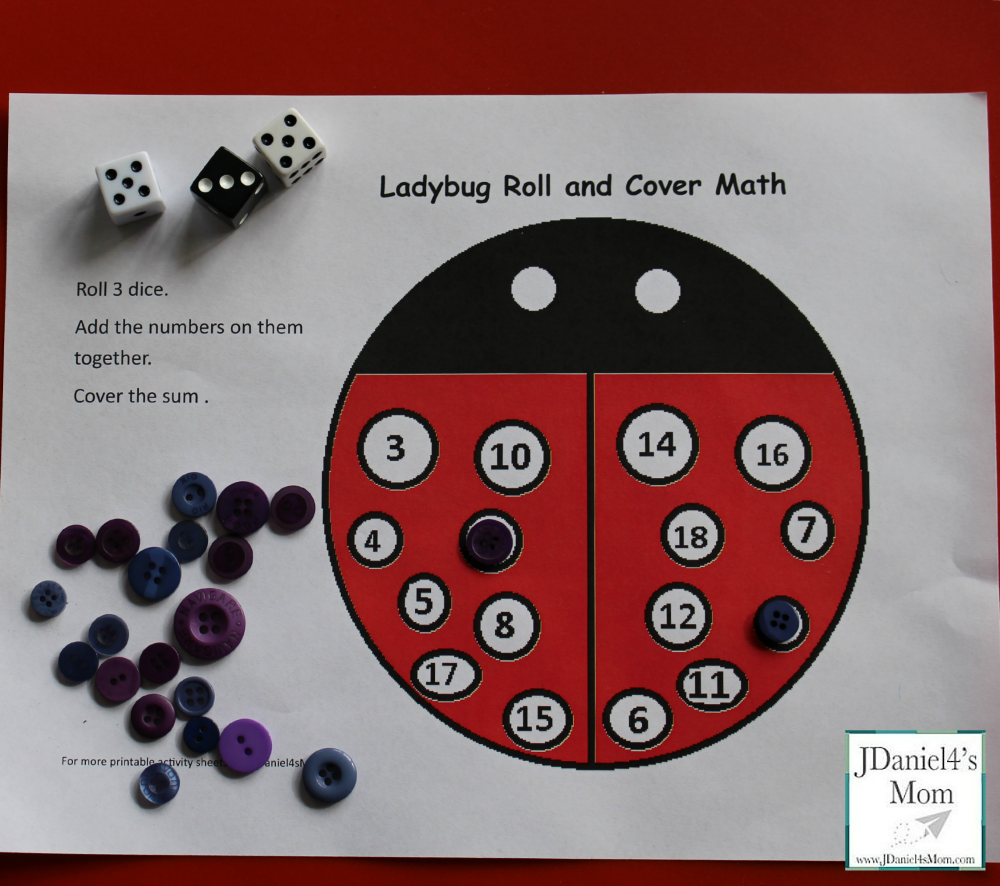 My son and I have played a number of kids math games that use dice and a work mat. (The Cat in the Hat Math Mats are one example.) They are such a great way to review skills and explore new ones. This set of ladybug roll and cover mats had us working on adding two and three digits.
The link below is an affiliate link.
We go back and forth between using dice with dots on them and dice with numbers on them in activities. We have found that the dice with dots on the are easier to count up with , but JDaniel loves a set of 10 sided dice we have with numbers on them. They get used a lot too. (Recently was introduced to dice in dice. Traditional dice with  encase in a plastic die.  I think they would be great for this activity. We will need to get a set and try them out.) Really any type of dice that display something kids can count on them will do.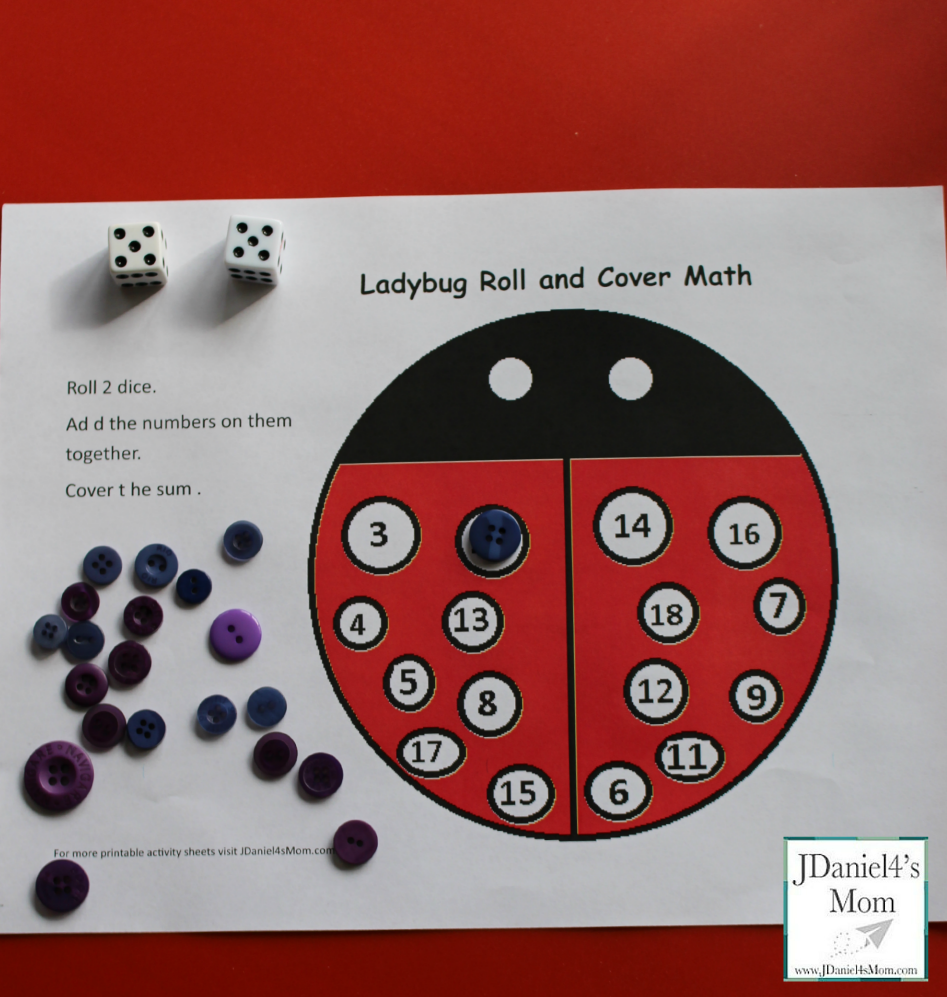 Once you have decided on what type of dice to use for the game, you will need to gather a manipulative you can use to cover each of the ladybug's number spots.  (We invested in a  bag of assorted colored buttons a few year ago. We have used them for crafts as well as learning activities. I think every family should have a bag of buttons, but I digress.)  We used some black buttons and blue buttons for  our button bag for this activity.
Hint: 
If you don't have bag of buttons and don't want to have to buy some, you could use pom-poms or even a round cereal if you like. (While the cereal isn't black, it maybe something you already have at home that will fit on the number spots.)
Three Kids Math Games You Can Play with the Ladybuh Roll and Cover Math Mats
Game One
A child can roll the dice and add up their sum. If that number hasn't been covered yet, then they may cover the number with a button. If it is covered, they will need to roll again.
Game Two
Two or more children can play this game. Each child will need their own mat and pile of number covers. They will take turns rolling the one set of dice and adding them to find the sum. The children who are waiting get to see and hear that child's addition sentence and sum. Hearing someone say the sum may help them figure out that sum when it is their turn.
Game Three
Two children can play with one ladybug roll and cover math mat. Each child can be responsible for covering one side of the ladybug. This game will go much faster than the others due to their being fewer numbers for each child to cover. The children will need to decide at the beginning of the game if they will help each find the sum of a roll if one of them  is stumped.

Here are the Roll and Cover Ladybug Mats: 
Roll and Cover Ladybug for 2 dice
Roll and Cover Ladybug for 3 dice
Here is another other roll and cover game: 
Roll and Cover Math and Reading Printables
If you try playing any of these roll and cover games , please leave me a comment below or leave me a comment on my Facebook page.

(Visited 4,102 times, 3 visits today)