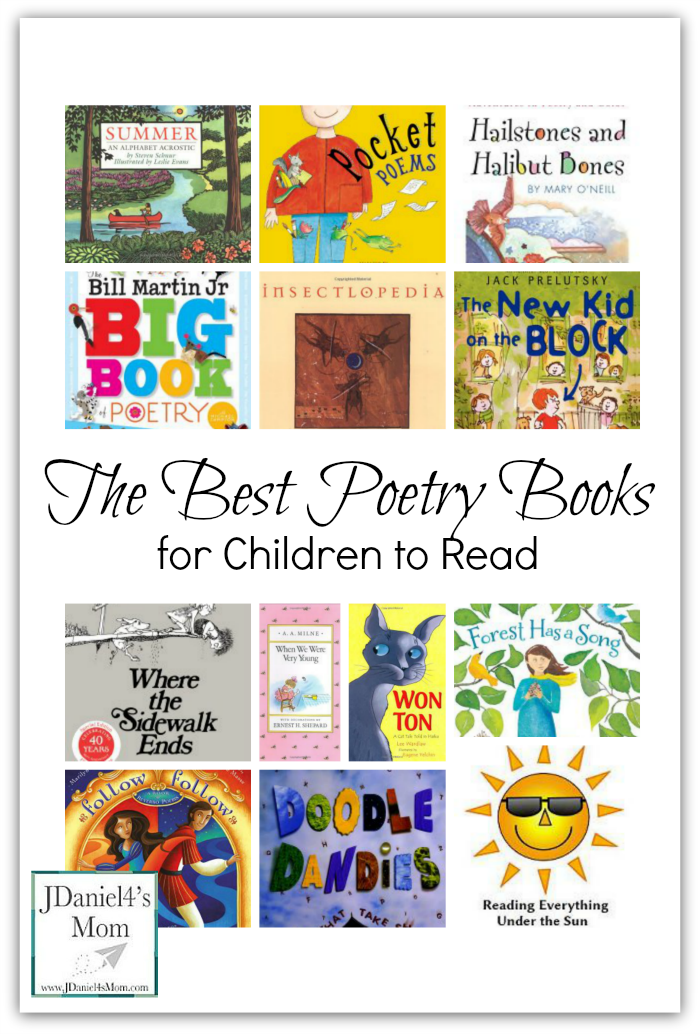 Poetry gives children the opportunity to explore words and the pictures they paint. Whether they read all the poems in a book straight through or just two or three at a time, they will truly enjoy them.  Another great thing about poems is that children will memorize them and remember them later on. What fun it is to share a poem you have learned with a friend or parent!
This post is part of a series called Reading Everything Under the Sun. The purpose of the series is for children to read a wide variety of book in all different genres. Previous post shared in this series are fables, science fiction, and myths.
Poetry Books
Where the Sidewalk Ends: Poems and Drawings
My mom gave me this book when I was in elementary school. I quickly fell in love with the wonderful drawing and fun poem it contained. Sarah Cynthia Sylvia Stout Would Not Take the Garbage Out was one of my favorites The humor and whimsy of these poems will make kids laugh and think.


When We Were Very Young 
This is another book I was given when I was in elementary by my maternal grandmother . (It is written by the author of Winnie the Pooh! ) The poem Teddy Bear and all the other poems in this book will be such fun to read aloud to your children or have them read to you. If they have a favorite bear, the bear will love having these poems read to them.
A Child's Garden of Verses
In my mind poems weave word picture. The poems in this book met children write where they live and paint pictures of these they know.  There are fancier version of this book with vivid illustrations. I selected one that would allow children to visualize their own versions of the poems.
Have you ever wanted to try jellyfish stew? After reading at poem about it, you  may not  want to or maybe you will. You and your kids will sure love reading about it along with 99 other poems in this fun filled poetry book.


Forest Has a Song: Poems
This book contains wonderful poems about all things found in the forest. The girl on the cover of the book appears in some of the poems, but so do spiders, moss and so much more. This is a great book to curl up with and read together or take on a hike to read during a rest break.

The Bill Martin Jr Big Book of Poetry
This is collection of poems selected by Bill Martin Jr. It contains work from Steven Kellogg,  Eric Carle, Dan Vacarrino and many others. This collection of 200 poems is grouped by theme. I bet your children will find at least one poem on a topic that interests them in this book.


Won Ton: A Cat Tale Told in Haiku
This wonderful poetry book tells the story of the adoption of Won Ton the cat. It is told completely in haiku. What a wonderful way to introduce kids to this form of poetry. If your children loves cats, like my son does they will really love this book.


Follow Follow: A Book of Reverso Poems
The poems in this book are meant to be read top to bottom and then bottom to top. The meaning of the poems change when read backwards. It is like getting two poems in one. Each of the poems in this book are based on a fairy tale that kids will be familiar with.


insectlopedia
If you have children that are interested in bugs, I bet they would be interested in reading poems about bugs too. This book's rhymes and buggy poems would be great to share while teaching unit on bugs.


Hailstones and Halibut Bones: Adventures in Poetry and Color
This amazing book has 12  poems about colors. It paints vivid pictures of each of the colors. This would be a fun book to have read to children without letting them see the pictures before they read it on their own. It will be fun for them to compare the picture they painted in their mind with the ones in the book.


Pocket Poems
This is collection of poems for children. It features 50 short poems written by authors children will recognize. Some rhyme, some flow easily off your tongue, and all will be fun to read.
Doodle Dandies: Poems That Take Shape
This is collection of concrete poems. The way the text in each poems is arranged adds to each the meaning of each poem. Children will love seeing the image create by each poem. I bet they will want to create their own concrete poem after reading these.
The various aspects of summer are shared in 26 poems. That is one for each letter of the alphabet. Each poem is arrange so the first letter of each line creates a vertical word. Children will love these poems and seeing their subjects built by letters going down the page.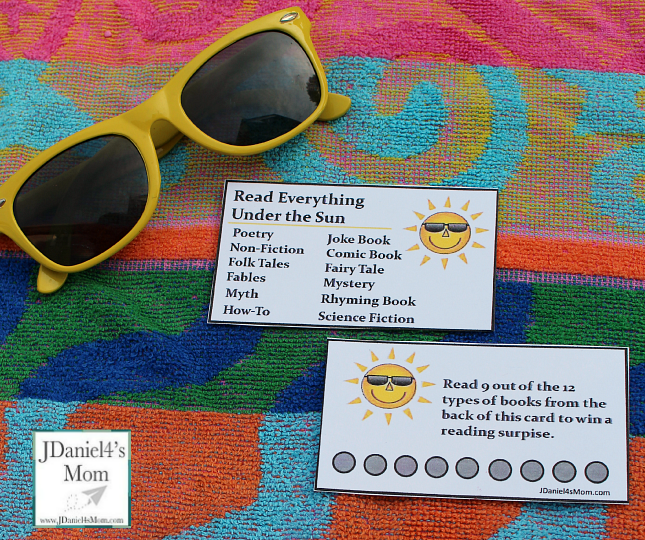 You can go to Introducing a Fun Way To Encourage Summer Reading to get a copy of this reading punch card.
What is your favorite poem? Share it with me in a comment below.

(Visited 1,096 times, 1 visits today)