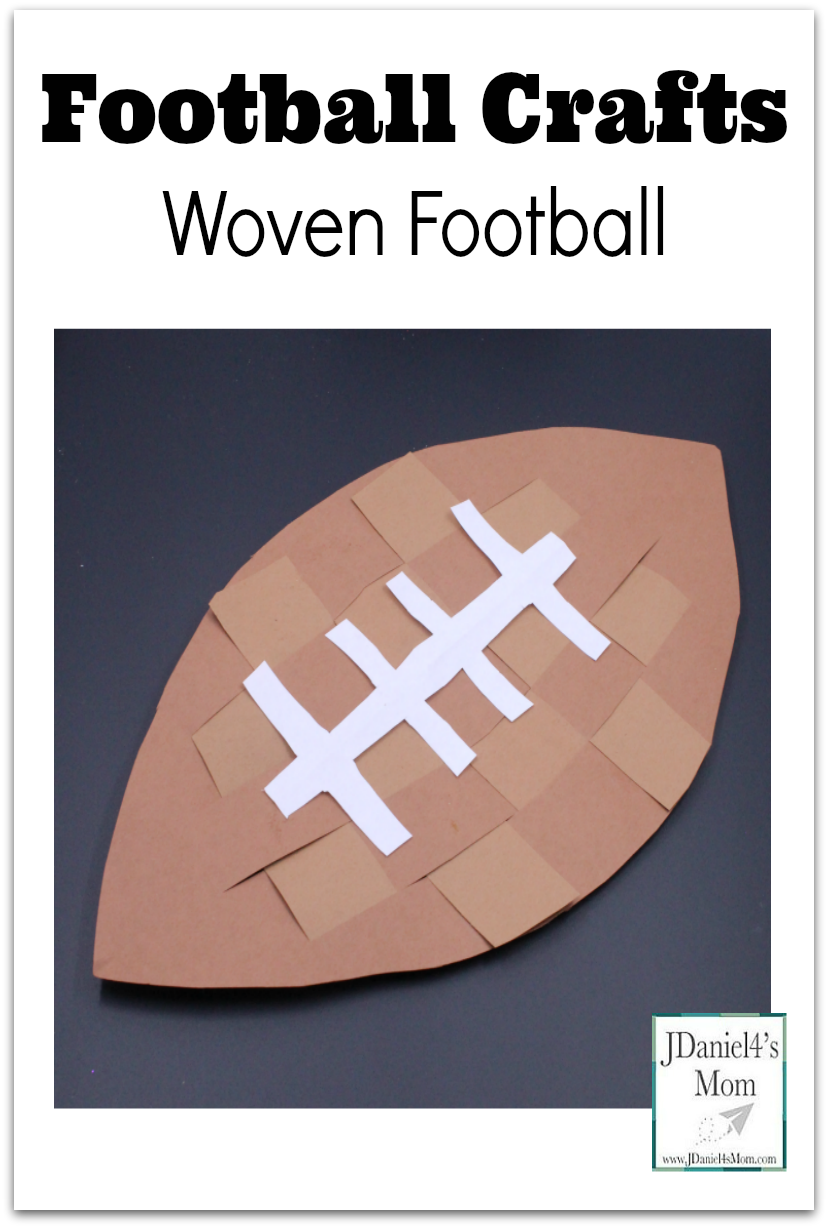 Football crafts are fun to make during the fall when your favorite team starts their season. Football crafts are also fun to make right before the Super Bowl. While the craft I am featuring in this post is a football, there are a number of other elements of football kids can craft. I am sharing a number of them at the end of this post and on my Fall Crafts Pinterest board.
Woven Football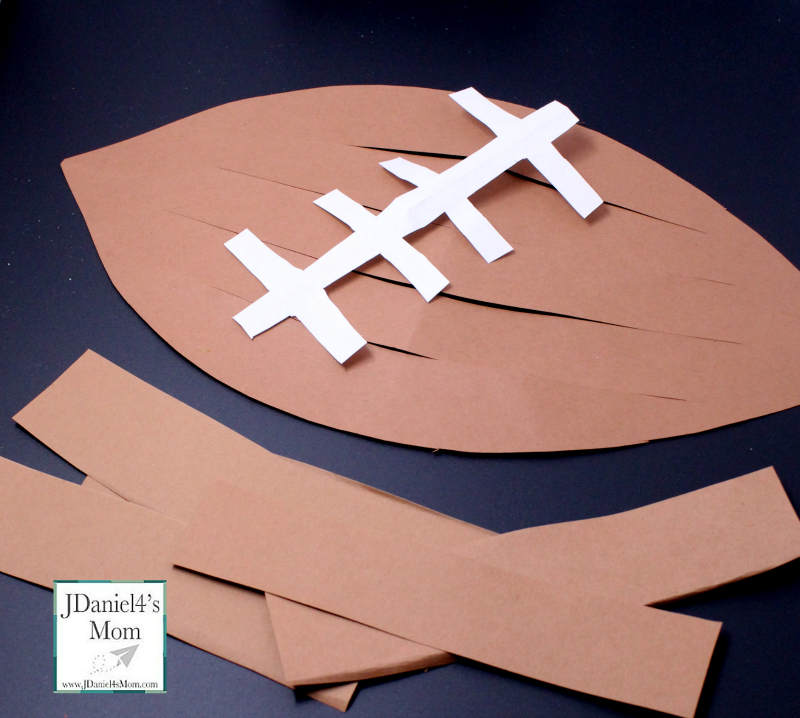 I love to have kids create woven crafts. They work on cutting and other fine motor skills. (You will find a number of them on this blog.) Let me walk you through how we put this football together.
This craft is started by cutting a football shape out of brown paper. You could cut it out freehand. You could also fold a piece of paper in half and cut half of the football shape. This is one of those football crafts that can be started a number of ways.
Next you will fold the football in half hamburger style. That means you fold it so the two ends are touching.  You will cut four or five slits that almost reach the end of the ball.
Then you need to cut out strips of paper that are as long as the widest part of the football. All of the strips will need to be the same length.
Start weaving on one of ends. It really doesn't matter which end.  You just don't want to start in the middle. The starting strip will come from under the football up through the first slit.  It will go over the next slit and then go under again. You will repeat the process until you reach the top of the football. This process with be repeated until all the strips are in place. We pushed our strips towards previous strip to get a tight weave.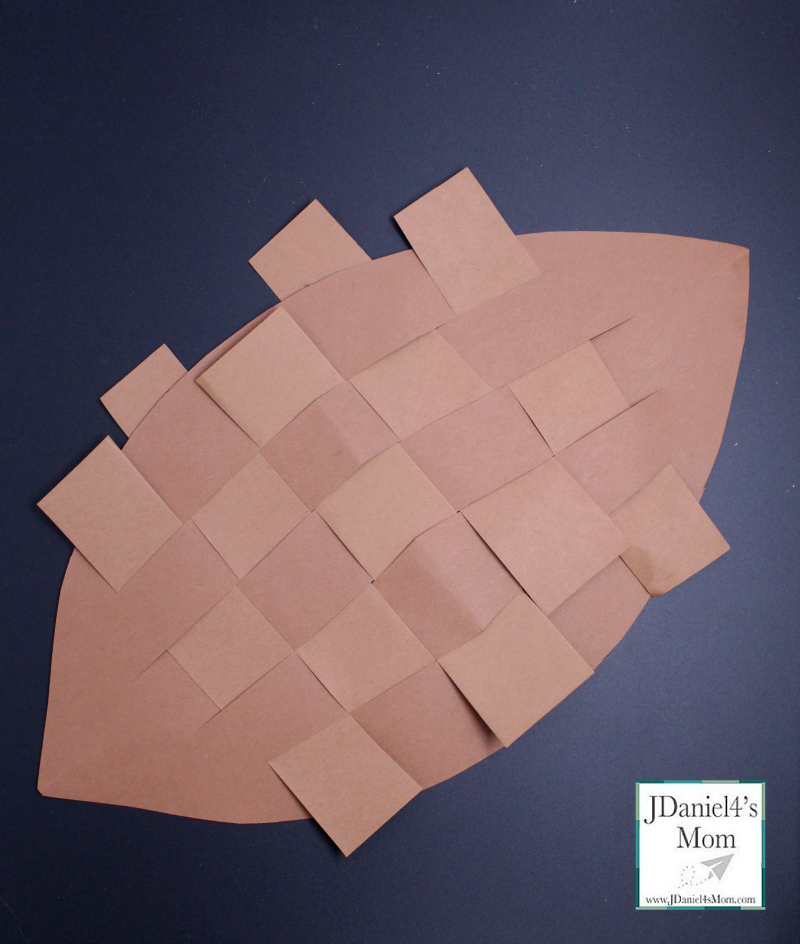 Some of the strips will be too long. You will need to trim them so they fit on the football. Then you will glue the strips in place. You will need to glue the strips on the front and the back of the ball.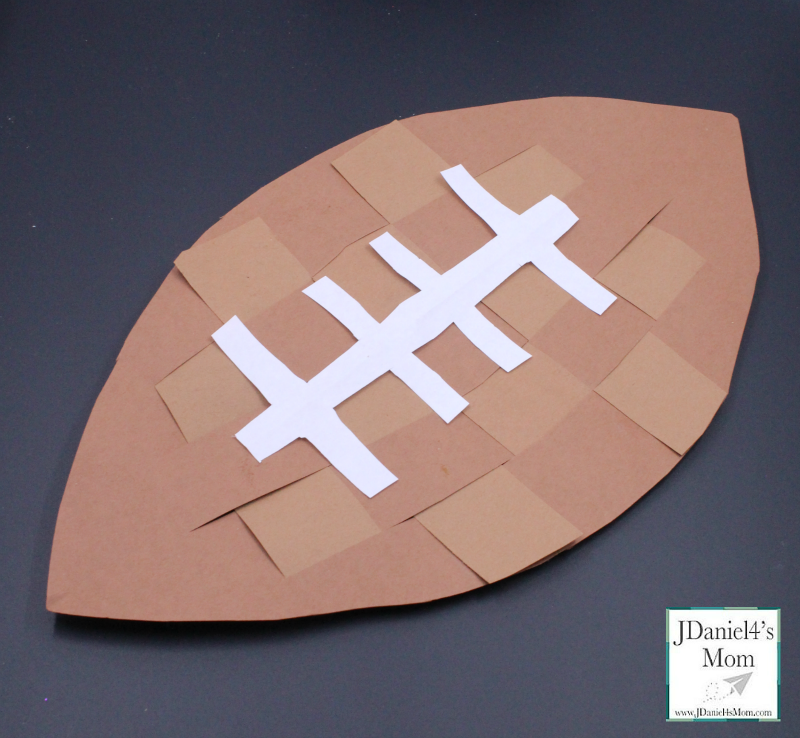 Finally you will need to cut out the laces from white paper. We made ours by folding a piece of paper in half and then cutting out the sections for the laces. If you are doing this with younger children, you may just want them to glue down a long strip of paper. Then they then can glue small strips across the long strip.
Here are some other football crafts:
Hand and Footprint Football Craft
Tape Resist Football for Toddlers
Recycled Cereal Box Football Player Puppet
If I you some football crafts you want me to see, please take a moment to share them on my Facebook page.

(Visited 665 times, 1 visits today)