This challenge has two distinct tasks. The first is to use your LEGO building skills to build a simple platform on wheels. We are calling this task "Building a Moving Platform". The second task is to use the cart and a few household items to explore just how inertia works.
Let me start by explaining inertia:
Inertia -a property of matter by which something that is not moving remains still and something that is moving goes at the same speed and in the same direction until another thing or force affects it. (This definition comes from Merriam-Webster.)
LEGO Building Challenge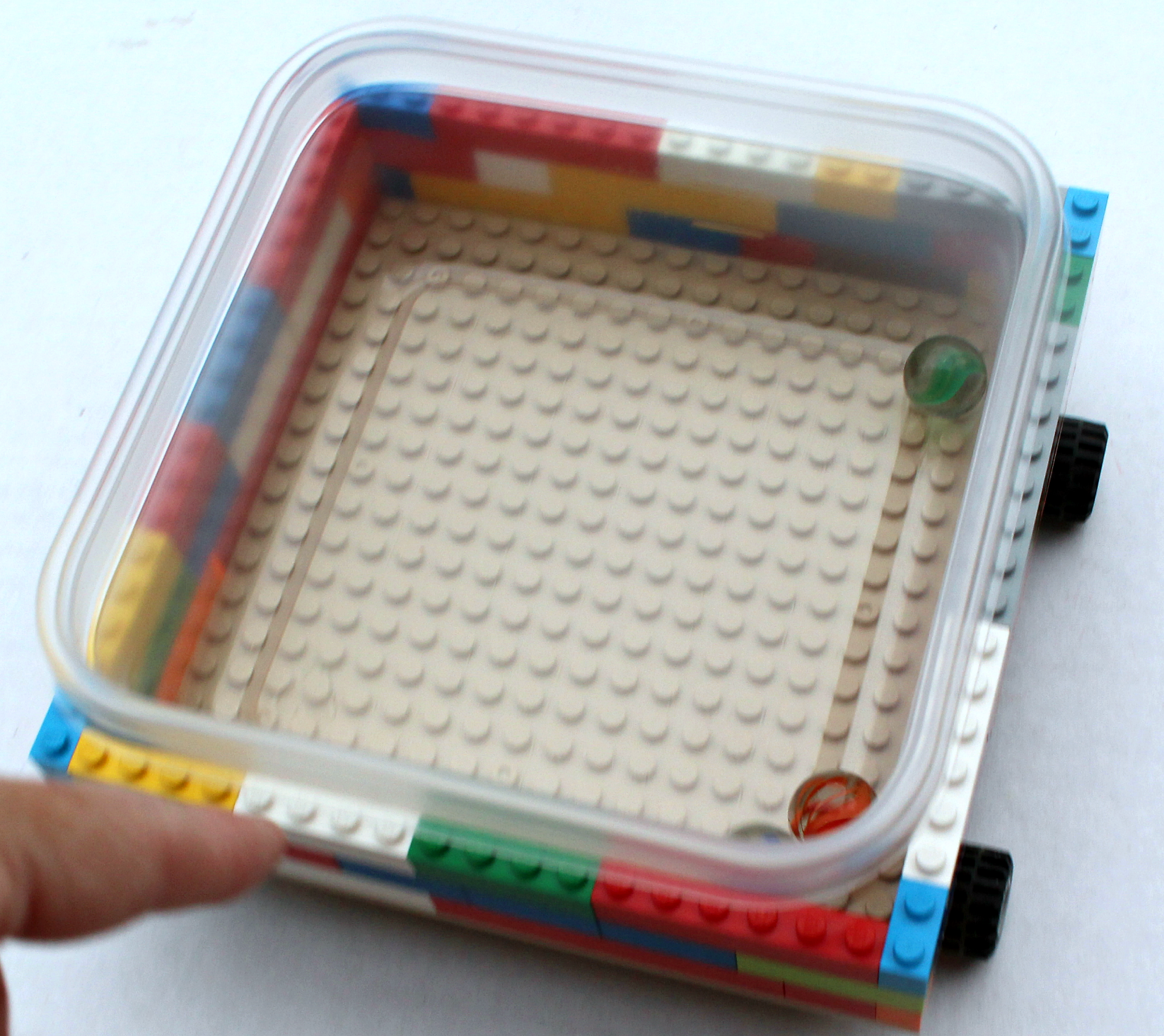 The challenge is to build a moving platform that is large enough to hold a small plastic storage container.
The link below is an affiliate link.
Supplies
Four sets of LEGO wheels
2×4 bricks both thick and thin to mount the wheels on
40-50 LEGO bricks (1×2, 1×3, 1×4, or 1×8)
Directions
Start by building a wall around the perimeter of the base plate. You can make it taller than the three brick height we did if you want to.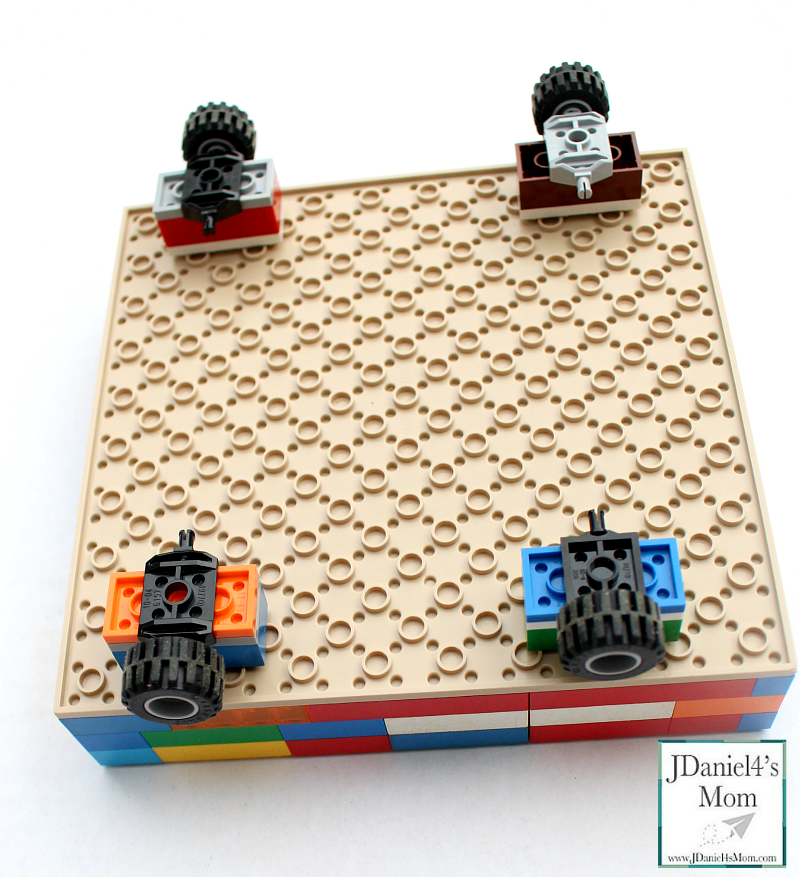 Place the wheels underneath the base plate near each of the base plate's corners mounted on 2×4 bricks.
Exploring Inertia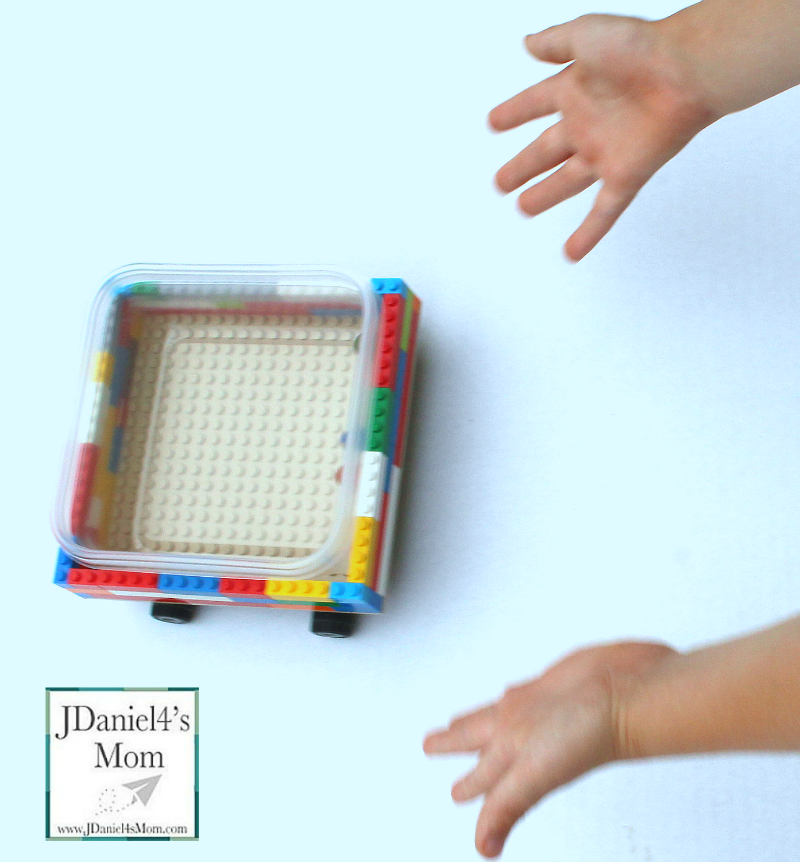 Supplies
Moving platform from the LEGO building challenge
Marbles
Plastic storage container
Directions
Place the storage container inside the wall on your moving platform from the LEGO challenge.
Place the marbles inside the plastic storage container. Try to spread them apart.
Push the moving platform gently and notice what happens.
Stop the moving platform by pulling it towards you and take a moment to think about what happened.
What did you see?
Did the marbles stay in place until the back of the container tapped them?
Did the marbles keep moving when the moving platform stopped?
If you like this LEGO building and science experiment, here are some more activities you might like:
Graphing Ocean Animals with LEGO
Making LEGO Man Sink and Float
Awesome LEGO Brick Ice Excavation 
Ocean Life Building Directions and Ocean Mat
Magnetic LEGO Travel Tray with Challenge Cards
LEGO Sight Word Sensory Bottle
Build LEGO Mini Star Wars Ships
Valentine Ideas – Graphing with Candy Hearts and LEGO
LEGO Count and Move ( Free Printable)
(Visited 612 times, 1 visits today)