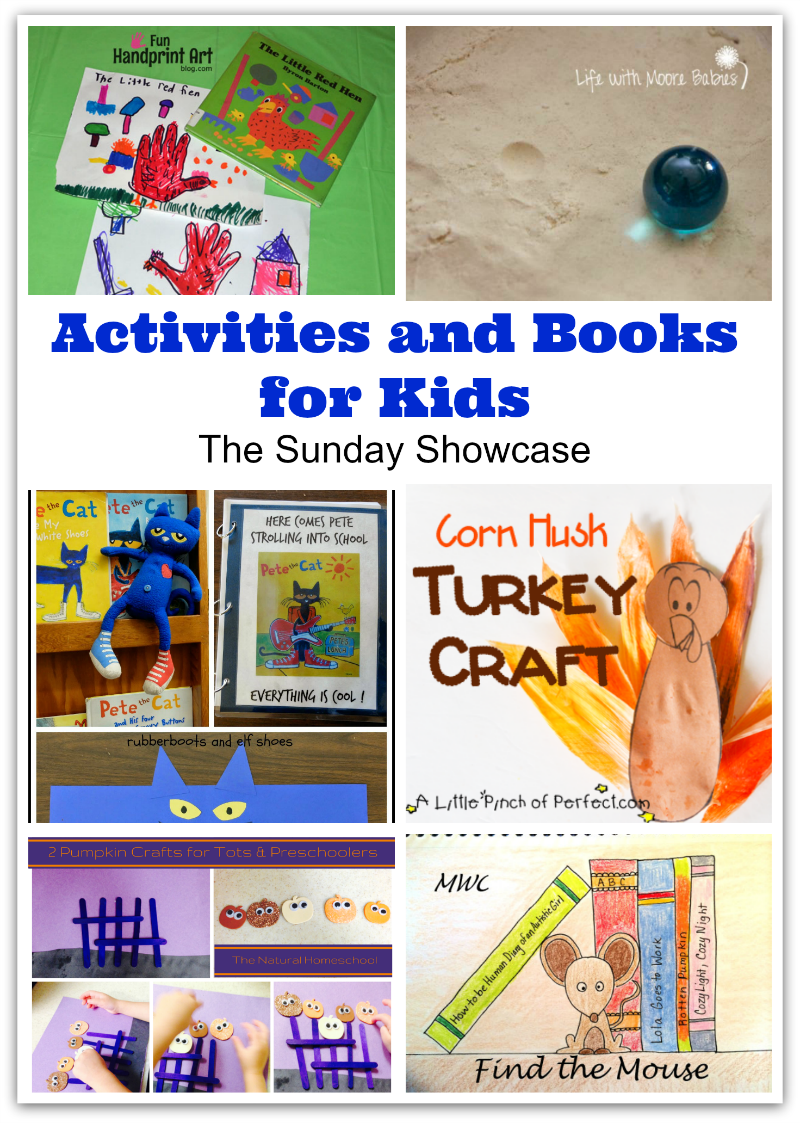 When the weather gets colder, you may find your family spending more time inside. Snuggling up to share a book and then doing an activity based on it is a perfect indoor activity. Last week a number of activities and books for kids were linked up on The Sunday Showcase that featured book tie-in or activities that would be wonderful to tie into books.
If the post shared didn't have books for kids tied to the activity, I searched for a book that would be great to use with it. I hope you will take a few minutes to look at each featured post and its book. When you are done, please add your posts to the link up. I am dying do see what you have been up to this week.  You have probably been creating amazing activities and crafts for kids.
The some of the links below are affiliate links for your convenience.
Activities and Books for Kids
Rubberboots and Elf Shoes came up with several activities to go with the book Pete the Cat: Rocking in My School Shoes
. I think the headband is adorable.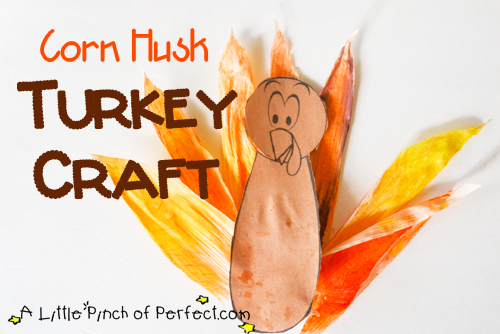 The corn husk turkey created by A Little Pinch of Perfect would be great to create after reading the book 10 Fat Turkeys
. The turkey A Little Pinch of Perfect looks like it is flying and so do the turkeys on the cover of this fun Thanksgiving book. There are a lot of books for kids about turkeys and Thanksgiving. You may have favorite you would like to read instead.
Mosswood Connections has created a fun visual game called Find the Mouse. I think it would pair well with a book around the bronze mice hidden downtown in Greenville, South Carolina. It is called the Mice on Main.
My son loves the Tiger Tales and Ben Mantle version of Five Little Pumpkins. It would be great to read it before doing The Natural Homeschool's Five Little Pumpkins craft.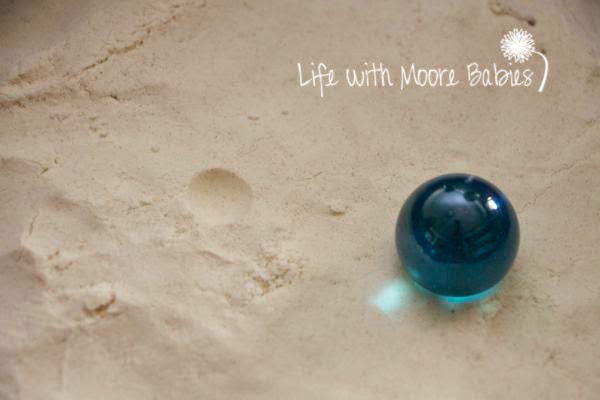 Life with Moore Babies created cloud dough moon craters after reading the books Skippyjon Jones, Lost in Spice
 and One Giant Leap
. This looks like a fun way to explore the moon.
Wonderful hand print hens were created by Fun Hand Print Art to go with the book the The Little Red Hen
. The marker drawings are super cute. There are a number of books for kids about the Little Red Hen. This looks like a cute one.
For more book related activities you may want to check out my Read.Explore.Learn. posts.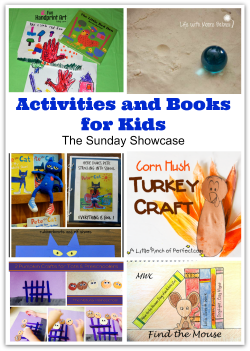 The Sunday Showcase is hosted on the following blogs:
JDaniel4′s Mom
We each feature different posts that have linked up, so be sure to check everyone out! We'll also be pinning our favorites to our Pinterest  board.
If you are here for the first time please read this informational post on Mom to 2 Posh Lil Divas' site  for the full details.  Anything kid friendly and/or child centered is welcome!  You are welcome to share more than one post.  We don't accept links for giveaways,  shops, or downloads for purchase, etc.  They will be deleted.