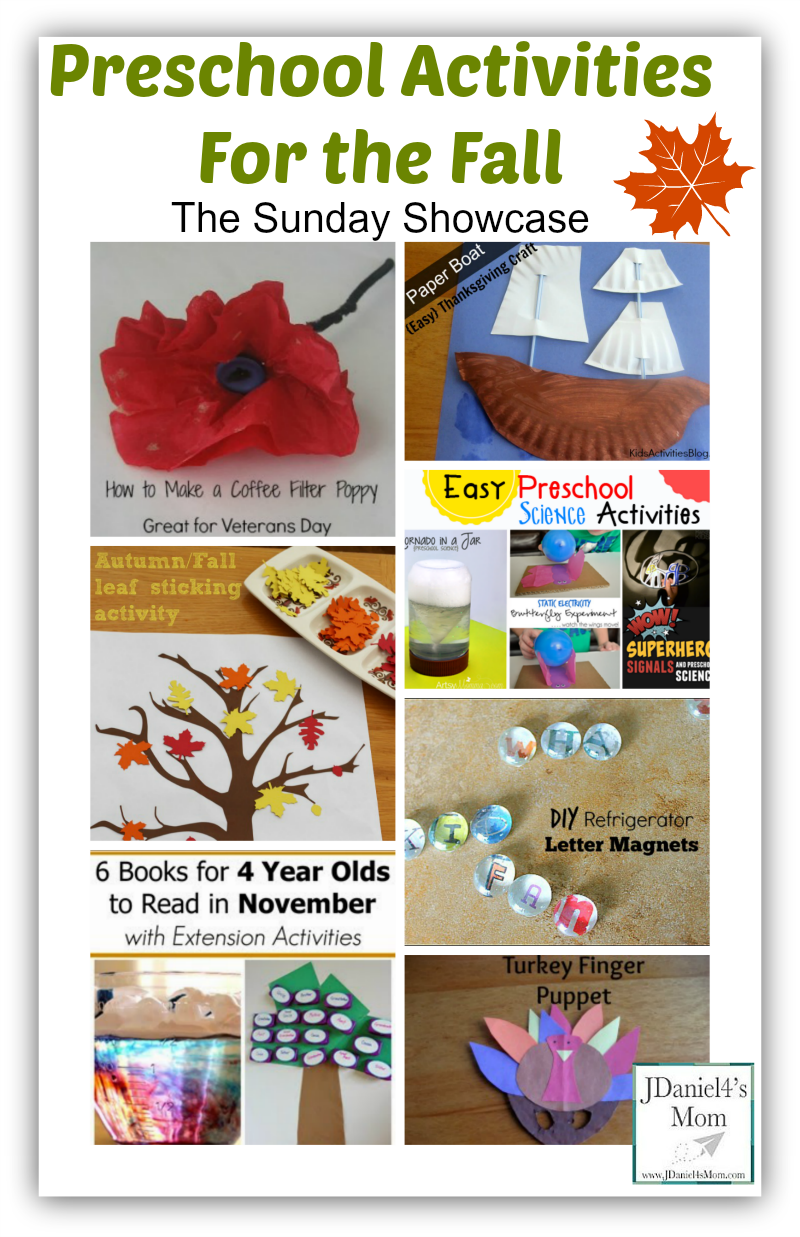 While my son has moved on to elementary school, preschool activities are still something I love to plan and share. There were several shared on The Sunday Showcase last week that I knew you would love. They feature a fall theme or would be great fall activities to do with preschool children. You many decide that they would be great for your older children too.
When you are done checking these out, if you have some posts that you would like to share please add them to the link up below. Last week I visited each of the posts linked up.  I would love to have the opportunity to visit some of your kids activities so add a few. Several of the posts linked up will be featured on The Sunday Showcase next week.  Maybe one of them could be yours.
The fall sticky leaves activity from Mum in the Madhouse would be great for preschooler to create in class or at home. What a great way to work on fine motor skills. This would be great to put out Thanksgiving Day for kids to work on too.
Planet Smarty Pants has selected  six November books for 4 year olds along with extension activities to do with them. I had a great time finding fun books to read and fun preschool activities to do as I read this post.
Fun and easy preschool science activities can we found in this wonderful post from A Little Pinch of Perfect. It will be hard to decide which one to do first.
Look What Mom and Dad Found has a really fun project that could be used all year round. Their diy refrigerator letters would be fun to make and great to play with. Kids can help you search for the letters for them.
This paper plate Mayflower would be fun to make with kids. It can be found on the Kid's Activities Blog.
We did a sink and float activity with Thanksgiving themed kitchen utensils I think you might like.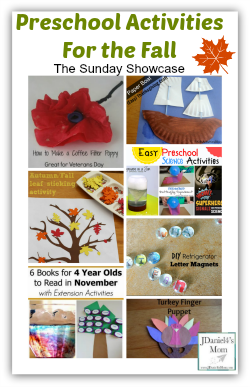 The Sunday Showcase is hosted on the following blogs:
JDaniel4′s Mom
We each feature different posts that have linked up, so be sure to check everyone out! We'll also be pinning our favorites to our Pinterest  board.
If you are here for the first time please read this informational post on Mom to 2 Posh Lil Divas' site  for the full details.  Anything kid friendly and/or child centered is welcome!  You are welcome to share more than one post.  We don't accept links for giveaways,  shops, or downloads for purchase, etc.  They will be deleted.


(Visited 260 times, 1 visits today)