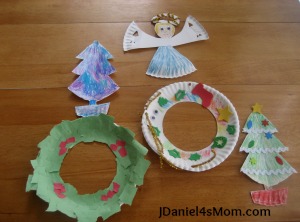 Sometimes when we craft I just put out the craft supplies and we just explore ways to use them. JDaniel and I sometimes end up with similar end products and other times we come up with totally different ideas. This is exactly what happen when we made these Christmas decorations.

After gathering a small stack of paper plates I cut out several different shapes that we could work with. I cut them out freehand so some of them look a little off. The star really ended up being a little different looking.
Along with the paper plate cutouts, I put out a hole punch, scissors, glue, pipe cleaners, crayons, foam shapes,  wiggly eyes, construction paper and some rick rack on the table. Then invited JDaniel to come and create.
We had the best time watching each other work. We didn't copy each other much, but we both were very much aware of what the other was doing. I loved stopping to admire the lasted additions to his creations. He has such great ideas.

Sometimes I leave JDaniel to craft on his own. As he has gotten busy with preschool and with kindergarten looming on the horizon, I have tried to work on craft with him. If we aren't working on the same project, we are working on parallel projects a lot now.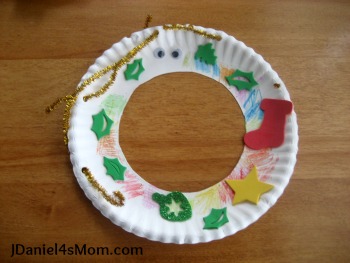 JDaniel made a wonderful wreath. He loves the hole punch so, it wasn't a surprise that he punched a number of holes into his wreath. I love the weaving he did through the holes with a sparkly pipe cleaner. The wiggly eyes make me think that this wreath is taking in all that is around it. The spots of color around the wreath are fun too. JDaniel just kept changing crayon colors and coloring one spot beside the other.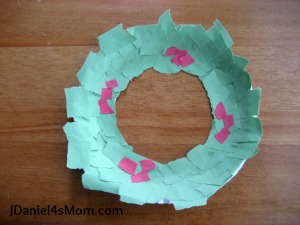 I made a torn paper wreath. I asked JDaniel if he wanted to help me tear the paper and he told me he was busy working on his wreath. An artist must have single focus when he is four.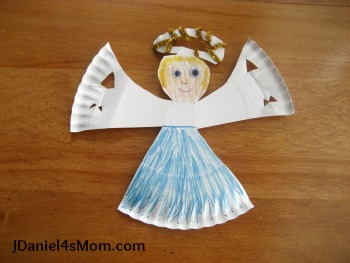 I moved on to decorating one of the angel plates. It was fun to add a wiggly eye or two here and a pipe cleaner there. I didn't pre-plan this craft as I had the wreath. I just went with the flow. JDaniel inspired me to loosen up a bit.
We both ended up working on trees as our final project. JDaniel noticed that I was just using green crayons to color my tree. At one point I had six or seven different shades of green in front of me. JDaniel decided he was going to use only blue and purple for his. I don't think he know the song "Blue Christmas" ,but he sure made a wonderful blue Christmas tree.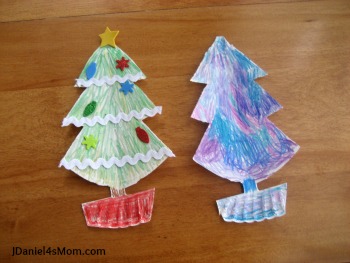 I had the best time creating with JDaniel. I hope you will take time to play and create with your children today.
Here are some more Christmas decorations:

(Visited 632 times, 1 visits today)