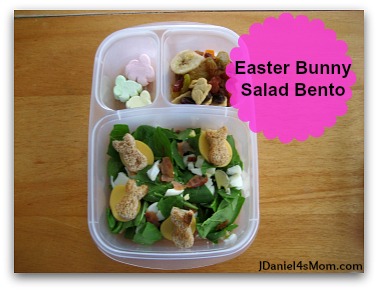 We love to dye Easter eggs at our house and we showcase them in bowl on the kitchen table for a short time. I love to look at them, but I want to make sure we eat the boiled eggs that are in them. One way I have found to use them is in salads.
I made JDaniel and I both Easter Bunny Salad Bento. They were filled with delicious salads that contained dyed Easter eggs, fresh spinach, bacon, egg shaped American cheese pieces,  and bunny shaped toasted croutons.
How We Made Our Easter Egg and Bunny Bento
The lunch also included bunny shaped marshmallows and a bunny trail mix. The marshmallows disappeared first. I bet you knew that they would. The croutons went next although JDaniel announced they didn't taste as good as the ones that come in a box. (I guess I need to work on that.) The trail mix of three types of raisins, tropical dried fruit and Annies Bunnies cookies went next.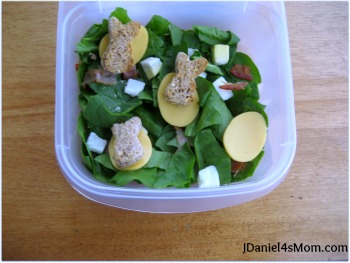 JDaniel picked around the fresh spinach literally.  He moved the spinach around to get to the parts of the salad that he really wanted. He ate a little of the egg and all of the bacon along with the cheese. I was shocked that he didn't inhale the spinach. JDaniel has been known to inhale a bowl of fresh spinach.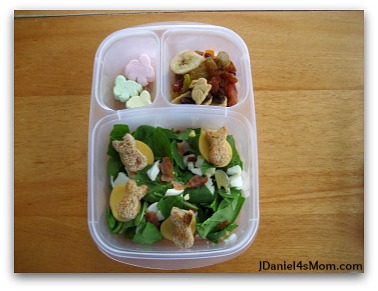 Maybe he was full. He did eat all of his dessert first. Next time I need to save the dessert for later. I ate my dessert after my salad, but I guess five year old boys just don't do that. I confess I felt full after eating the trail mix and the marshmallow for dessert.  Maybe I put too much of it in our bentos. Oh! Well, I will have to try it a little bit differently next week.
I am thinking a boring dessert and an exciting main dish. Stop by next week to see what I end up serving JDaniel for lunch.


What do you do with your hard boiled Easter eggs? 

(Visited 80 times, 1 visits today)