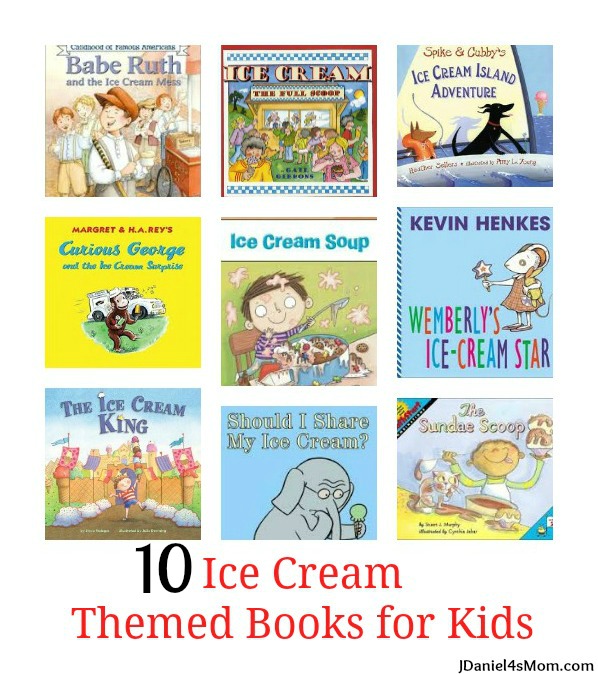 It is National Ice Cream Month this month. I thought a round up of 10 ice cream books for kids would be a wonderful way to celebrate. Maybe grabbing one of these ice cream books and reading it while eating some would be fun. You might even take one on a field trip to an ice cream parlor.
Ice Cream Books for Kids
Wemberly's Ice-Cream Star
 is a fantastic tales about wanting to share. Wemberly receives a star and feels her stuffed rabbit should have some too. I think lots of children would feel this way about sharing with their special friends.
Curious George and the Ice Cream Surprise
 shares how George tries to catch an ice cream truck when he decides in he needs a cool treat. With George you always end up with an adventure.
The Ice Cream King
 while trying to decide what treat to get while visit an ice cream parlor with his mom a boy starts to daydream. He dreams he is in a land of ice cream and he is its king. What a wonderful land that would be to visit on a hot summer day!
Ice Cream: The Full Scoop
 explains the origins of many ice cream and many frozen dessert related products. I learned  a lot about ice cream's history while reading this book. My son loved getting to see how it is made step by step.
The Sundae Scoop (MathStart 2)
 aids readers in finding out how many ice cream sundaes they can make using featured ingredients. Math concepts worked on with them makes learning really sweet.
I Scream! Ice Cream! is a wordless book. What fun it is to picture walk through this book and make up your own story or just interpret the story that is already there in pictures. They story could end up different every time.
Should I Share My Ice Cream? (An Elephant and Piggie Book)
 is about the hard decision that one has to make when you have something and you think you should share it. If you wait to long, the thing  you want to share might melt. Thankfully this book has a happy ending.
Ice Cream Soup is an easy reader that explains what happen if you try to make a cake with ice cream and add too many ingredients.
 I think we have all had recipes that just didn't go as we planned them.
Babe Ruth and the Ice Cream Mess (Childhood of Famous Americans)
 shares how after putting baseball through someone's window he buys him ice cream to make up for it. The Childhood of Famous Americans series was new to me. I think children will really like seeing what famous people were like when they were little.
Spike and Cubby's Ice Cream Island Adventure
 takes two dogs on a journey. They say they know how to navigate a boat, but when a storm come up they find the can't. Ending up on Ice Cream Island is not a bad end to their unpleasant voyage.
You will find more collections of books by theme on my Book Collection board on Pinterest.
Do you have an ice cream book  for kids that you love?

(Visited 15,461 times, 6 visits today)