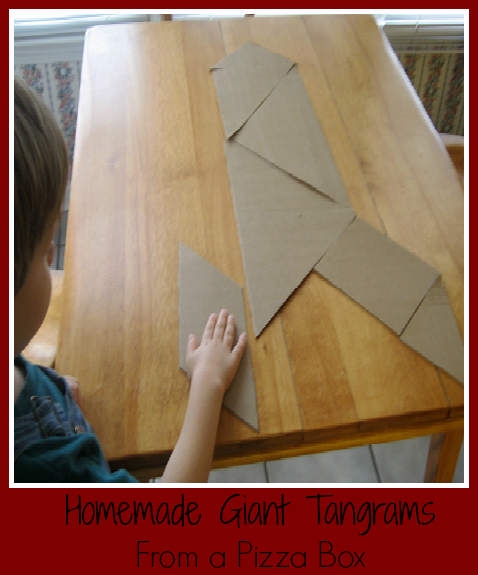 I recently served store bought pizza to my family that came in a huge cardboard box and decided the box would be great for making homemade giant tangrams. Although the bottom of the box wasn't a perfect square shape, I decided to try to cut out the tangram shapes without trimming it down to a square.  Some of the shapes ended up a little wonky and did end up being trimmed down. All in all the shapes in the tangram are not perfect, but worked out well for building some really cool tangram designs I found online.
We are going to keep this set, but I may try to make another set using a ruler to actually make sure each piece is just right. I did use a ruler to draw lines for each shape before I cut it out of the giant square. I didn't paint or color each of the tangram pieces either. Instead, I opted to leave them brownish cardboard colored. It might be fun to have JDaniel have me paint another set of them. Colored shapes seem to help the designs pop out a little more.
(The link below is an affiliate link that will take you to Amazon.com.)
JDaniel hasn't been big on exploring tangrams. The fact that these are giant seemed to make them interesting and more fun. There is just something wonderful about learning tools being super-sized. I think selecting a pattern that he might enjoy helped too. There are hundreds of different design patterns available online and in books.
Grandfather Tang's Story
 is a book that I have used in the past with students. It would be just wonderful to read the book and create the tangram designs that it shares in its illustrations.
What designs did JDaniel like the best?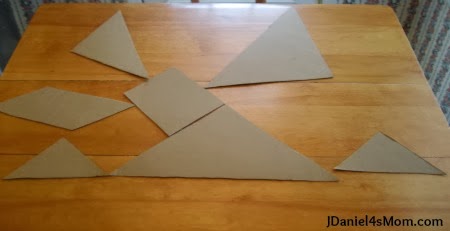 We both really liked this sunrise design. I think it is a sunrise. I guess it could be a sunset design too.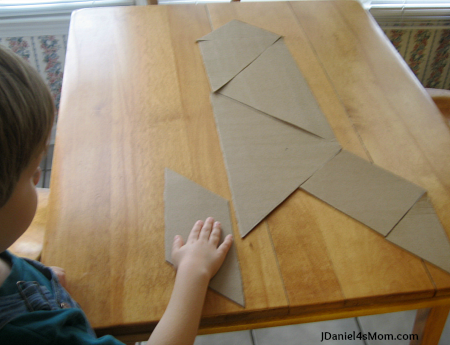 JDaniel has always liked rockets and space. Creating a rocket design was right up his interest alley.  It was a little challenging to fit the rocket on the table. The homemade giant tangrams took up most of the length of the table. We may have to move to the floor to make long tangram designs in the future.
Do you have a favorite tangram pattern, design or book?
Deirdre Smith writes/owns 

JDaniel4's Mom

. After twenty years as an elementary school and technology resource teacher in Northern Virginia, she became a stay at home mom in upstate South Carolina. Her blog features ways she and her 5-year-old are exploring learning, crafting, creating healthy meals and living life to its fullest. Deirdre can also be found on twitter as 

@jdaniel4smom

 and on her 

blog's FB page

. You can also check her out on 

Google+

.

(Visited 759 times, 1 visits today)