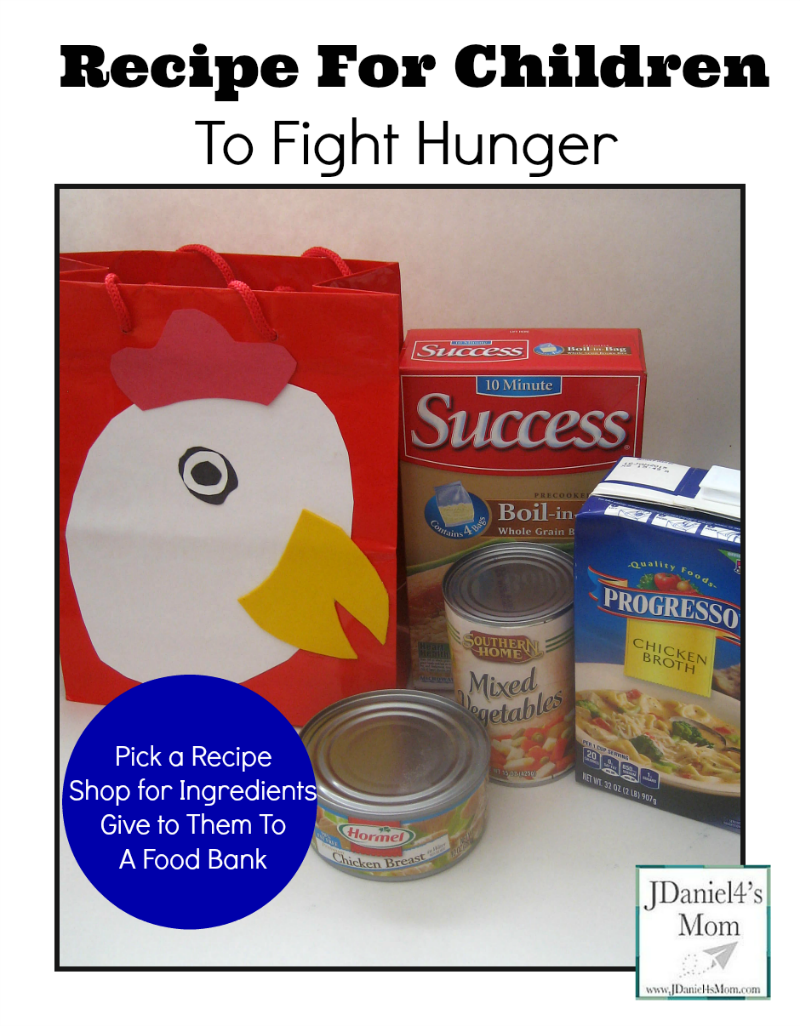 September is National Fight Hunger Month. JDaniel and I have taken a lot of food to our local food bank during the last few years.  We have also done a number of learning activities at our local grocery store while gathering food. Last year we gathered orange food that were JDaniel's favorite to donate to our local food bank to fight hunger and made a fun orange tree snack displaying them. The year before last we came up with a list of orange foods we thought we could take to a food bank to fight hunger and then hunted them down at the store. This year we went on a different kind of hunt. This year we went on a recipe hunt.
Our Recipe Hunt to Fight Hunger
Creating a Recipe
 Last week JDaniel and I both had colds. One of our favorite things to eat when we have a cold is chicken soup. Sometimes I make it from scratch and other times we have soup from a can. Both types of soup  help us fight colds and hunger. I wondered as we sniffled and coughed if we could find a recipe for chicken soup that consisted mostly of ingredients that we could donate to the local food bank. Someone could then take home those ingredients and make chicken soup with them.
I searched for chicken soup recipes with canned chicken. There would be no way we could donate chicken from the meat department at the grocery store. The chicken would have to be able to stay fresh until it was place in a food bank visitors food bag. I found a few, but none had all canned or boxed foods so I came up with my own. I am calling it Pantry Chicken Soup.
Pantry Chicken Soup
Ingredients:
1 can of mixed vegetables
1 cup of shredded chicken in a can
1 1/2 cups of chicken broth
2  cups of cooked brown rice
Optional: Seasoning of your choice (salt, pepper or your favorite herbs)
Directions:
1. Cook the 2 cups of brown rice.
2. Mix the mixed vegetables and the broth in a sauce pan.
3. Add the rice and shredded chicken to the pan.
4. Add seasonings if you like.
5. Heat up the mixture and serve.
Preparing to Hunt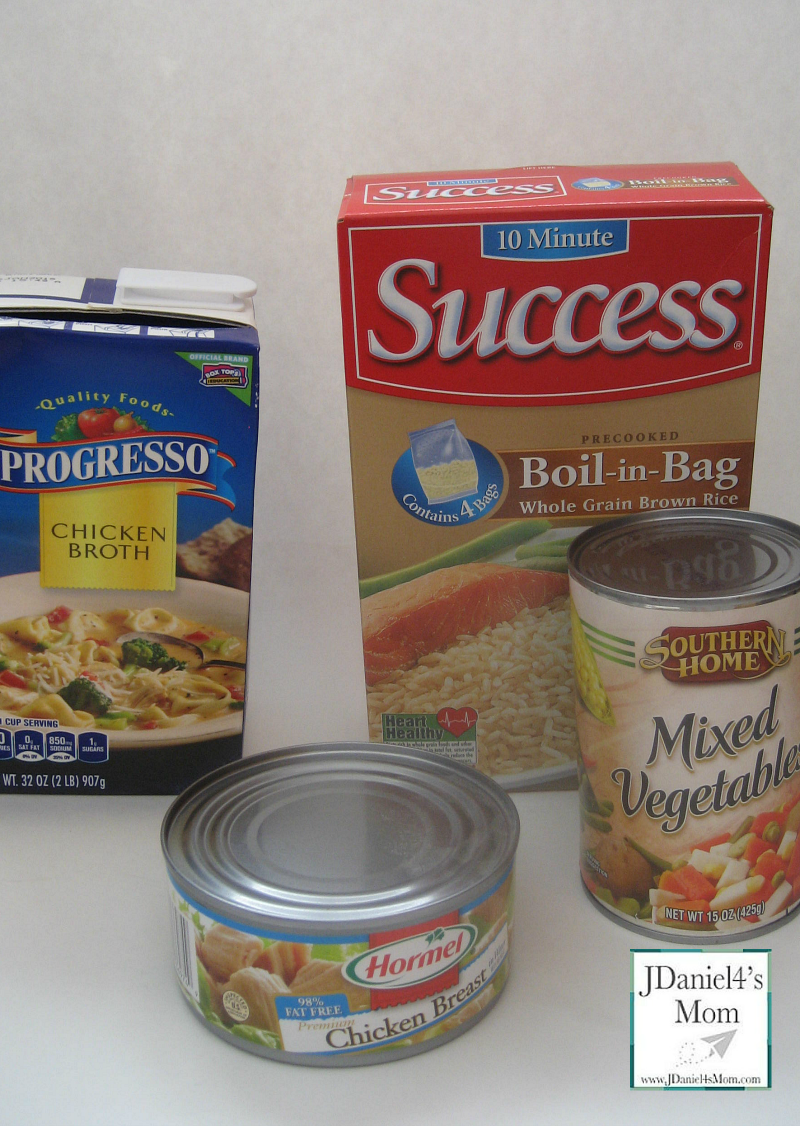 Before we started our hunt for ingredients at your local grocery store,  we needed to create a chicken soup hunting bag.  A old red party bag ended up being our bag. On the front of our bag we placed a fun chicken head.  The chicken head would remind us of what we were hunting for.  It might also lead to people asking us about  our chicken head bag, we could then tell them about our project to fight hunger and that might inspire them to fight too.  The bag had a dual purpose.
Next we wrote down the list of the ingredients we were hunting for on an index card. Every good food hunter needs to have list to make sure they don't forget a key ingredients.
Then we headed to the store. Several of the items were on the same aisle so, the hunt didn't take long. We weren't hunting for many ingredients so they all fit in our chicken soup hunting bag. With the hunt completed we headed to the register to pay.
We will be dropping the bag of chicken soup ingredients off this week at our local food bank. I bet one of their visitors will love our recipe for fighting hunger.
Planning a Recipe to Fight Hunger
Putting together a recipe to fight hunger bag is super easy. Here are the steps we used to put together our bag. You can use them to create your own special donation bags.
Decide on or find  a recipe filled with ingredients you can donate to a food bank.
Make a list of the ingredients on an index card.
Create a food hunting bag that features the main recipe ingredient or is decorated with a fun design.
Hunt and gather the foods at your local grocery store.
Deliver the bag and recipe to your local food bank.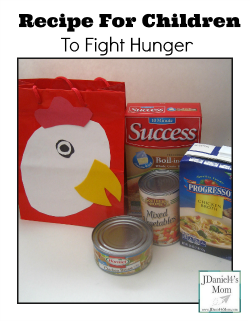 I hope you will join me as I help fight hunger. There are a number of us in the blogging world sharing ideas of ways your family can join in. If my recipe for fighting hunger isn't right for your family maybe one of theirs is.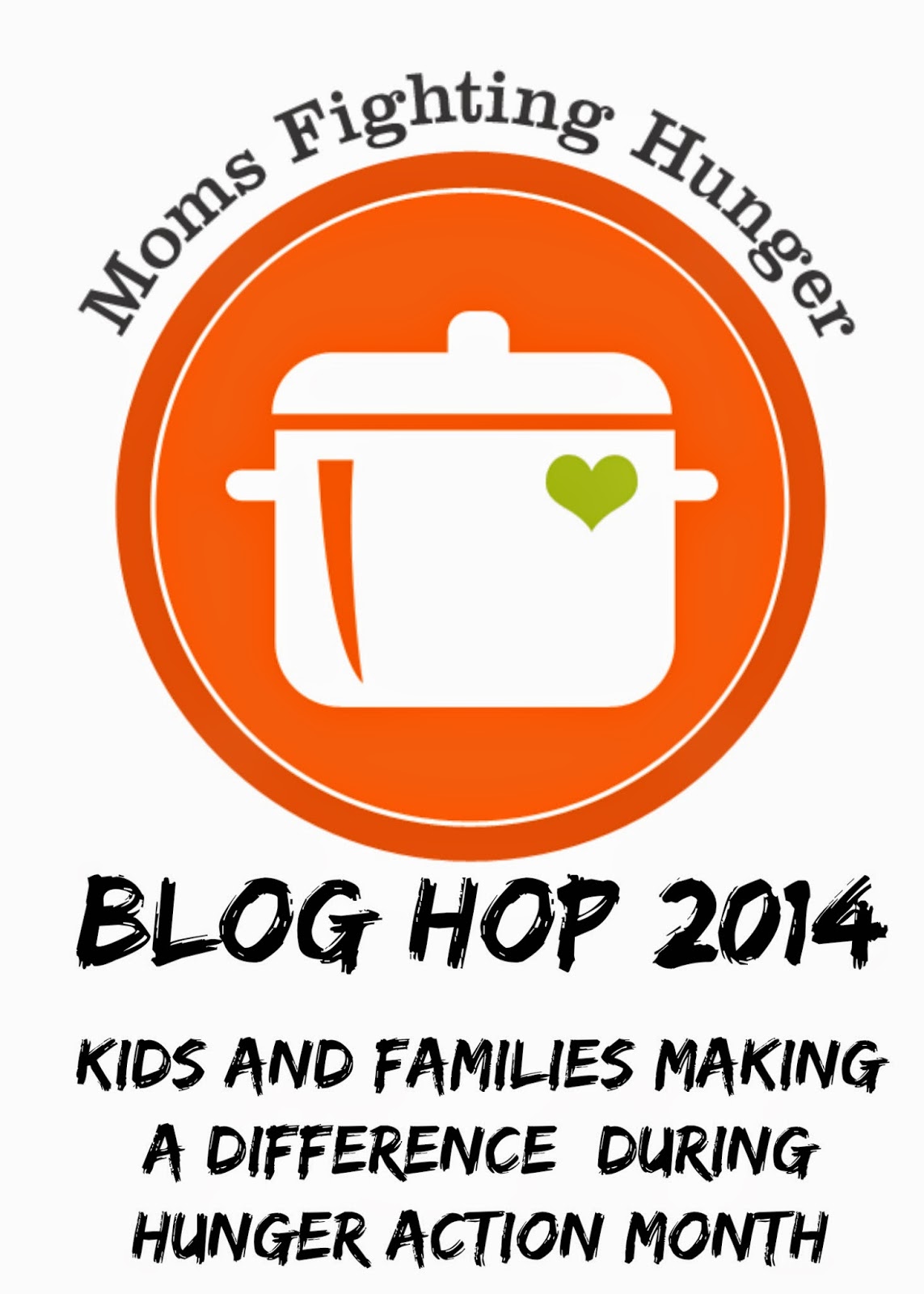 If you have already shared some ideas, please add them to the Moms Fighting Hunger Blog Hop  link up below. We'd also love for you to engage with us about ending hunger and getting children and families involved on the Moms Fighting Hunger Facebook page — and we've got many more resources collected on the Moms Fighting Hunger Pinterest Board.

(Visited 346 times, 1 visits today)