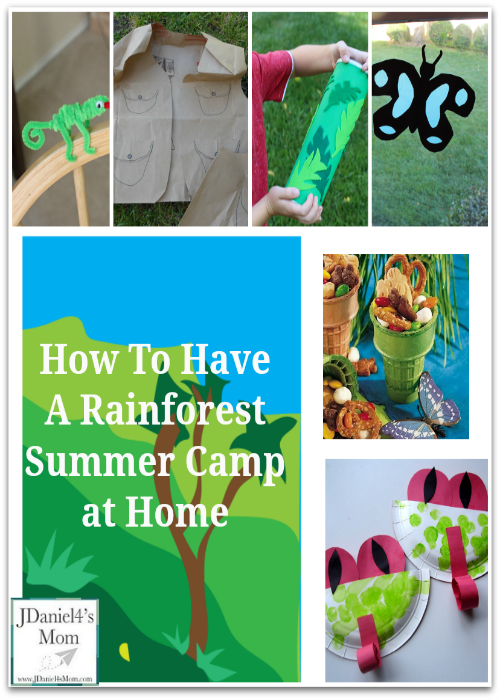 I am joining with some amazing All Things Kids bloggers to bring you super cool summer camps that you can hold at home. You are going to love looking through the camps to find activities, craft and snacks that your children will love. I have decided to focus on a rain forest themed summer camp. There is just something about summer that makes me think of the rainforest.  I am hoping your will love this theme too. Below your ill find lots of summer camp ideas to do with your children or your neighborhood kids.
Rainforest Themed Summer Camp Activities
Opening Day Activities
These activities would be a wonderful introduce children to the rainforest on your first day of camp.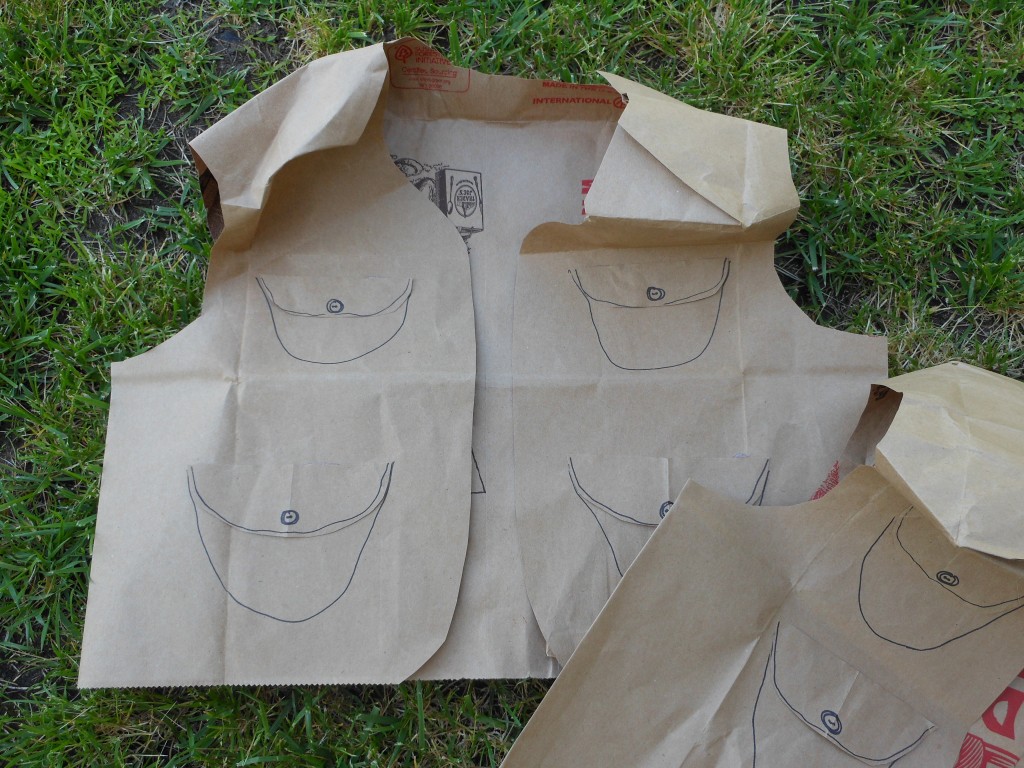 It would be great to start by sharing some of these rainforest Resources. Kid World Citizen has gathered a wide variety of pictures, maps, and online resources about the rainforest that would be great to share.
After learning a little about the rainforest, you could have your children do the following:
Activities for the Rest for the Week
Rather than assign the activities below a specific day of camp. I have listed them by category. You will want to pick a few of them to do each day during summer camp with your kids.
Crafts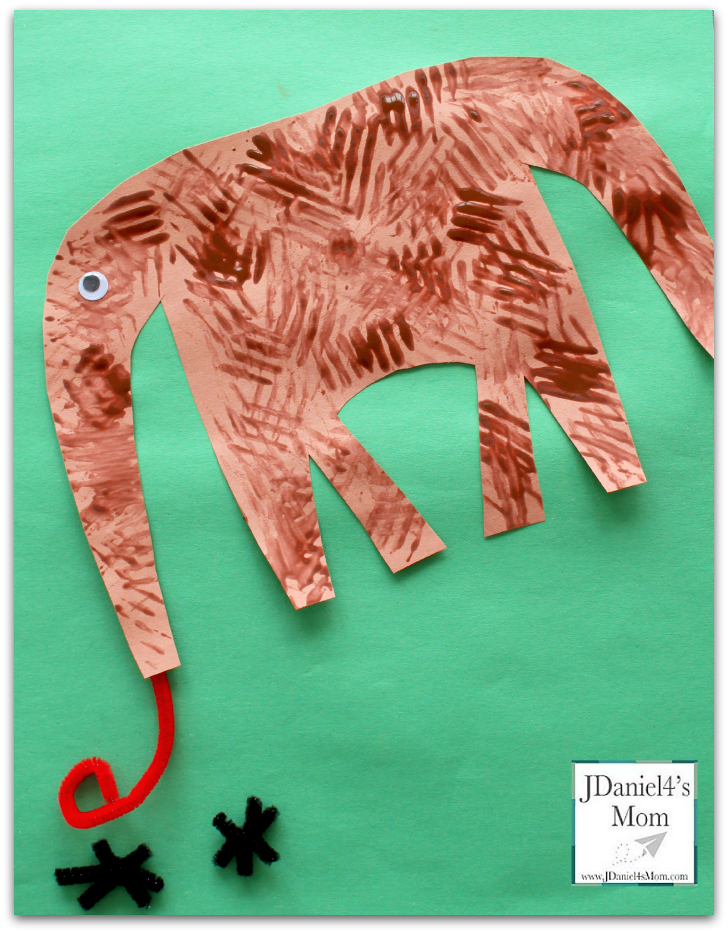 Grab some bubble wrap and make a bubble wrap snake.
Use your hands for create hand print monkeys
Create rainforest animals with pipe cleaners
Fork paint an anteater and help it catch ants.
Craft a blue morpho butterfly and then perform at morpho butterfly rhyme.
Use hands and feet can be used to create a talking toucan. Then chant the Three Talking Toucan Rhymes.
Print out rainforest animal masks from PBS and decorate them.
Rainforest printables can be used with watercolors to make a fun craft.
Make paper plate tree frogs with curly tongues.
Create a paper plate sloth along with its baby.
Snacks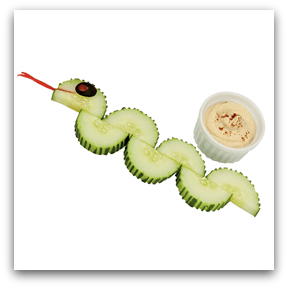 Serve boxes of animal crackers and  have kids create a graph of the animals contained in their box.
Make crazy cucumber snakes to serve with humus.
Create a celery animal snack.
Serve critter crunch in a cone.
Make Rainforest Dirt Pudding with candy worms
Make monkey English muffin snack to enjoy.
Games and More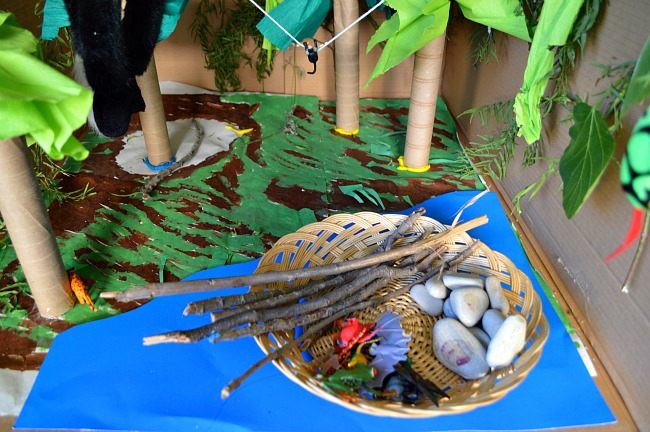 Rainforest Swing Experiment with a swing monkey would be fun.
Make a Rainstick Musical Instrument that really sounds like rain.
Play Poison Frog Tumble with two sided beans.
Listen to the sounds of the rain forest.
Explore the rainforest flowers and chant the "Way Down Low on the Forest Floor".
Explore the continents with rainforests using animal models.
Have fun with "Five Little Monkeys" Fine Motor Fun.
Create a rainforest small world box or a diorama . Kids will love building it and playing with it.
Learn about products from the rainforest.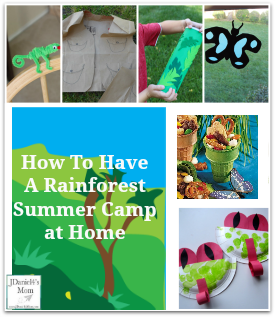 There are probably enough activities shared here for you to a host five days of rainforest themed camps. That was my plan.  I hope you have a wonderful time selecting a few that look really fun to you.
Oh! Here is a list of rainforest books you might want to read to your kids during your rainforest camp:
The links below are affiliate links.
"Slowly, Slowly, Slowly," said the Sloth
– Eric Carle fans will love this story featuring rainforest animals.
Way Up High in a Tall Green Tree
– This is the story of a little girl greeting the rainforest animals before she goes off to sleep. It is great book for introducing the various animals in the rainforest to your children.
Looking Closely in the Rain Forest
– As children look through this book they will get a little peek as to what rainforest plant or animal is coming up next.
The Great Kapok Tree: A Tale of the Amazon Rain Forest
– A man tires after trying to cut down a kapok tree. As he rests various rainforest residents share why it is important.
Here are the other summer camp themes that are being shared on other blogs:
Outer Space is hosted by Sugar Aunts
Ocean is hosted by Frog, Snail, and Puppy Dog Tails
Colors is hosted by Still Playing School
Backyard Fun is hosted by  Where Imagination Grows
LEGOS is hosted by All Done Monkey
Bugs and Butterflies is hosted by Rainy Day Mum
Dinosaurs is hosted by The Pleasantest Thing
Rainforest is hosted by Me
Secret Spy School is hosted by Coffee Cups and Crayons
Frozen is hosted by Fun-A- Day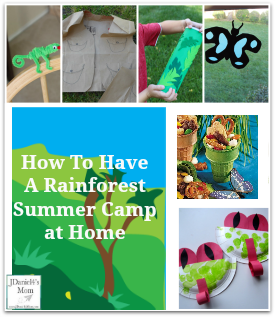 If you try any of these rain forest activities, please leave me a comment below telling me about how it went  or share a picture of your camp activities on my Facebook page.

(Visited 5,542 times, 2 visits today)