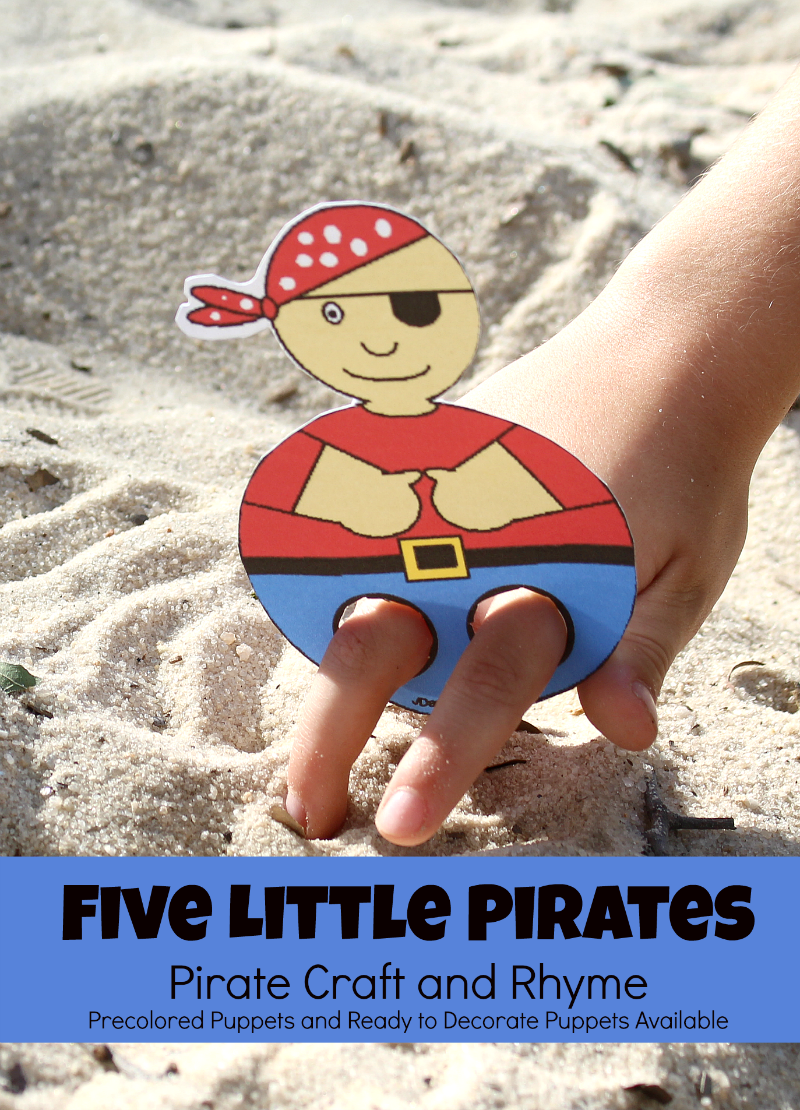 Whether you are getting ready to celebrate Talk Like a Pirate Day on September 19th or you exploring pirates with your children, the Five Little Pirates rhyme will be fun to sing. I thought your children might like to have a pirate puppet of their own to sing and dance to the song. I created a puppet pirate craft that children can decorate.
Just encase you didn't have time to have them do the pirate craft I created a  second set of puppets that have already been colored in. With the exception of the pirates head scarf I left the pirates outfit a single color. Your children can decorate the pirates pants and shirt. Stripes or polka dots could be added to them.  Your kids could even give the pirate a skull and crossbones tattoo if they like.
Before I share with you some decorating ideas, let me share the Five Little Pirates rhyme with you.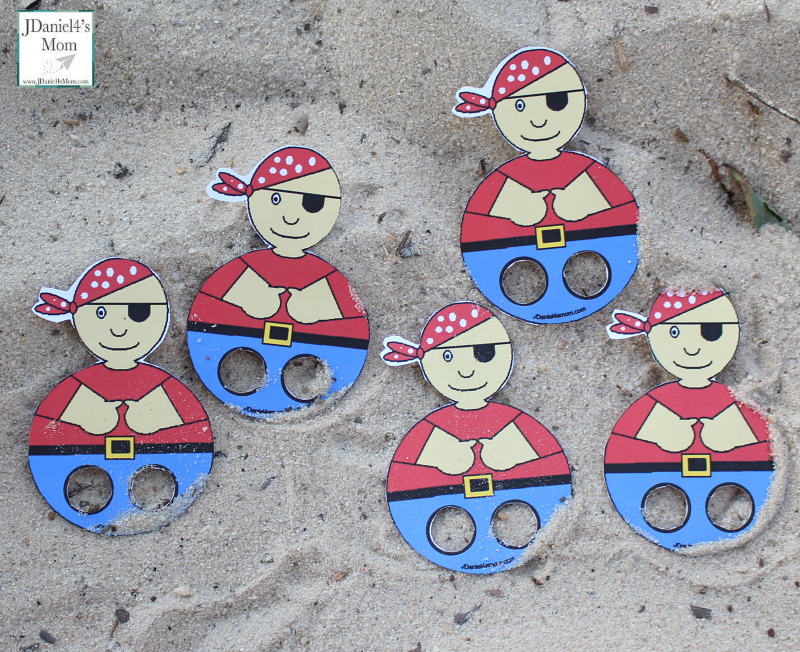 Five Little Pirates Rhyme
Five little pirates heading from the shore
One jumped overboard
And now there are four
Four little pirates now out at sea
One jumped overboard
And now there are three
Three little pirates with nothing to do
One walked the plank
And now there are two
Two little pirates having lots of fun
One drank all the first mate's juice
And now there is one
One little pirate sitting in the sun
He decides to abandon ship
And now there are none.
Pirate Craft Supplies and Decoration Ideas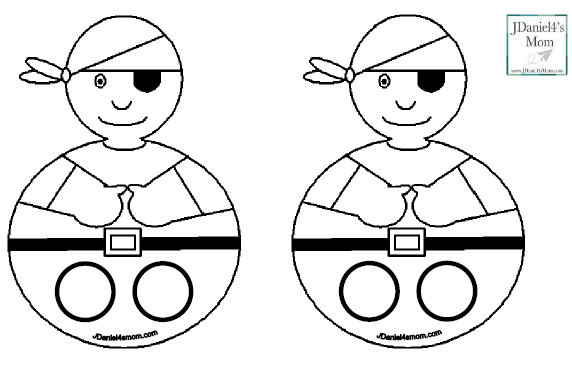 Supplies
Scissors
Material or Cut Up Bandanas
Crayons, Markers, or Colored Pencils
Glue Sticks
Steps for Putting the Puppets Together
First, you will need to decide if you want to cut the puppets out for your children or cut them out for them in advance.
Next, you can have your children color in their puppet with whatever drawing materials you like. I thought you might use crayons, markers or colored pencils. You may have other drawing materials would like for them to use.
Then you could have them cut and paste material onto their puppets to give them texture if you like.  They could give their pirate a felt eye patch or mini bandana made of part of a real bandana.
Once your children have their puppets completed, you can work on the rhyme.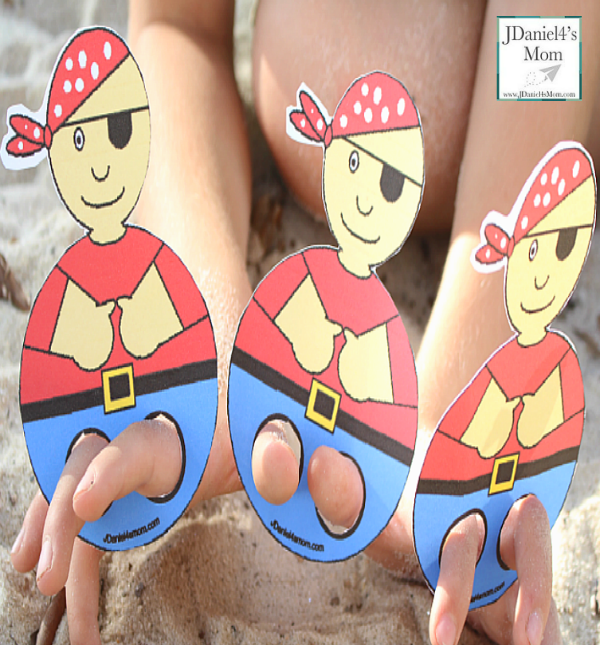 Tip: My son and I tried having more than one of the puppets on our hands at the same time. It was fun to try and make all of the puppets dance at the same time.
If you like this pirate craft, here are some more crafts based on Five Little rhymes and songs.
5 Little Crows
Five Little Apples
5 Little Firefighters
Five Litte Starfish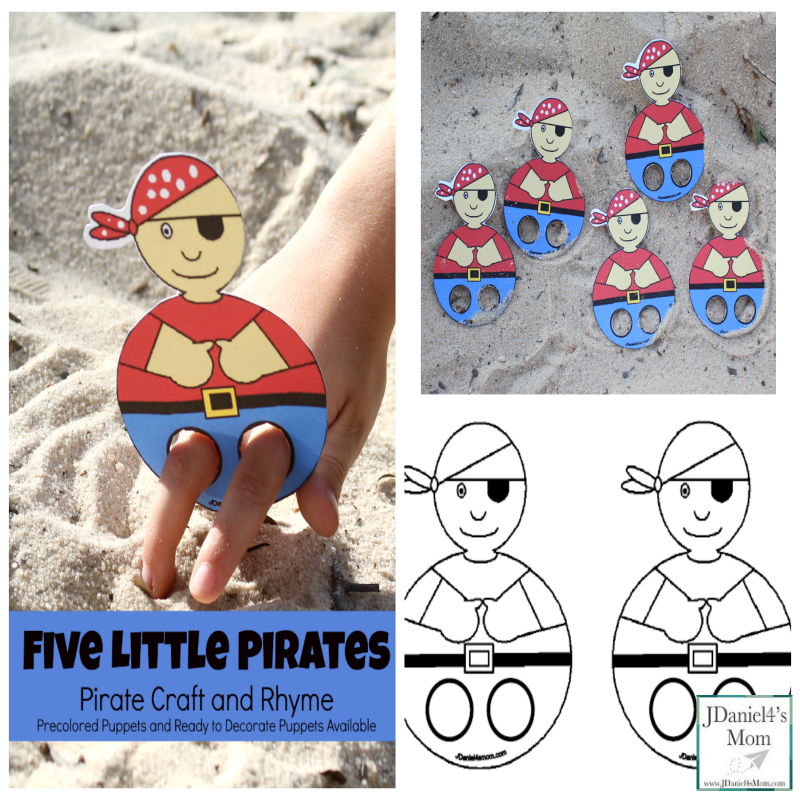 (Visited 1,673 times, 1 visits today)