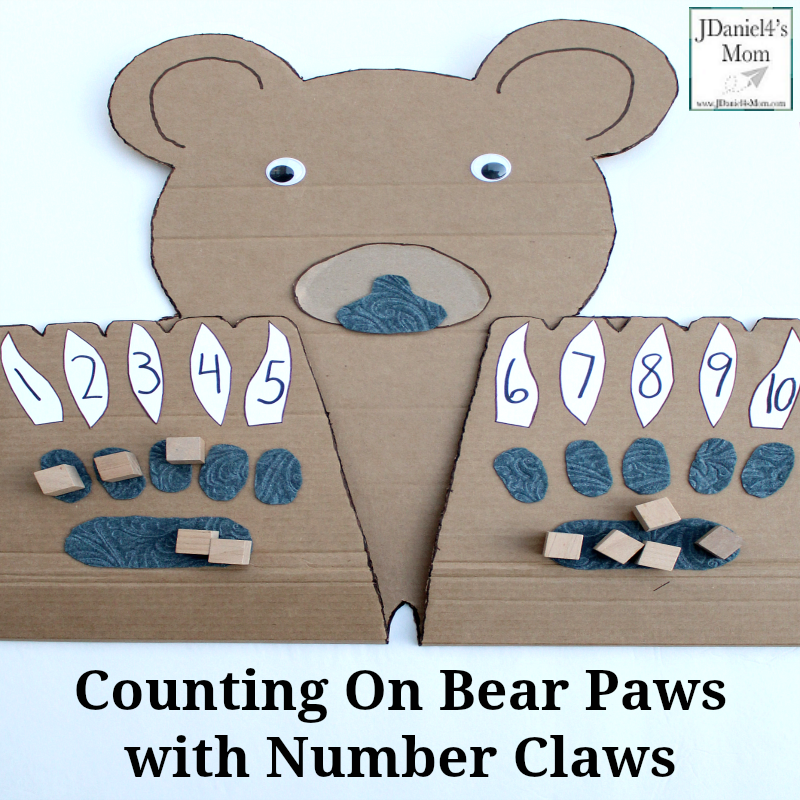 This fun counting on activity was created to go along with the Virtual Book Club book Bear Gives Thanks. This math learning space can be used for counting blessings, exploring the number of things kids have to be grateful for, or just doing math facts.
Making Counting On Bear Paws Number Claws
Cardboard Bear Shape
The bear shape math counting space was cut out the side of a large cardboard box. I traced a large dinner plate near the top of the piece of cardboard for the bear's head. Then I traced around a small saucer near the top of the head twice to make the ears.
Next I traced the dinner plate to the right and left of the head to make the bear's shoulders. Then I used a ruler to make straight lines from each shoulder to the bottom of the box.
A ruler was used to measure eight inches from each side of the box to the center.  This section of the box would become the bear's paws. Next a V was drawn from the inside edge of each paw to the center on the box. Then it was time to cut out the bear. After cutting out the bear, finger sections were cut out of the claws.
Then it was time to decorate the bear. We used white card stock of his claws and a paper bag for part of his nose area. Gray felt was used to make his nose and paw pads. Wiggly eyes are used to make his eyes.
Counting On Activities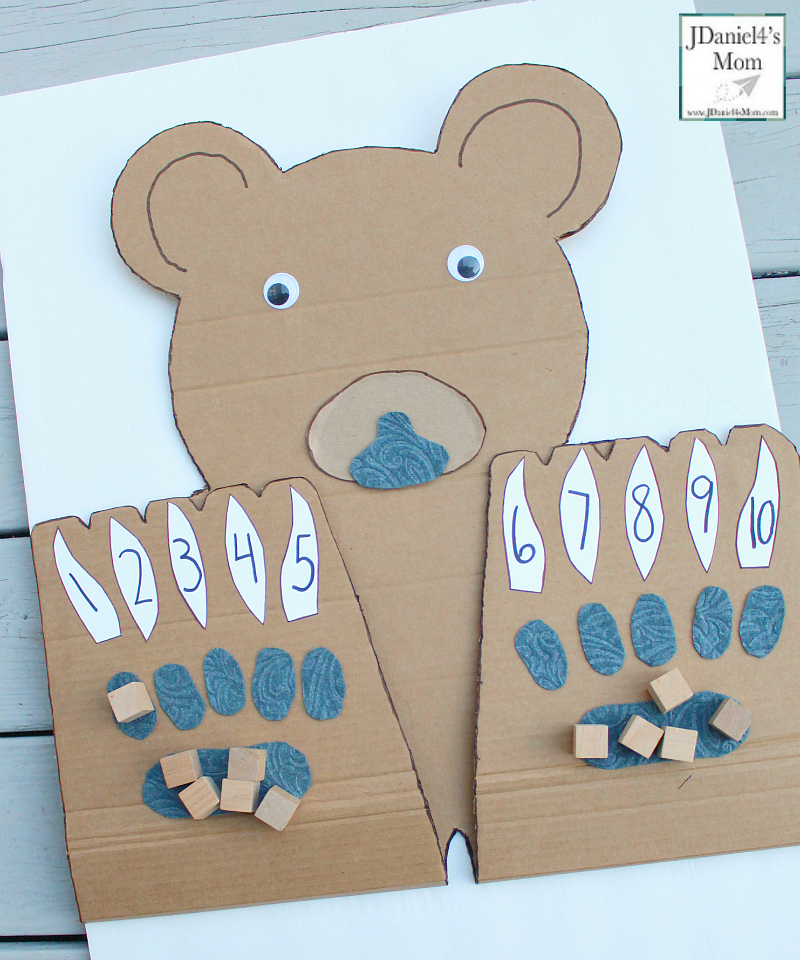 Link below is an affiliate link.
Counting Blessings
You can ask you children to share things they are grateful or thankful for after reading Bear Says Thanks
. They can put a block on the paw pad as they share each blessing.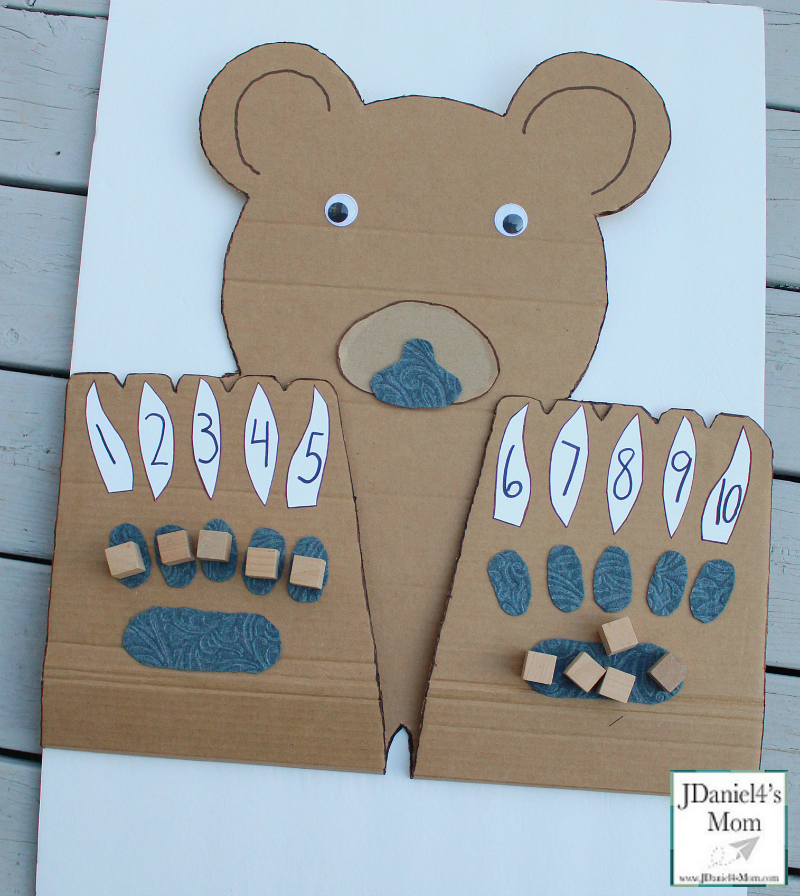 Counting Specific Areas of Gratitude
This activity encourages your children to share ways their basic needs are met. Areas like food, shelter, water, and companionship (family and friends) could be shared. They can put one block on a paw pad for each person or thing they share.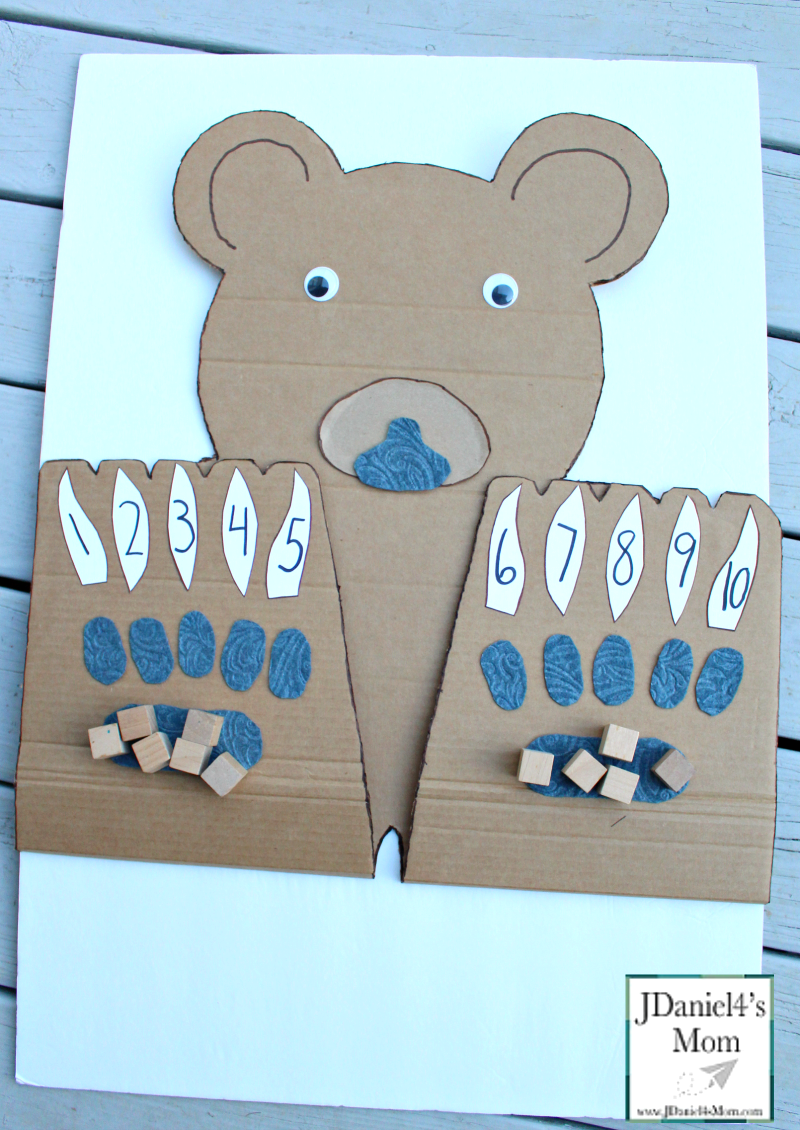 Number Recognition
Children can pick a number and then find the claw with that number on it. Then they will place a block under that paw. They will keep going until all the numbers have blocks under them.
Please check out all of the ideas shared by our Virtual Book Club for Kids co-hosts this week:
Gratitude Acrostic Printable Booklets—Chickadee Lit
Give Thanks Alphabet and Banner – To be a Kid Again
I am Thankful Activity-CraftCreateCalm
Magnetic Thankful Tree – The Educators' Spin On It
Gratitude Counting Activity 
Easy Gratitude Turkey Pumpkin for Kids
Pumpkin Muffins for Friends – Inspiration Laboratories
Thank You Gingerbread Cookies – Rainy Day Mum
The Gratitude Pick-Up Sticks- Teach Beside Me
Gratitude Drawing Prompt – Sunny Day Family
Gratitude Tree Printable – Mama Smiles
"I'm Thankful For You!" Ornaments – Preschool Powol Packets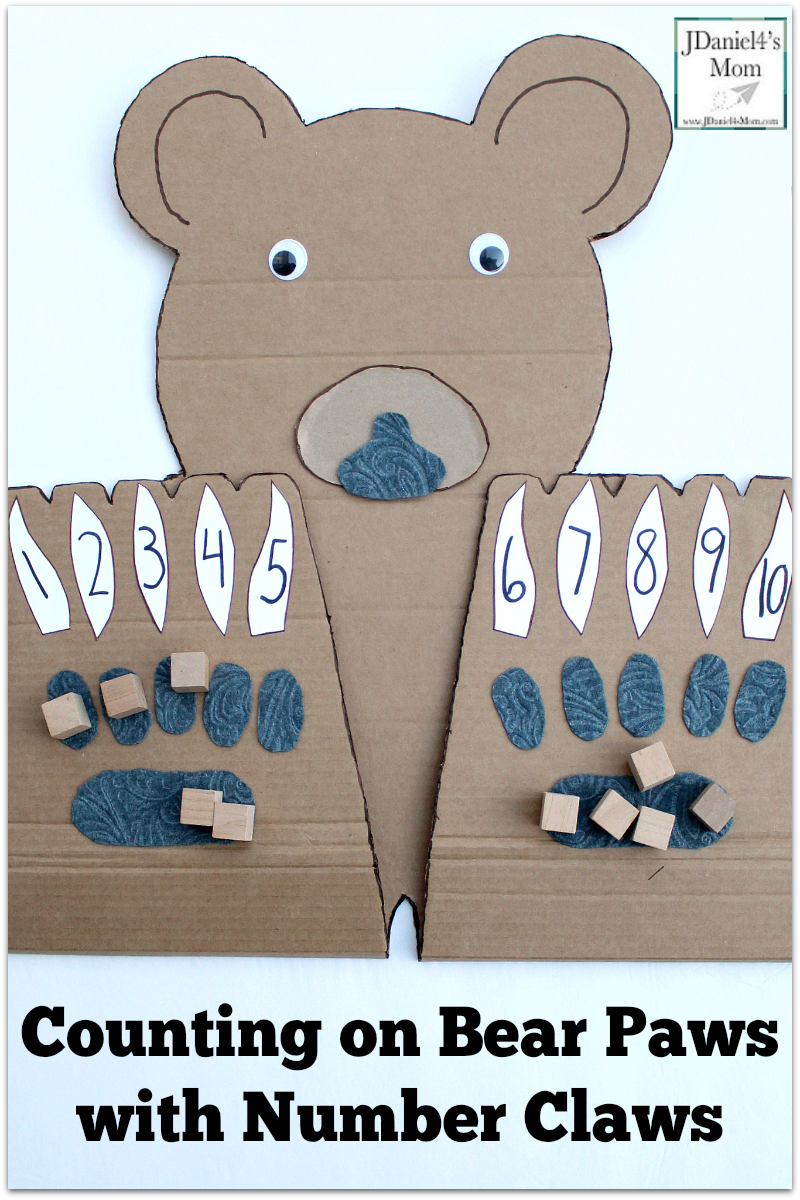 (Visited 867 times, 1 visits today)