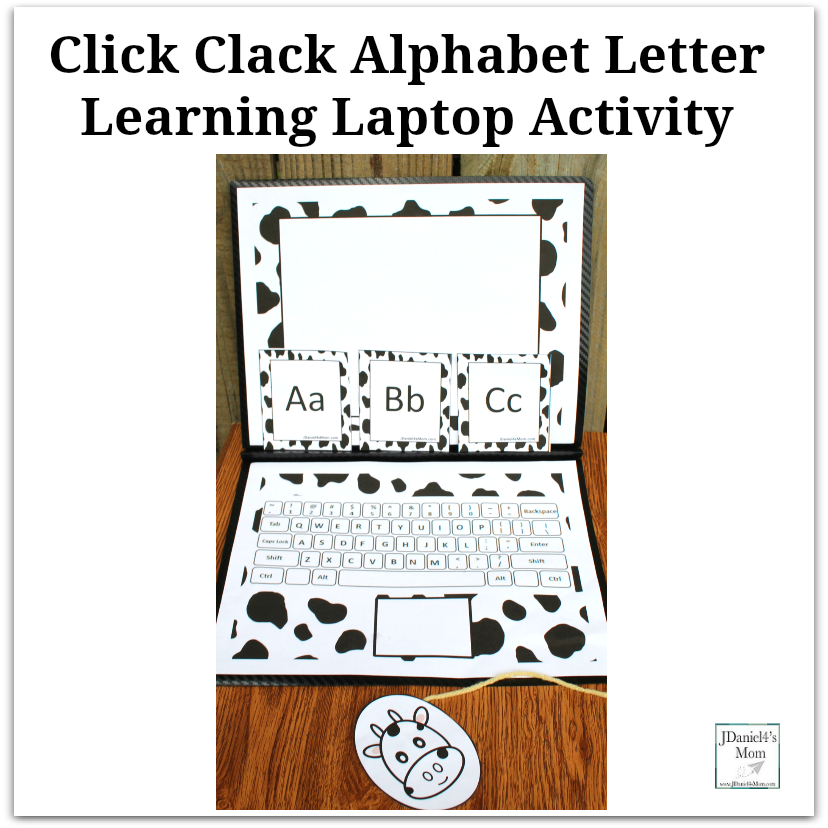 While the cows in the book Click, Clack, Moo Cows That Type use a typewriter. Your children might like exploring their alphabet letters using a laptop computer.  Well, a paper folder laptop computer. I bet the cows would have liked to have had a laptop to type on too especially if they had a cow-themed mouse to work with. Below you find the alphabet printable used to make this fun laptop. The letters for the activity are also there.
This week the Virtual Book Club is exploring the book Click, Clack, Moo Cows That Type. After I share this fun alphabet letters kids will love learning activity, I will share with you the activities created by the other book club members. You are going to love all of them!
Alphabet Letters Kids Will Love Activity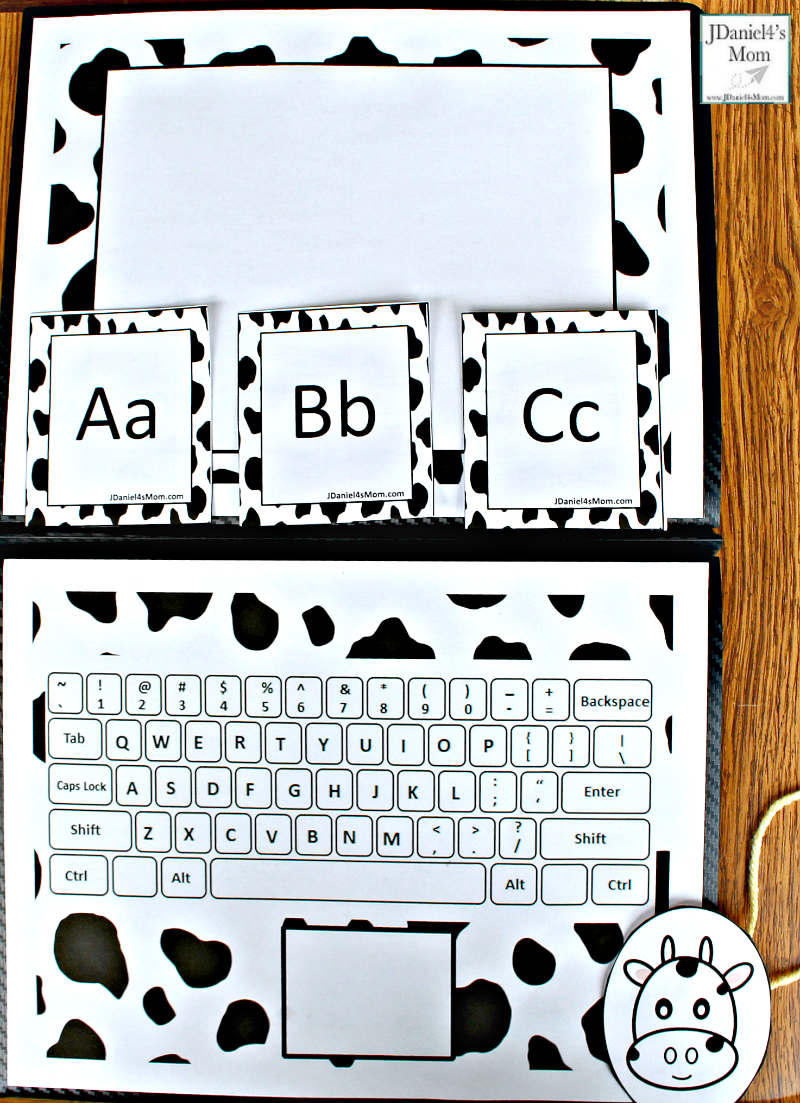 Putting the Alphabet Letter Learning Activity Together
Once you have printed out the Click Clack Alphabet Learning Laptop Activity, you will need to gather the following materials:
Links below are affiliate links
Supplies
Creating the Laptop
You will need to cut out the mice and each of the alphabet letters before you start putting the activity together. Then it will take less than five minutes to construct several alphabet letter learning laptop activities together.
First, you will need to lay the outside of the laptop facing up and open. It needs to be laying vertically on the table.
Then you will work on the mouse. The mouse will need to have one end of a 12-inch length of yarn taped to its underside.  The other end of the yarn will need to be taped to the lower right-hand corner of the folder.

The keyboard will now be glued to the bottom section of the folder.
You can store the alphabet letters inside the folder in one of the pockets.
Learning with the Laptop
Your children will need to take the alphabet letters out of the pocket in the folder.
Then they will need to lean their laptop against a wall or lay it flat on the table.
Next, they will try to find the letter on each of the cards on the laptop. When they find that letter they can tap on it with their finger,
Here are the wonderful farm activities from the other Virtual Book Club members:
Farm First Word Sounds- Teach Beside Me
Farm Animal Letter Stamping – Mama Smiles
Farm Themed Name Recognition – Inspiration Laboratories
Farm Animal Math – My Storytime Corner
Farm Themed Sensory Bin-The Moments at Home
Easy Farm Animal Dump and Sort for Toddlers
Egg Science Experiment With Inertia – Preschool Powol Packets
Click Clack Moo Pencil Control Printable – Clare's Little Tots
Baby Animals Scissor Skills Printable  – To Be A Kid Again
Farm Animal Domino Game – Rainy Day Mum
Farm Animal Dice Game – My Bored Toddler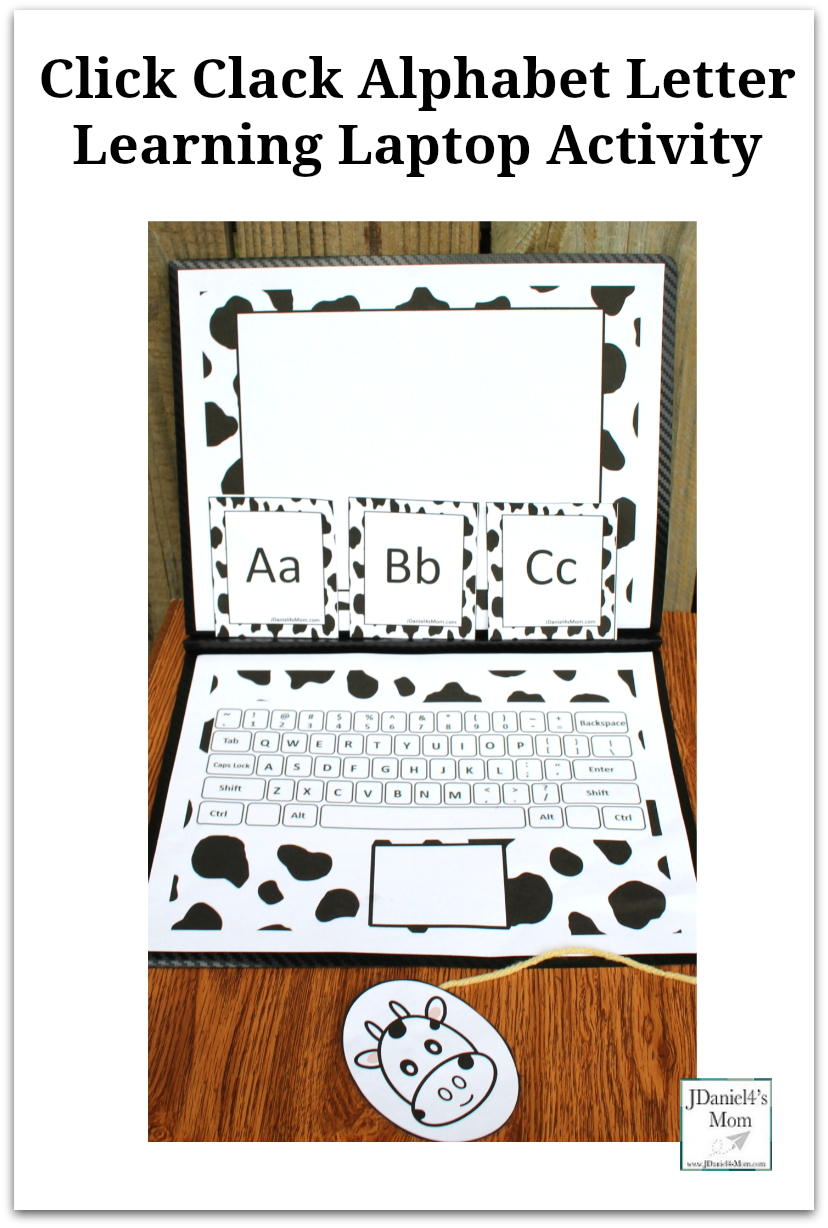 (Visited 278 times, 1 visits today)