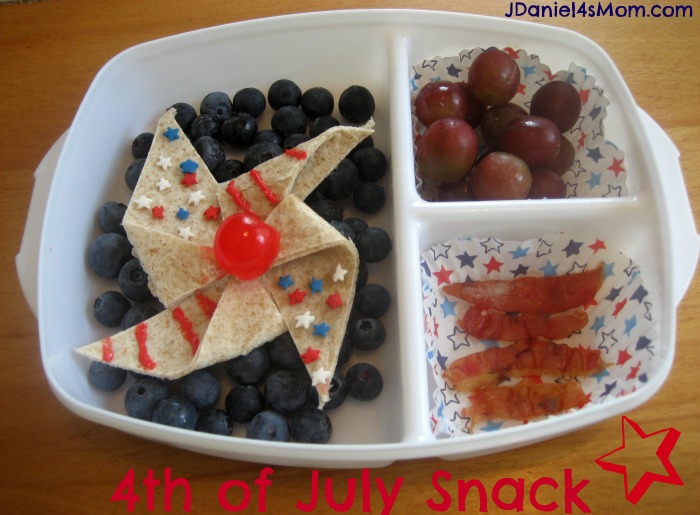 The Fourth of July and pinwheels got linked together in my head for some reason. I mulled over several ways to create pinwheel and end up with a tortilla cut into a pinwheel for this 4th of July snack
The pinwheel didn't seem to lend itself to becoming part of a sandwich so, I decorated it with sprinkles, red frosting, and a cherry. The blueberries and grapes not only covered the red and blue colors needed in a 4th of July snack, but added a healthy touch to it. The bacon in the star covered muffin liner is there because JDaniel likes bacon. It does look a little like the red stripes in the flag. 
JDaniel ate the pinwheel, the cherry, and the bacon. He decided the fruit could be used for lunch the next day. 

I did serve him the fruit along with tiny star sandwiches the next day for lunch and he ate the whole thing.
Below you will find some of the 4th of July snack and  meal ideas I have served over the past few years.
The first tin was a snack muffin tin called Very Berry 4th of July and was created for JDanel when he was two years old. It contained blueberries, raspberries, strawberries, yogurt to dip them in and cereal to sprinkle on the yogurt.
The second tin in the first row is the muffin tin lunch I shared last week. The post was called Friendship and the 4th of July. It features a hot dog wrapped in bread stick, a frozen yogurt star, tomatoes, catsup, blue tortilla chips, and blueberries.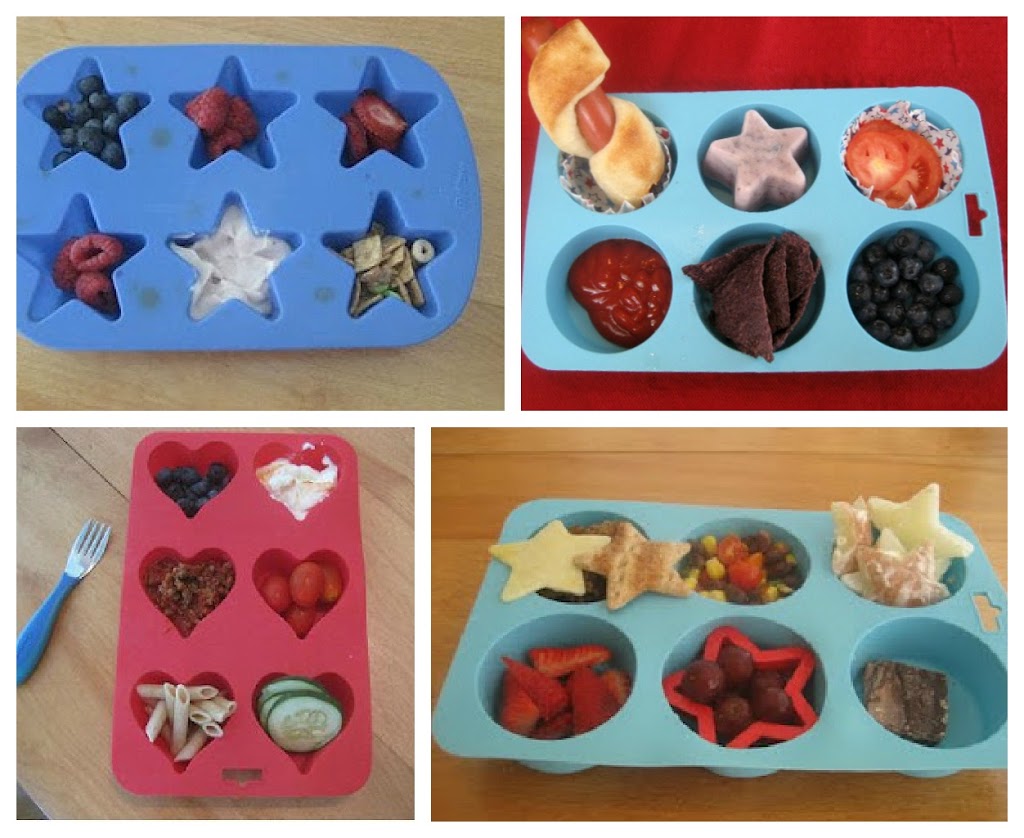 The first tin in the second row is a second 4th of July tin from when JDaniel was two. The post featuring it was called Dipping into the Fourth of July. The tin contained blueberries,  plain yogurt, spaghetti sauce with meat, tomatoes, noodles, and cucumbers. JDaniel was big into dipping food all by himself when he was two. This tin was filled with things to dip.
The second tin in the second row is from when JDaniel was three. The post was called Muffin Tin Monday on Sunday- Happy Fourth of July. It is hard to see what is in the first cup. It was a burger with bread and cheese stars. The last two cups in the first row contained salads. There was a corn and black bean salad and a red potato salad with potato stars. The last row contained strawberries, red grapes, and peanut butter fudge.
I really enjoyed looking back the 4th of July snack and lunch ideas I have made in the past. I hope you did too.
What are your favorite 4th of July foods?
This post is linked to Muffin Tin Monday.

(Visited 113 times, 1 visits today)