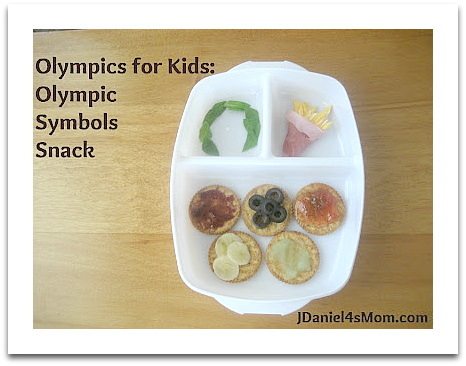 I am so excited about the Olympics in London! I guess you have been able to figure that out. Last Monday I featured Fruit Filled Olympic Rings for a breakfast meal and this week I have created an Olympic themed snack Bento.
JDaniel and I have been talking about the Olympic symbols and what they mean. He was so excited to see some of the symbols in this snack Bento. The fact that the symbols were made of some of his favorite foods might have added to the excitement.
The 
Olive Wreath or kotinos is made of fresh green spinach. JDaniel loves fresh spinach so much that he asked for full-size leaves after eating the smaller ones.
The ham and cheese creation on the right is supposed to a torch with a flame. I think if I had narrowed the handle of the torch it would have looked more torch like. If you imagine the end of the torch as being a little long, it might help too.
The Olympic rings are round crackers with wonderful toppings. There is grape jelly, black olives, rhubarb jelly from Two Bears Farm, bananas, and pear applesauce on one of each of the crackers. If these are not your children's favorite foods, you can always substitute other foods in the Olympic colors.  They are blue, yellow, black, red, and green.
JDaniel completely cleared out this Bento so, I guess you could say this snack won a gold medal in my Olympics for Kids food challenge. I just love it when that happens.
If you like this Olympic idea, I think you will love these Olympic themed activities too.
Olympic Torch Ideas
Easy Painting Ideas- Gold Medal Painting
Fruit Filled Olympic Ring Snack
Elympics – Storybook and Lunch Creation Idea

(Visited 653 times, 2 visits today)