I like to welcome the Olympic Bento Bloggers and Olympic Hoppers to Read.Explore.Learn.! This meme was designed to be a place for you to share the learning opportunities, crafts, field trips, and other activities you have done this week that tie-in to children's books. I look forward to seeing ways you have learned with and explored books.
This week I am going to share a wonderful children's book of poems on the Olympics along with an Olympic-related bento snack.  I decided to join an Olympic Hop hosted by a group of Bento bloggers and tie the book I am sharing with a snack I made for JDaniel.
The book we looked at this week is called Elympics. It was a wonderful book of poems that talks about various summer and winter events in the Olympics. The poems were really fun to read and are filled with rhymes. JDaniel was able to learn about several of the events that he may see during the Olympics through the poem and really fun illustrations in this book.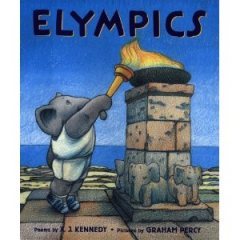 I tried several times to make an elephant like the one on the cover of this book, but I wasn't able to. An elephant cookie cutter proved to work out so much better than the elephants I tried to create a free hand.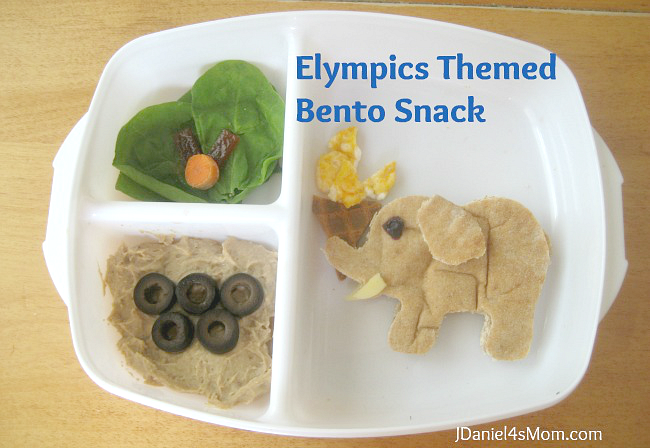 This elephant is made of pita bread and he is carrying a slice of an ice cream cone with cheese flavored rice cakes as a torch.  In the upper left-hand corner of the Bento box are fresh spinach leaves with a carrot and fruit chew medal. The bottom left-hand corner of the box contains hummus with the Olympic rings made of black olives.
I went with a greek food theme for part of the box to represent the fact that the Olympic started in Greece. Thankfully JDaniel loved everything in this snack Bento.
Olympics for Kids – Bento Lunch
The Olympics have been featured in a few other posts this summer. There have been posts on an
Olympic Symbols Bento Snack
and
Fruit Filled Olympic Rings
 as a breakfast meal. I have a fourth meal coming on Monday. It is a gold medal meal featuring healthy foods and a couple of Olympic-related foods.

If you are here from the Olympic Hog, please visit Biting the Hand that Feeds You. They are the next stop on the hop.
If you are here for Read.Explore.Learn., please leave your book related link below.
If you are just stopping by because you are here to make my day, thank you for stopping by. I hope you will leave me a comment. It would be wonderful if you checked out the Olympic Bento Hop and the Read. Explore.Learn. links below.

(Visited 416 times, 1 visits today)