As you may have noticed, I love coming up with opportunities for JDaniel and I to give to others. I know I am not the only one that does. Many of you do it every day. There are a number of Kid Blogger's that do too. During the month of December, Kid Blogger's are sharing ways to serve others. The hop started on December 2nd with All Done Monkey sharing how to give joy to others.  After looking over the December Holiday Service Blog Hop calendar, I bet you not surprised I selected planning a food drive. JDaniel and I have been shopping for our local food bank all fall. We have even found 5 ways to give to our local food bank. I even developed a food bank shopping list for him.
This month I wanted to extend the opportunity to give food to others to my K5 Sunday school class. We have been talking about thanksgiving and giving thanks to God for all He has given us each week this fall. Giving food items to others for Christmas seemed like a great way to extend the concepts of the lessons they have been learning.
There are about twenty children in my class and if each brought in one can or bag of food we would really be able to double the donation JDaniel and I have been taking.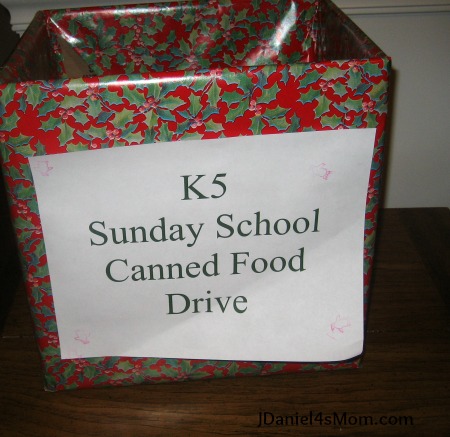 Steps for Planning a Food Drive
So, I decorated a donation box and put it just outside our classroom door. I thought if other parents saw it they might ask what we were doing and want to help too. JDaniel and I added a few cans of our own to get the drive started. People like to see that others have been giving. I thought this might inspire the kids and their parents.
The box was out last Sunday and will be out again next Sunday. I can't wait to see how many items we are able to collect and give to others.
Tomorrow's  way to serve is to give groceries

.

Kids Activities Blog (JDaniel is featured in this post.) and San Antionio Mom Blogs are sharing how they served others.
Why do I keep talking about food pantries? Right now many food pantries are probably bursting at the seems, but by January 1st the shelves maybe empty. If last month wasn't the right time for you and your family, maybe this month is or maybe the next. I just want to keep giving to food banks in your heart and mind.
My food drive was so easy to put together. I just send the parents of my students and e-mail. JDaniel and I then decorated the box. Finally I took the box to church.
I bet you could hold a food drive for your Sunday school class, school, or civic group. The people in your groups and the food bank with benefit from the food drive.

(Visited 50 times, 1 visits today)