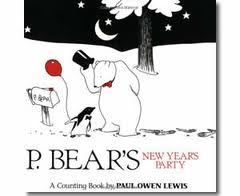 Links in this post are affiliate links.
JDaniel and I read P. Bear's New Year's party!
 by Paul Owen Lewis. It declares on the cover that it is a counting book, but I think it is so much more. 
P.Bear decides to invite his friends to his house for a party.  Among his invites is one whale, two horse, and three dairy cows. His guests continue to arrive in numeral order. The last group of guests to arrive is twelve penguins.  Each type of animal arrives at the hour that matches the number in their group. Each animal's page spread in the book includes a clock with the hour hand in red.

The only real colors in the book are red, white, and black. It took only a few arrivals in the book for JDaniel to notice that they were all black and white with red bow ties. It was fun to guess what other black and white animals would appear in the book.
What did we do to explore P. Bear's New Years Eve Party?
 Sequence Quilt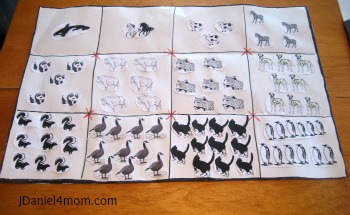 I search the internet to find the animals featured in P. Bear's New Years Eve Party.  I printed out the correct number of each animal from the internet and drew at grid on paper to represent a quilt. JDaniel started with the first patch (square) and glued the correct number of the first animal to appear in the story. He continued across the top row and when he had finished it. JDaniel moved down the the next.
I had him count to make sure I had the correct number of each animal. This was a fun counting craft.
Moving Like An Animal Game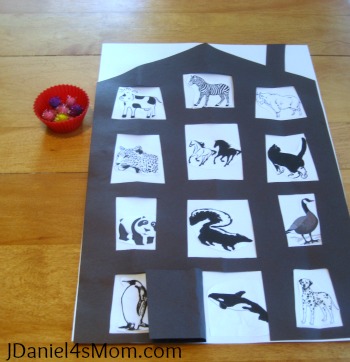 The outline of a black house like the one in  P. Bear's New Years Eve Party was cut out and glued to white paper. Then we glued one of each type of animal that visited in a window or doorway.
I placed a bowl of sparkly pom poms on the table and JDaniel was asked to toss one onto the house. Then he and I made the animal noise or moved around the kitchen like the animal on whose picture the pom pom landed on. If pom pom didn't land on an animal, we just tried again.
Great posts that linked up last week: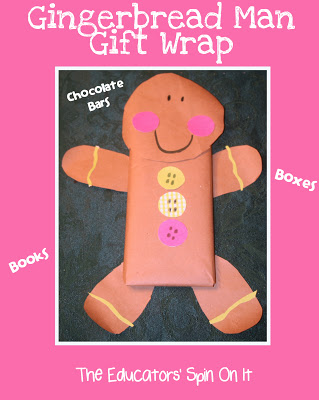 I really loved the Gingerbread Man Gift Wrap that the Educator's Spin On It shared.
School Time Snippets did a variety of things with the book Stopping By The Woods On a Snowy Evening. I love the canvas they decorated.
I need to apologize. I wasn't able to visit and promote all the posts that linked up last week. It is on the top of my to do list for this week.
How have you explored books this week? Please link up your post. Inlinkz isn't displaying pictures or links this week. I will be pinning, Facebooking and Google + ing them to make up for this error.

(Visited 236 times, 1 visits today)