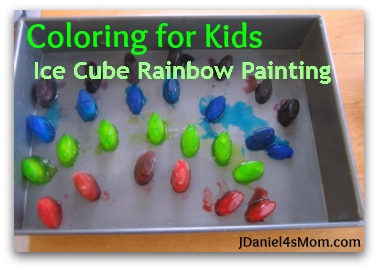 Coloring with dyed ice cubes in a roasting pan is a great way to work on blending colors and experimenting with them. Ice cube rainbow painting is an activity that does just that. This idea popped into my head last week and I really wanted to try it.
Sometimes when you get a great idea like ice cube rainbow painting, turns out better than you imagined. Other times you try it out and it just doesn't work. I mean it turns into an outrageous mess. 
The kind of mess that stays with you all day. I have made colored ice cubes before and haven't had it be a huge mess, but this time it really didn't work well.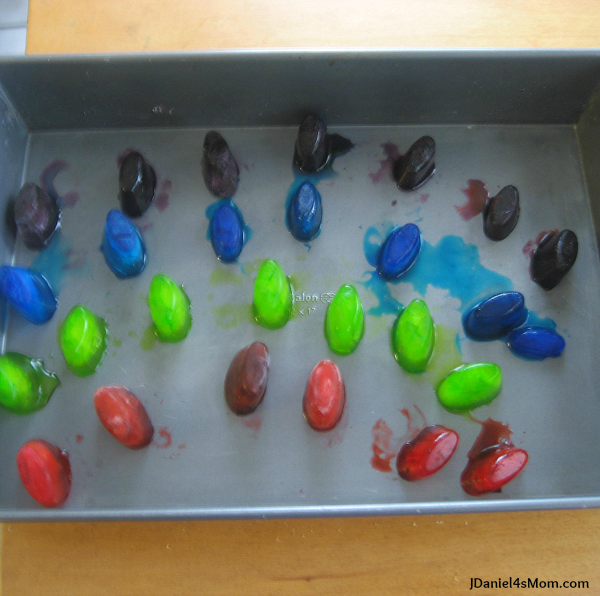 Why Color for Kids with Ice Cubes was Messy?

 

 

The ice cubes started to melt as soon as they came out of the freezer. (I think our 18-year-old freezer is having issues and that might be part of the problem.) I barely had them in this roasting pan when I took the picture above. You can see the colors smearing all over the pan. When I tried to move the blue cubes, a small blue stream started to form.  I decided to not touch them again and take a picture of the cubes right where they were.

The ice cubes really should have been moved with tongs or a spoon. Instead, I used my hands. You can't begin to imagine what they looked like by the time I was finished. Each of the colors above covered my hands from the tip of my fingers to the base of my palm. My hands were scrubbed and rubbed with soap and a special hand cleaner my husband keeps in the garage and they were still rainbow bright.

My idea was to take them out to take a picture and put them back in the freezer for JDaniel to play with when he came home from preschool. The ice cubes seemed to get smaller and smaller as they sat in the pan. I decided not to bother with trying to put them back in the ice cube trays. This idea would need to be retried with new ice cubes.

So, I cleaned up the outrageous mess created by pools of color ice cubes and headed to school to pick JDaniel up. As soon as a walked in the door of this classroom, he asked about what I had done to my hands. "They are so colorful!" he said.

I told him it was a coloring for kids experiment that didn't go well and I would need his help to try it again. He liked hearing that he was needed to help.

We will do this coloring for kids experiment again! It really is a great idea! This time maybe it won't be an outrageous mess. This time it will be a solidly froze idea that melts elegantly into pools of color. Coloring ice cubes for my kid and having them ice cube rainbow paint really will be fun! ( Cross your fingers and say a prayer!)

This post links to Alphabe Thursday.

(Visited 402 times, 1 visits today)