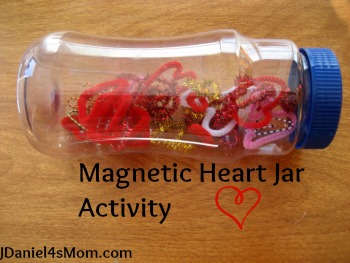 Love like magnets can repel or attract. JDaniel is too young at almost five to understand much about how there are some people that we are attracted to and some people seem to repel us or cause us to pull away from them. He has started to understand that there are some things that magnets are attracted to and some that don't react at all to them.  I put together a science activity for kids that I am calling Love is Magnetic and looks at how magnets work together with things that they are attracted to.
Creating This Science Activity for Kids
We created a magnetic heart jar filled with things that magnets are attracted to using the following materials:
red, pink and white pipecleaners
empty peanut jar
paperclips bent into hearts
ball magnets
How did we put the magnetic heart jar together:
I cut the pipe cleaners into thirds and we bent them into heart shapes.
We put all the pipe cleaner hearts and paperclip hearts into the jar
We screwed on the lid.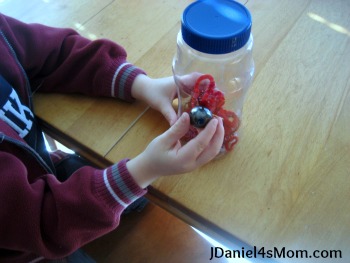 Once the lid was screwed on, the fun began. JDaniel rolled a magnetic ball that we found in a drawer up and down the jar to see how many items he could lift up. Then he tried rolling the ball around the jar to see how many objects would follow the magnet all the way around the jar.
At first many of the objects clumped together in a bunch. JDaniel has to work carefully to try to just have a few objects follow where ever he lead them with the magnet.  The more he practiced the more control he had over them.
It was really fun to watch the hearts dancing around in the jar. The sparkly pipe cleaner stars in particular look pretty flashing around in the jar on the bright afternoon we tried this jar out.
We will be taking the magnetic heart jar out again soon. I think we will add in some Valentine's Day related hearts that do not contain metal and see how they interact with the magnet. They may not be attracted to it, but that may get stuck under an object that is and end up following the magnet around.
This post is linked to Alphabe Thursday!

(Visited 2,950 times, 1 visits today)