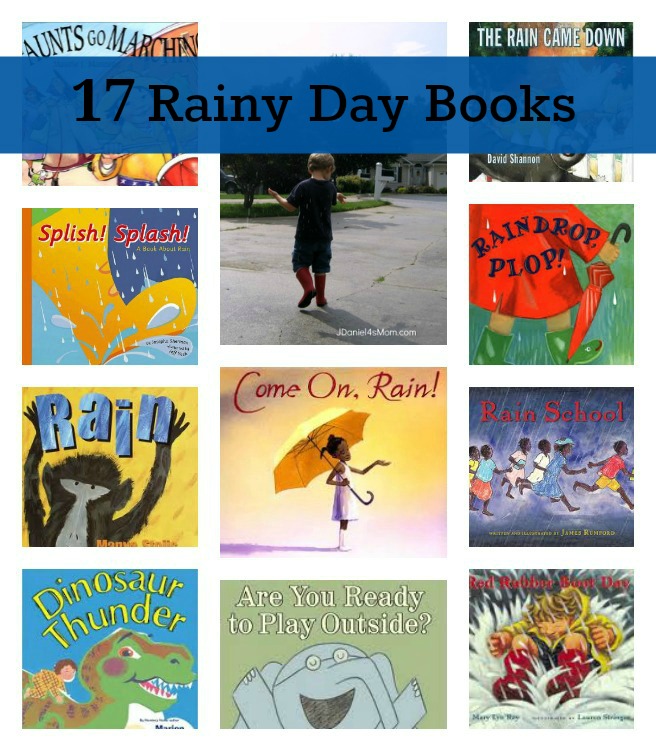 Whether you are working on a weather unit, exploring rain books in April or just looking for a fun book to read on a rainy day, you will find at least one you will love in this collection of 17 rainy day books for kids.
Rainy Day Books for Kids
Dinosaur Thunder
 is the story of a little boy who is afraid of thunder during a rainstorm. Each member of his family shares with him a story about what could be making that horrible noise. After several explanations from his older family members, his brother shares with him something he can relate too.  He tells him the noise comes from dinosaurs. "I love dinosaurs!" the boy responds. He is still scared, but knowing they are dinosaurs helps him be less scared.
Rain!
 is a wonderful story about how a little girl and an old man feel about rain. One of the grumbles and gripes. The other rejoices and enjoys it. When one runs into the other, they both learn to love rain.
Come On, Rain
 is so well written. The text flows throughout the book painting a beautiful picture of people sweltering in the heat waiting for rain. When the rain arrives, there is much dancing and frolicking that happens. Moms and their daughter rejoice in the rain. The pictures in this book are gorgeous..
Rain School
 explains that in the country of Chad there are heavy rains that wash away some of the mud and thatched roof schools. Each year the children join their teachers in building a new school. The children learn to work together while they build the school and learn together once the school is built.
Rain
 by Robert Kalan uses amazing pictures by Donald Crew and wonderful words to show you the effects of rain. It explores colors and words is such a wonderful way. This is a fun book to picture walk through.
Splish! Splash!: A Book About Rain (Amazing Science: Weather)
uses simple text and wonderful illustrations to explain the science behind rain. Non-fiction lovers will enjoy learning about rain.
Down Comes the Rain (Let's-Read-And-Find-Out Science: Stage 2 (Pb))
follows the ups and down of rain as it travels through the water cycle. Where does rain go after it falls from the sky? How does it get into the sky?
Bringing the Rain to Kapiti Plain shares how there are
some people and animals long for rain to fall. I love the rhythm of this book it just flows. This is a wonderful book about yearning for rain.
Are You Ready to Play Outside? shares that there are some the love rain and others that don't. Sometimes those that don't just need someone fun to enjoy it with. You can't just watch people enjoy rain. Seeing them love it makes you want to join in.
The Rain Came Down
 and changed everyone moods. Will their moods change when the sun comes out?
The Big Storm: A Very Soggy Counting Book
 features animals running to get out of a storm when they see clouds gathering. After a night of huddling in a shelter, they hear rumbling and grumbling. Is it another storm or is it something else?
The Aunts Go Marching
 is about a little girl who marches through the rain followed by a large group of aunts. I love the song about ants marching two by two. This book with aunt marching is just as fun. You will love the pictures in this book
Rain
 is a beautifully illustrated book about how a group of African animals uses their senses to know the rain is coming. This would fit well in a unit about the senses or about the rain.
Red Rubber Boot Day
 is the tale of a young boy and what he does when it rains. He starts off the day finding inside things to do like building a fort and moves outside to splash and play in red rubber boots. My son had red rubber boots when he was 3 and 4 that he lived in. This book reminds me of him.
The Puddle
 explains that while children love rain puddles there are animals that love the rain too. What fun it is to see who comes by to enjoy the puddle.
Raindrop, Plop!
 counts the joyous things that children find in the rain. What fun it is to count in the rain! This books has wonderful illustrations. The cover just makes you want to jump into reading it.
Flash, Crash, Rumble, and Roll
 is a science focused book that shares what makes all of the elements of a storm from rain to thunder to lightning. I used to use this in my weather unit when I taught second grade.
You will find more collections of books for kids on a wide variety of themes on my Collections of Book by Theme page on Pinterest. You will find a number right here on JDaniel4's Mom too. There are Awesome Books for Kids about Fables, Spotlight on Remarkable Mystery Books for Kids and Jokes for Kids Books That Will Make Them Laugh.
Do you have a rainy day book that you love that isn't on this list? Tell me about it via a comment below.


Disclosure: This post contains affiliate links.

(Visited 8,204 times, 3 visits today)